My favorite places to dine in Berlín
Berlin is one of my favorite places to visit and stay for a while. Of course, my recent couple of trips have been for a business purpose, but after somehow managing to spare time to play my part as a tourist, I was able to visit few tourist places around my hotel. I may write another blog post to share my experience as a tourist, but today I am going to write as a connoisseur.
During my week in a Berlin, I visited a few distinct places for a dinner. Although they may not be the best places in Berlin given the diversity and wide range of food quality this beautiful city offers, these are especially my preferred places to dine in terms of service, ambiance, and food quality.
So here we go.
1. Sunday - Nov 4, 2018
It was my first day in Berlin, and the weather was cold, which made it hard to wander to places far away from my hotel. Fortunately, my colleague found this place Asian restaurant named Thai Duong at 20 minutes of walking distance from our hotel. As usual, I ordered my favorite Red curry with chicken.
Although it wasn't as good as I had tasted it in some other places, it was great for the price tag (€5.90). Service was quick and the menu was rich in terms of choices they had to offer. Quantity was great and I wasn't disappointed with the taste though. It's located at Mariannenstraße 35, 10999 Berlin, Germany if you're interested in visiting the place.
All images copyrighted to Google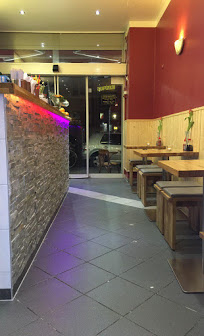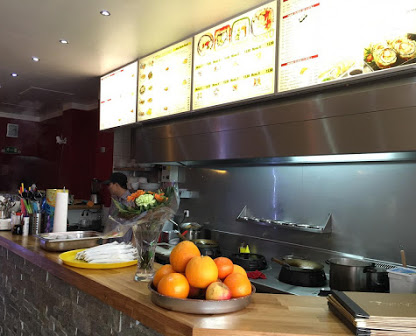 Accessibility - Slightly away (18 minutes by car from city center)
Preparation time - 8-10 minutes
Payment - Cash only
Service - Good
Will go more than once a week? - No
Quantity - Reasonable
Cost - Cheap
Need reservation? - No
Wait time to get the bill - < 5 minutes

2. Monday - Nov 5, 2018
This was a big day since I was scheduled to go for a Piano concerto at Philharmonie Berlin at 8:00. I reached the venue at 6:50 and had ample time to get dinner. The closest and nice place I could find near the concert hall was Josty in the Sony Center.
The place was moderately crowded when I arrived, which was expected given its fine dining status and peak dinner time. But I got a place to sit which was a pleasant surprise. This was an Italian place, so of course famous for Pasta and Pizzas. I wasn't sure if pasta will be enough for me, so I ordered a Pizza Salami. The server told me Pizza Margherita is so good (And he had one that morning), and if I wish to have fish, he can top it up with it. Why not? I went ahead with his suggestion and the result was quite delightful.
This place advertises itself as a Long-standing restaurant serving German regional cuisine over 2 floors & on a vast sun terrace. (More about their history on the webpage if you're a curious reader)
Although food arrived a bit late, it was worth the time I spent seating around. The ambiance was good, and I had candle-light dinner with myself. However, I would have preferred to have pizza cut for me into 8 equal pieces as they do here in America. I had to spend extra time juggling with knife, fork, and spoon to cut it without creating too much mess.
The pizza was tasty, the quantity was great and it was one of the best pizza I had eaten in Berlín. Not sure if it was more like psychological thing since restaurant boasted of being capable of making "Authentic Italian pizzas".
Given the fine dining status, I wasn't surprised when I hit close to €15 excluding tip. I finished dinner in time and headed to attend the piano concert.
All images copyrighted to Josty
Accessibility - Convenient (8 minutes by car from city center)
Preparation time - 15-20 minutes
Payment - Card/Cash
Service - Great
Will go more than once a week? - Yes
Quantity - Great
Cost - Expensive
Need reservation? - Depends, mostly yes on weekends
Wait time to get the bill - > 10 minutes

3. Tuesday - Nov 6, 2018
This was a day to visit Reichstag building near the Brandenburg Gate. Due to timing constraint, I decided to have dinner after this visit is done. Fortunately, the security allowed me in early, which means I got free before 9:00 PM and started my hunt for the restaurant.
I didn't have so much choice for my liking around the area so I zeroed in on my favorite food category. Indian food!
I had a couple of choices - First India club Berlin and then Amrit (Berlin potsdamer platz). Both were close to my location, but I figured former would take more time since I didn't have the reservation and also the latter had a wi-fi which I urgently needed before heading back to my hotel.
When I arrived, it was a peak time. But fortunately got a place to sit. The staff was courteous and helpful. I got a sit near the window which was extra entertaining, which also means I didn't have to spend extra time on my phone. It's a fine dining restaurant with professional staff, nice architecture and designed to display Indian culture throughout the appearance.
They have masala papad as a complimentary dish to get started with. I ordered Mutton Biryani which came was served right on time with few spices, curd and ring onions. If you are going for the first time, make sure to mention the spice level you want to get added, otherwise, food could be too bland/too spicy for your taste.
The biryani was good in terms of its quantity and quality. The server was available to answer any question I might have. The place was populated with mostly non-Indian customers which makes me think this must be one of the top Indian restaurants in Berlin in terms of popularity and authenticity.
Since food was too much for my capacity, I decided to get a take-out which served me for next-day lunch. I wasn't surprised by the price tag which again came to be slightly more than €15. But I didn't complain. It was quite an experience in terms of service, wait times, seat availability, and food quality.
All images copyrighted to AMRIT Berlin Potsdamer Platz
Accessibility - Convenient (8 minutes by car from city center)
Preparation time - 8-10 minutes
Payment - Card/Cash
Service - Excellent
Will go more than once a week? - Yes
Quantity - Great
Cost - Expensive
Need reservation? - Depends, mostly yes on weekends
Wait time to get the bill - < 5 minutes

4. Wednesday - Nov 7, 2018
If I have to choose the best Mexican restaurant in Berlin, Chaparro has to be the hands down choice. When I visited Berlin last time, my colleague showed it to me. I never had so much authentic Mexican food anywhere else before.
It's conveniently located near my office and can be reached by 10 minutes of walk. Although sitting is a big problem, there is also a take-out option. In my experience, it's always crowded, which makes sense given the size of the place and the excellent quality food it offers.
It's open until late, so great for getting late night food. To place an order, you have to go to the counter and tell them the list of things you would like. As usual, my favorite was a Mexican bowl which included rice, pinto beans, chicken, guacamole, and sour cream. If you're a fan of alcoholic beverages, I would also recommend getting their margarita which is great according to one of my friends.
The food quantity is reasonable, if you are fortunate you will also get a place to sit or share with other people. Total cost came to be around €9.5 which is great for the value. This place also gets congested at times, but I didn't find it as a big detractor to shy away from it.
Once you are done with the food, please don't leave the plates on the table. Put out the remains in the trash can, clear out the plate and place it on the plate rack by the door.
All images copyrighted to Google and related authors
By István Kroh
By Matt Kus
Accessibility - Slightly away (16 minutes by car from city center)
Preparation time - 5-7 minutes
Payment - Cash only
Service - Good
Will go more than once a week? - Yes
Quantity - Reasonable
Cost - Cheap
Need reservation? - No
Wait time to get the bill - < 2 minutes

5. Thursday - Nov 8, 2018
I was almost done with half of my trip and didn't yet try the Thai food. Now was a good time to do it. I had to struggle a lot to find a great place since there are already a bunch of nice Thai places in Berlin area. After spending 45+ minutes surfing on my phone trying to find such a place, I finally found Sala Thai
Although it was a long walk from my hotel of about 45 minutes, I don't regret it at all as I arrived at this place and looked around. How should I describe the vibe of this place? It was one of the most artistically decorated and designed restaurants I had ever seen. Situated inside a shopping mall, (Which by the way is the reason it's slightly difficult to locate) and well-crafted decoration which gives you feel as if you're having a dinner in the jungle full of flora and fauna surrounded by wild animals.
When I reached, the restaurant was quite empty with only 10% of tables, which allowed me to sit near an artificial pond with few real fishes, with vines, beautifully crafted wooden objects, flowers, and a small fountain. The ambiance was great with so much peace, especially because the piano music was playing in the background.
In fact, I would just pay money to sit there for hours without having to go in deep jungles of Thailand
As mentioned earlier, my favorite choice turns out to be a red Thai curry which I ordered. It took long for food to arrive, but I wasn't surprised as it tasted like a freshly cooked. They have a nice setup when it comes to serving a food.
A bowl contains plenty of rice
Another bowl contains a Thai curry
Provided is a pot with a small candle. A bowl on curry can be placed on the top to keep it warm throughout the dining
It tasted just delicious and heavenly. Although I have limited seating capacity at times, I did eat more than I usually do, so as not to waste or bring it back as a take-out.
Final bill came out to be €15.5 which were in-fact cheap compared to the ambiance, quality of food, and service it offered. Definitely value for money!
By the time I was done with my meal, it just felt sad to leave the place There wasn't a single thing that went wrong with the whole experience. Although a bit far, I wouldn't mind going down there one more time.
All images copyrighted to Google and related authors
By Timothy Readwin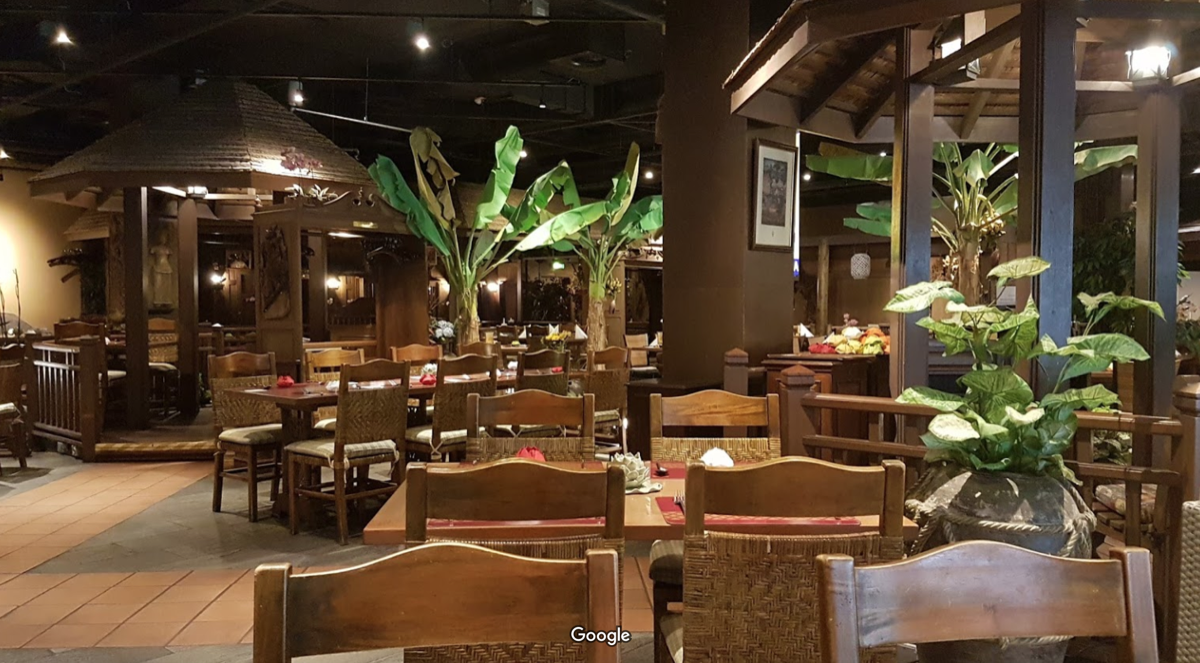 By marco w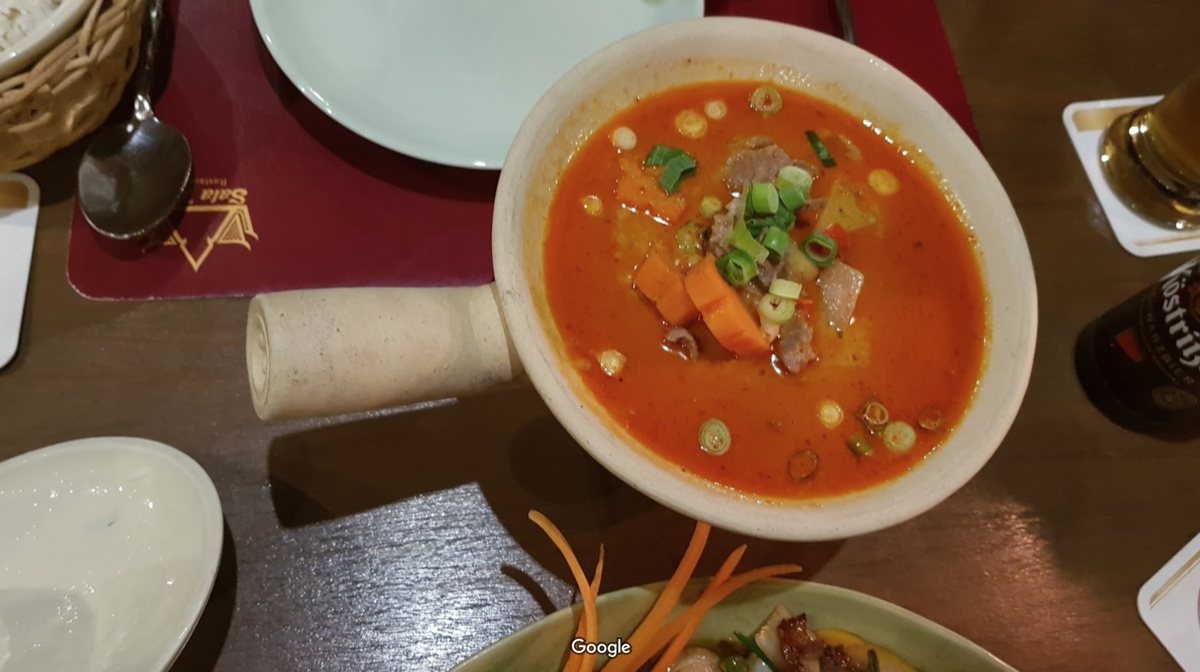 Accessibility - Slightly away (13 minutes by car from city center) - Make sure you spot the shopping center entrance without missing it
Preparation time - 15-20 minutes
Payment - Cash (Card, if you're willing to pay extra money)
Service - Excellent
Will go more than once a week? - Yes
Quantity - Large
Cost - Expensive
Need reservation? - Yes, possibly over weekends
Wait time to get the bill - > 12 minutes

6. Friday - Nov 9, 2018
It was my last day in Berlin. I was late for the dinner, and unfortunately, being Friday, it was close to impossible to get the reservation in any fine dining place. I tried making calls to few places, but all I got was table availability after 10:00 PM which was undesirable as I had a flight to catch next morning.
After making a few calls, I came across Yogi-Ashram Indian restaurant. I had Indian food earlier this week, and my first choice was to go to the Italian place. But after being rebuffed over the phone, I decided to taste Indian food one more time in the city which offers a spectacularly wide range of cuisines.
They were nice enough to reserve a table for me over the phone and it was 20 minutes of walk from my hotel. It's a cozy place and they make fresh dishes for most of the orders. If you are sitting near the counter, the aroma pervades the air with a genuine Indian feeling. Staff is courteous and friendly. Being close to the city center makes it even more convenient to visit the place.
I was impressed by their diligence to reserve the table beforehand. The menu is just great with a variety of choices from diversified Indian delicacy. However, I found the food was too bland for Indian taste. Make sure to request them to make it spicier if you prefer. Otherwise, the default spice level is mild.
Given the location and general settings, the total cost of €12 including Murgh korma and gulab jamun wasn't that bad. Given the value for money, I wouldn't mind going here one more time only if I can get guaranteed Indian food with a taste of spices it deserves.
All images copyrighted to Google and related authors
From web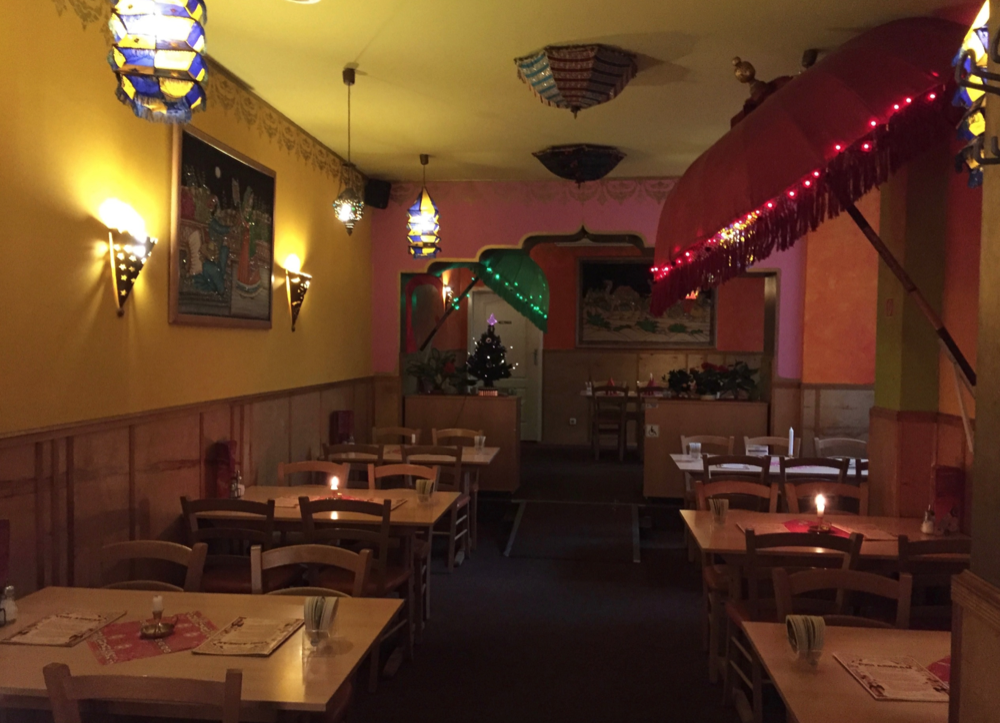 By Steffen Reinholz
Accessibility - Convenient (9 minutes by car from city center)
Preparation time - 10-15 minutes
Payment - Cash/Card (No extra charge for cards)
Service - Excellent
Will go more than once a week? - No
Quantity - Reasonable
Cost - Reasonable
Need reservation? - No
Wait time to get the bill - < 10 minutes