Chicken Biryani - Indian Spicy Cuisine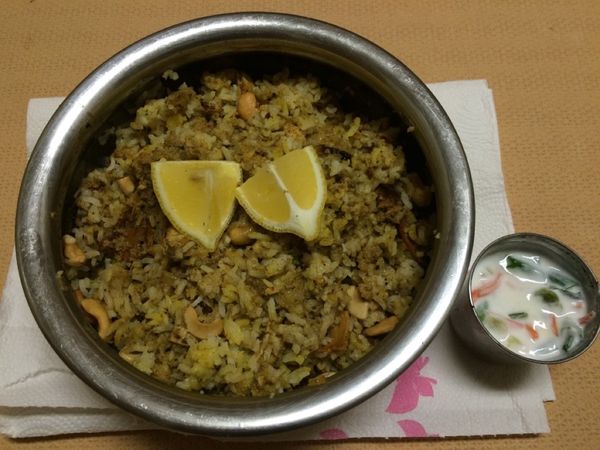 Every time someone mentions chicken biryani, it reminds of my old roommate back in Bloomington, Indiana. He was damn good chicken biryani chef and I feel glad and lucky to have roommate someone like him. His speciality was to prepare biryani from scratch without having to use any readymade spices.
The reason I am mentioning is that my other friend had a plan for making Chicken Biryani. He kept posting updates throughout the weekend. That inspired me to follow same steps and gauge who makes it better. Obviously we were situated in different cities, so it was not possible for objective judgement. But I still gave everything to make it taste good and delicious.
After very long time I got chance to view VahChef's YouTube video on how to make Chicken Biryani. Video is quite longer but it's worth it.
Chef explains all tiny bits on how to make perfect and traditional chicken biryani. For some it might be challenging to gather all spices mentioned in the video. But for people who live in India it should not be really that challenging to get all spices. For someone like me I could not gather all the spices mentioned here.
You have to arrange chicken gravy at the bottom, put basmati rice on the top. Put this mixture in the top and let it cook on slow flame for around 30 minutes. This will make sure all the gravy spices are properly absorbed in the rice and give it that characteristic aroma and flavor throughout.
It really worked out well and tasted splendid. Even better than what I expected and hoped for. I had to spend close to 2 hours only for cooking. Preparation is another hour. I put chicken to marinate a day before for at least 24 hours in total. Maybe that is the reason I did taste good.
As usual I used chicken thighs. I think the best chicken part most people will recommend is legs. I think any part with bones goes well with chicken biryani
My friend posted a pictures of his biryani. It looked good and felt good that next time I go to his city he can make such delicious dish for me too. However, when I posted my recipe he started making fun of it. Well, that's uncalled for. Now since shots are fired, I am gonna make something more exciting this weekend no matter how many tries it takes and put those pictures in front of him and would like to observe his reaction
(It's never productive to keep the sense of revenge against anyone, but hey this instigated me to make better and more presentable food which, in my opinion is a good thing. His jeerings pushed me to try even harder to improve my food. I will keep you updated what I do next week)
In the meantime, these are some of the photos I took while making Chicken Biryani
Basmati rice with chicken gravy on top
Raita with carrot, grapes and cucumber
Chicken Biryani
Chicken Biryani with Raita on side