Chicken Kebabs - Spicy Indian dish
Alright, it's almost 12:30 PM in the afternoon at Chicago O'hare airport and I am really hungry. It's pain and exposure to reality while writing blog post that I am not going to get my hand made Chicken Kebabs for at least next month. Jeez, I have to control my desire to have it right now. Chicken Kebabs, here we go!
I went to Walmart this week. Damn to my timing, but all the thighs were out of store. So I had to go with chicken breasts. Well, what do you make from breasts? Chicken Kebabs of course.
To begin, you will have to cut pieces into medium sized cubes. If pieces are big, you can make cuts into it. (Just to make sure outside marination reaches all parts of the meat). Thanks to VahChef video on how to make Chicken Kebabs for teaching how to make this recipe.
Marination is most important part of this procedure. Make sure you marinate well and for enough time so that it gets soaked inside. Following are the ingredients you can use for the purpose of marination.
Ginger-garlic paste
Cilantro
Lime juice
Curd
Red chili powder
Garam masala (Indian recipe)
mint leaves
pinch of salt
Vinegar
Turmeric powder
To start, you will have to take these ingredients in desired proportion, mix them with curd to form a marination.
Do not make marination too thin otherwise it will not properly coat around meat pieces
Once you make marination of desired medium-thick consistency, deep the meat pieces into it one by one. Make sure marination coats the chicken from all sides.
If you want to make it look like more professional, you can also add few drops of red color to it. It will give final kebabs a red glow. But it's your choice. Adding red color will not make any difference in taste whatsoever
As mentioned in the video, set the over to 375F and bake for 30-35 minutes. Make sure you mount those pieces on support. It will make sure air will flow through all parts and bottom pieces will not stay uncooked.
What I usually do is bake it from one side for 30 minutes, switch the side and then bake other one for 20-25 minutes. This way your kebabs do not remain uncooked from any side
When you are done backing, turn off the heat and let them seat inside for half n hour. And you're done. After 30 minutes, take out hot pieces of Kebabs and serve hot with garnish such as lemon pieces, onions, lemon juice and Raita
Here are some of the snaps I took from Kebabs I made this week.
Uncooked Chicken Kebab Snap 1

Uncooked Chicken Kebab Snap 2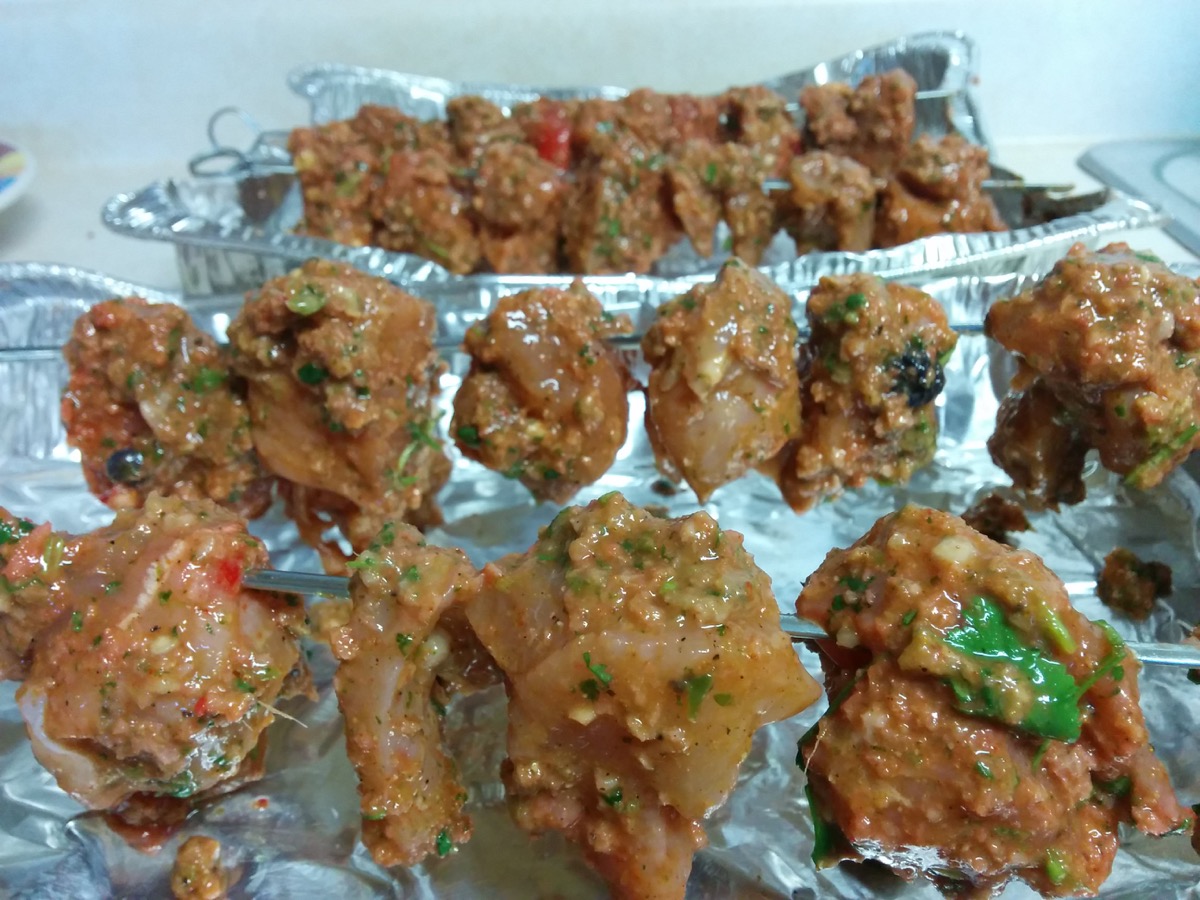 Chicken Kebab Ready to eat Snap 1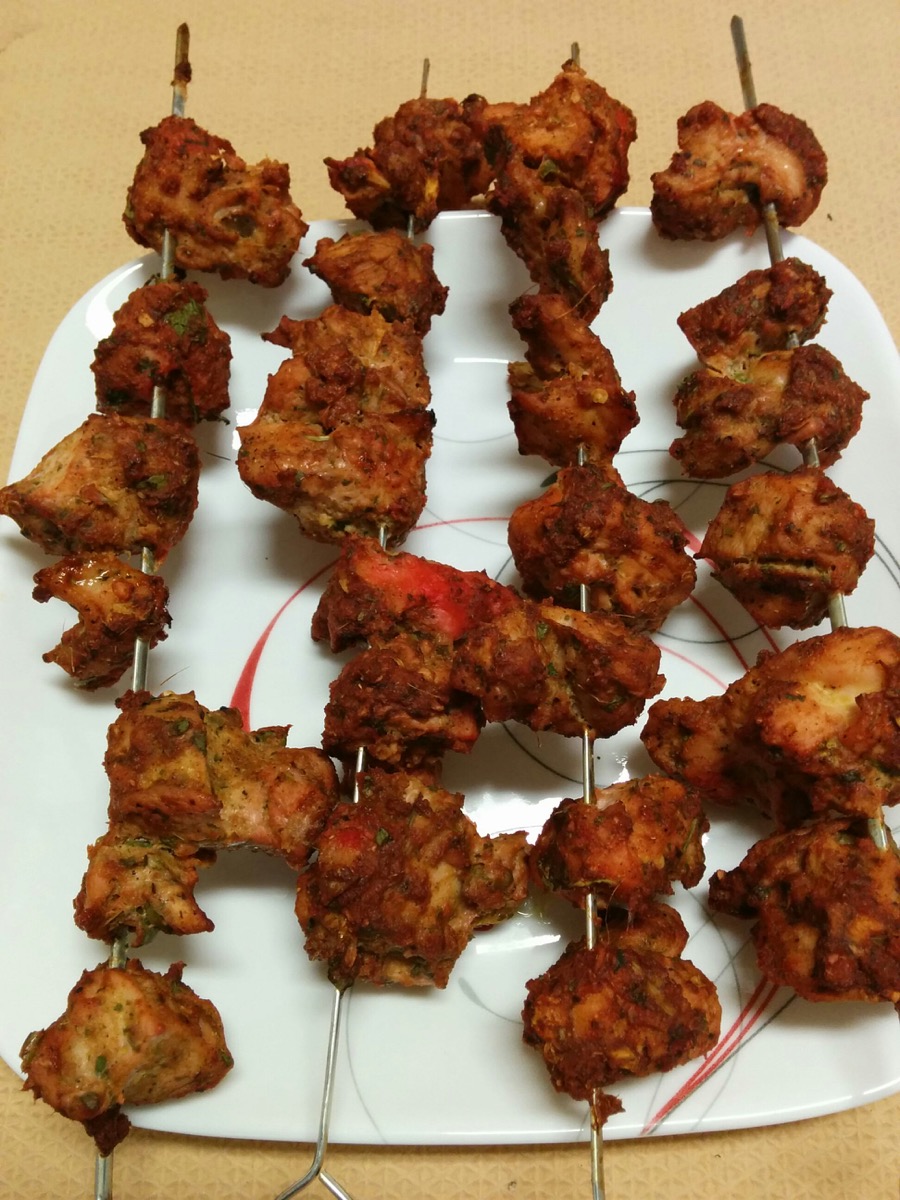 Chicken Kebab Ready to eat Snap 2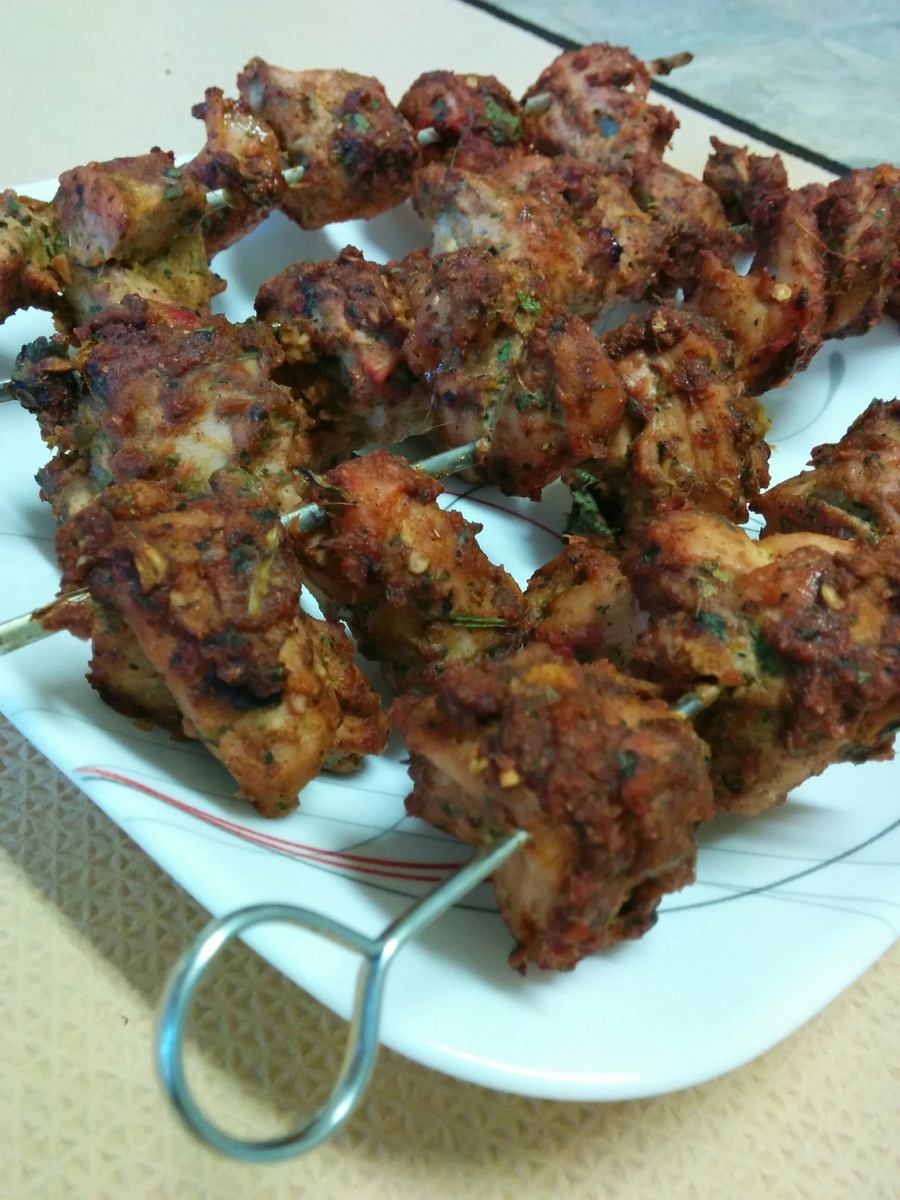 Chicken Kebab Ready to eat Snap 3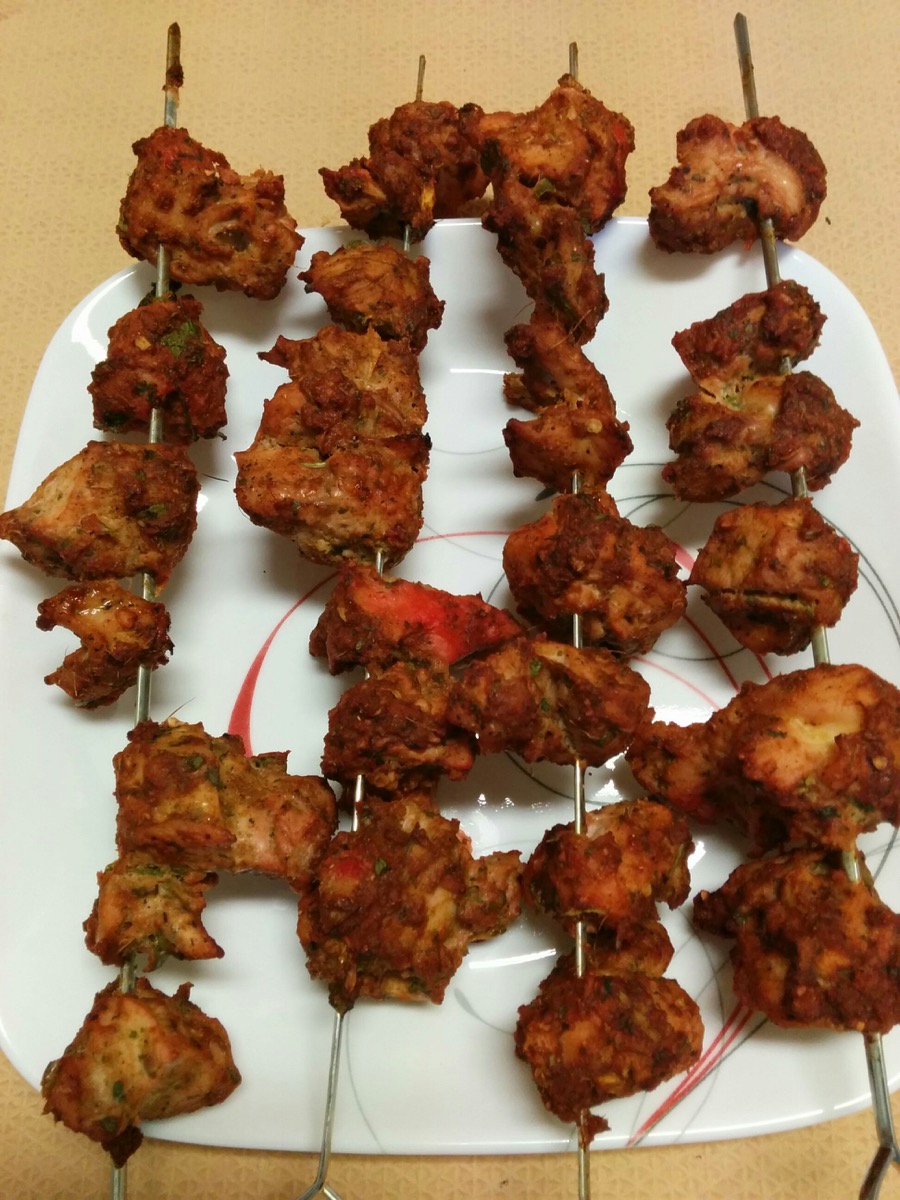 Hope you liked this post. My aim with this blog is to describe my cooking experience, give tip from my own venture and motivate others to cook as well. I hope you liked this post. If you have any questions on how to make Kebabs, feel free to reach me. I will be more than happy to answer any questions you might have