Delicious Strawberry Chocolate Pancakes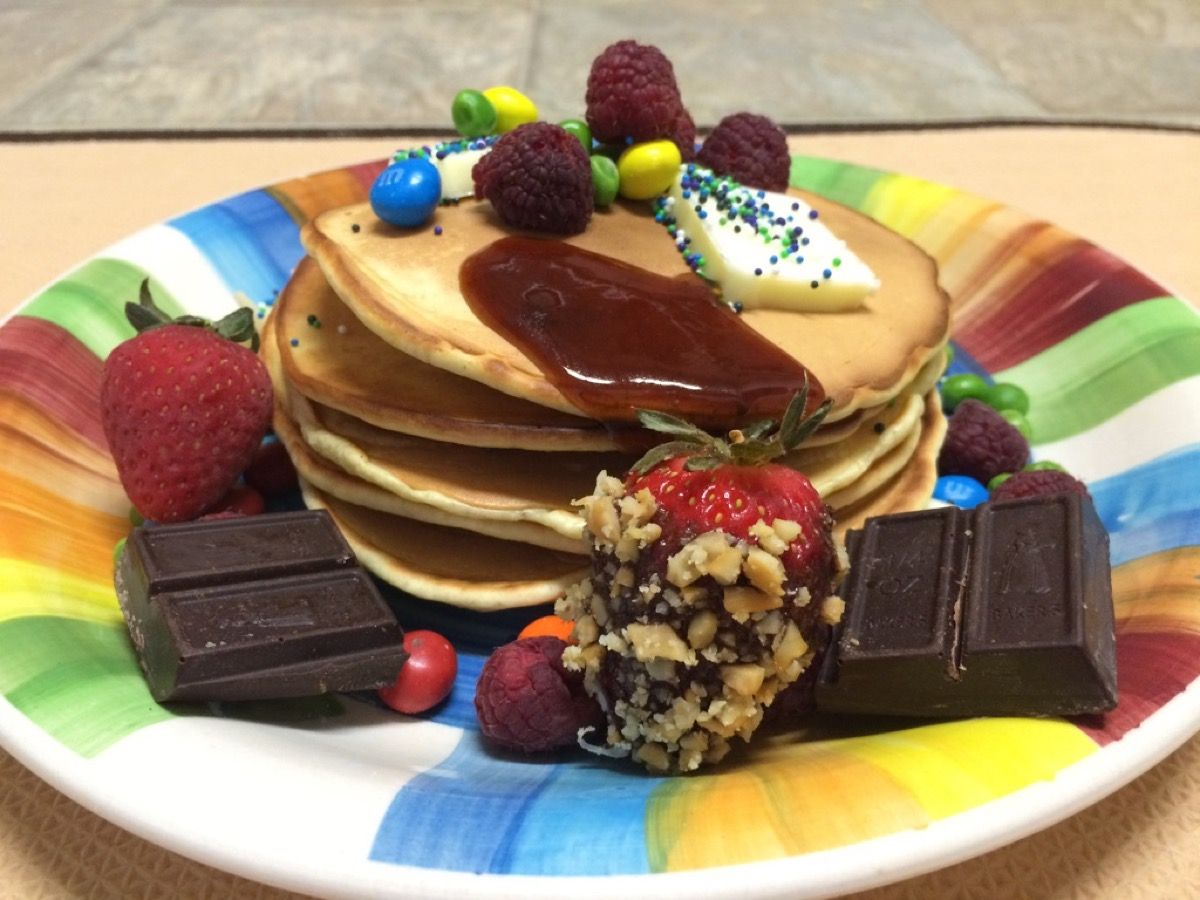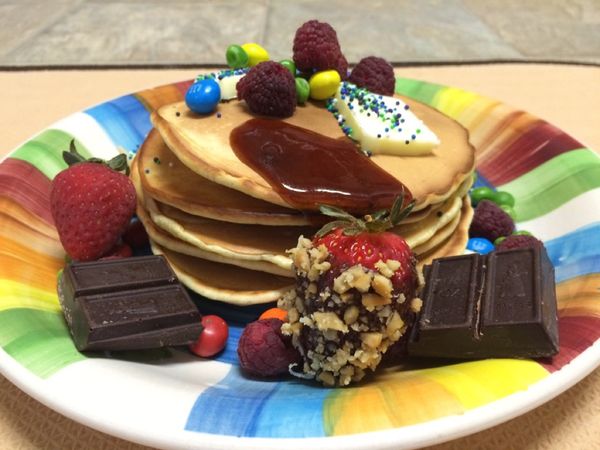 This is off the topic, but today I borrowed 4 books from Bexley Public Library. These books probably will be my last books to read in US, or at least last set before I leave for India in the next month. These books are as follow
1. How Toyota became #1 by David Magee

2. The Innocent by David Baldacci

3. Split Second by David Baldacci

4. The Murder of Roger Ackroyd by Agatha Christie

I think I have plenty of time to read these books before departing in less than 4 months. These is high probability that I won't read The Innocent as it's pretty heavy plus I never read Baldacci before.
---
Enough ramblings, back to Pancakes. I have always seen many Americans making pancakes for breakfast along with maple syrup or honey. It looks delicious but I never tried one. Looking at its appearance, I always though pancakes are nothing but the bland preparation. It looks very similar to another item which Indians eat for breakfast.
So this weekend, I happened so see delicious pancake photograph on Tatyana's Everyday Food on Facebook. I was quite inspired by the design and impulse offered by this photo. So I looked up a pancake recipe on YouTube. It was really quick and my experience with Allrecipes has been more than pleasant so I strongly recommend it. I had enough all purpose flour, eggs and other required ingredients with me. This recipe wouldn't even take an hour. Given these parameters, I decided to cook it on Saturday morning as it's breakfast time.
Mixing all ingredients and making a fully airated batter along with baking powder took about 20 minutes. If you have electronic mixer to make a mixture, it would even be faster than that. Make sure you mix it well, so that air bubbles are formed inside which will make your pancakes soft and fluffy.
This is how my pancake batter looked like when I tried my hand at making pancakes last week. Do you see those little bubbles in the batter. It means your batter is quite airated and you can expect fluffy product
Pancake batter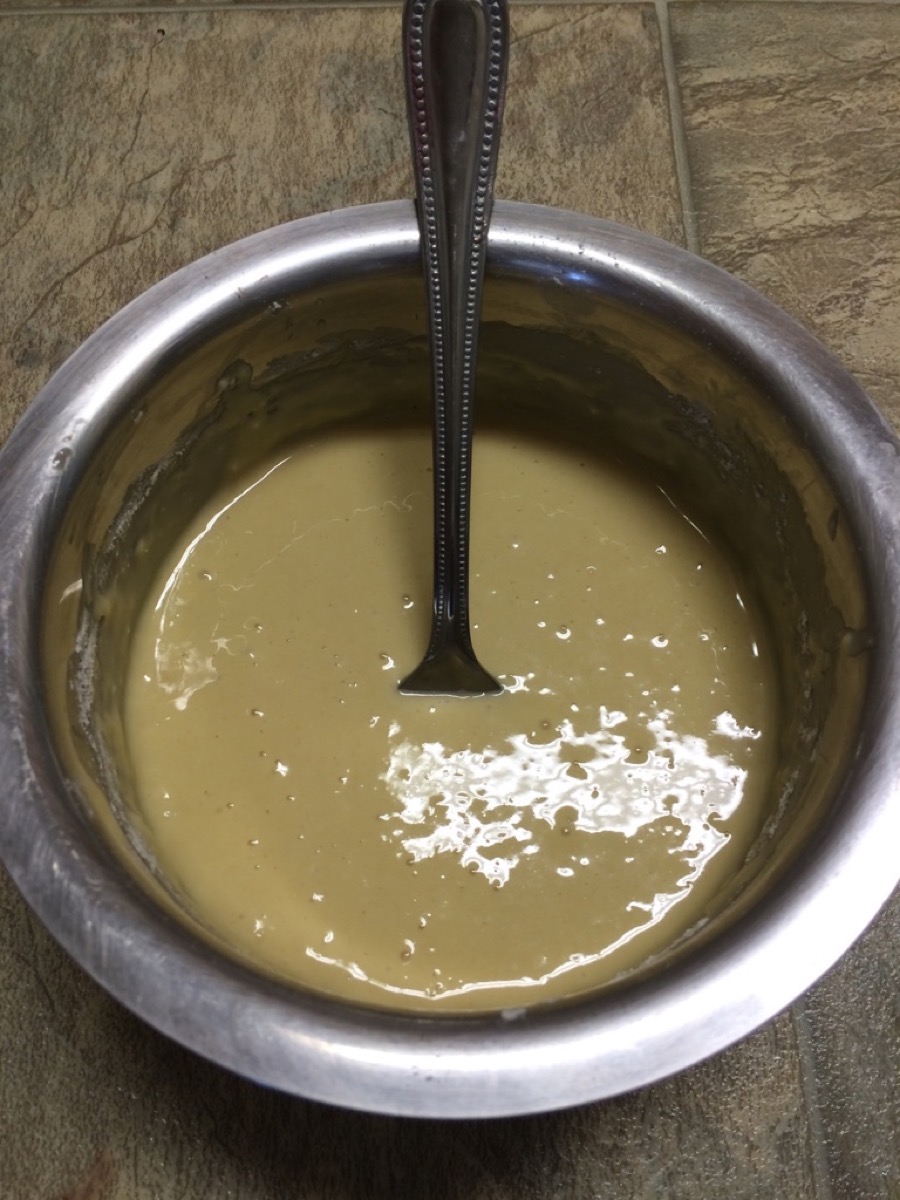 Pour the mixture on the pan and let it cook for 5-8 minutes on medium-high flame. Turn the pancake upside down to let other side cook well too. Let it cook for another 8-10 minutes. Check if it looks brown from both sides and then drop cooked pancakes into breakfast dish. Do the same procedure for 3-4 more rounds of pancakes.
Make sure you only as much pancakes you are planning to eat in the single setting. You can always make fresh pancakes next morning. Keeping stale pancakes will harden them and cause them to become lackluster in terms of taste and appearance.
Now about how to design,
Arrange 4-5 pancakes on the top of each other. Surround this heap with strawberries, blueberries, raspberries and mint leaves. If you want, you can also add food colorings to give pleasant appearance. Now following is the reason I gave this recipe a name as chocolate pancakes. Depending on the type of liquid topping you are adding, you can always modify the name.
Take either maple syrup, honey, cocoa or milk chocolate syrup and slowly drop from the top on the uppermost pancake. This motion will make beautiful pattern of syrup flowing from the top alongside the edges of stacked pancakes.
In my opinion, pancakes are not good without these toppings, but it makes them deeply delicious and savory. Try it out at home and let me know your opinion and questions.
Chocolate Pancakes from side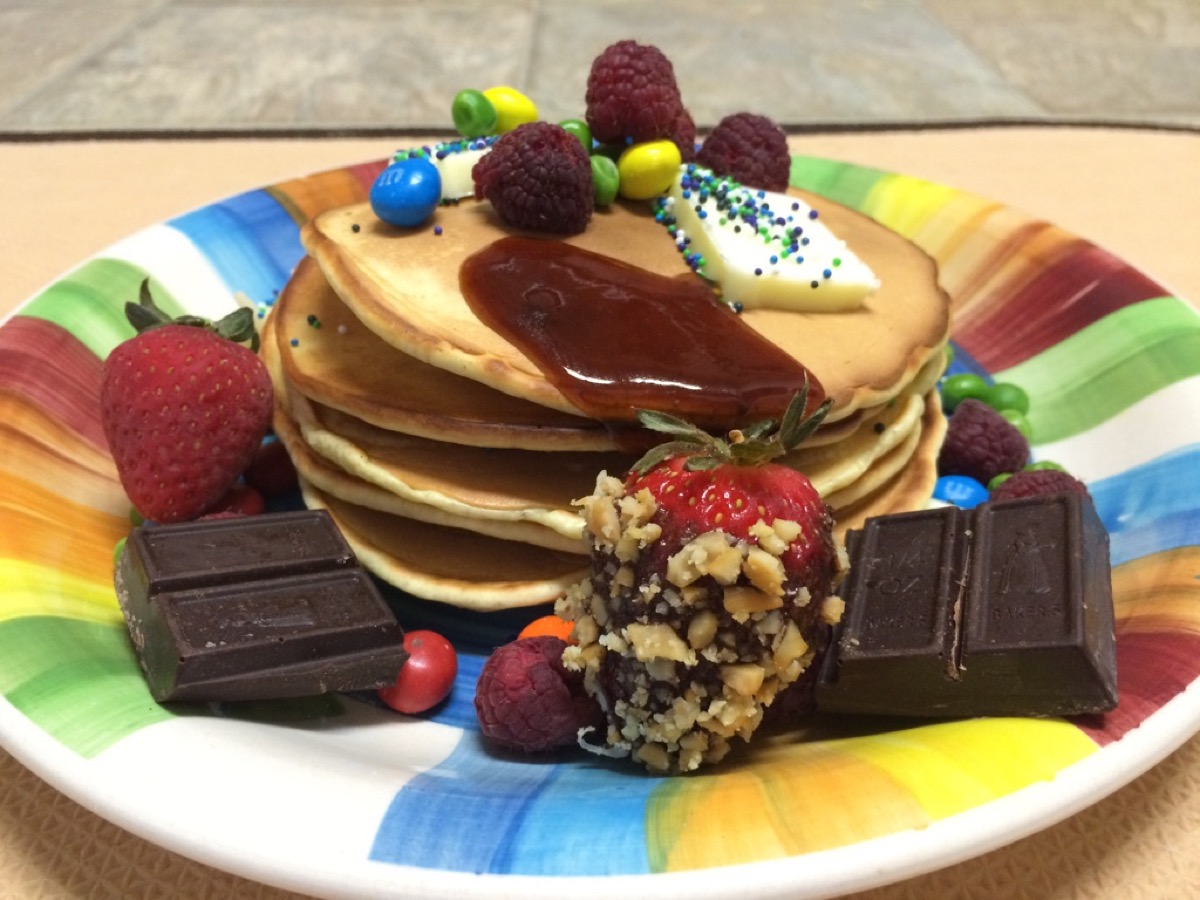 Chocolate Pancakes from side one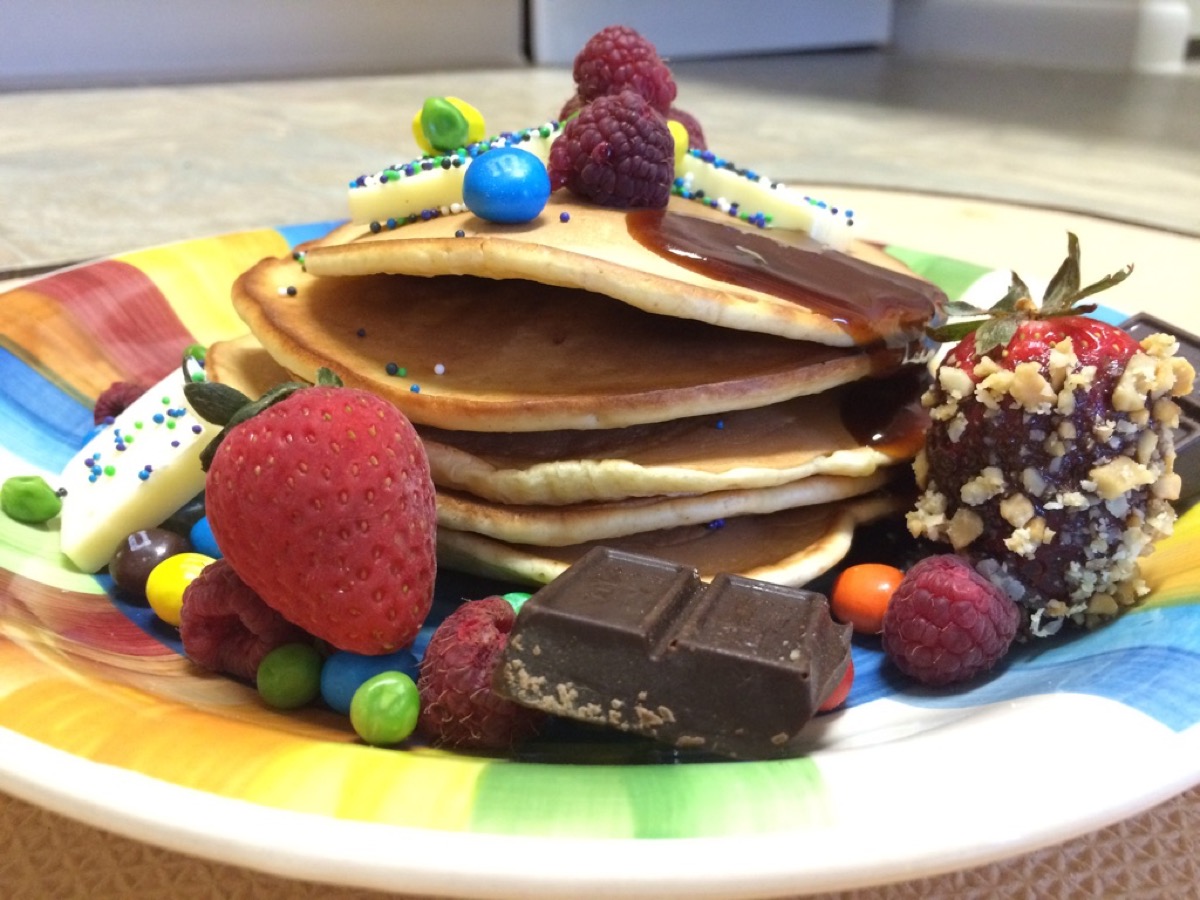 Chocolate Pancakes from top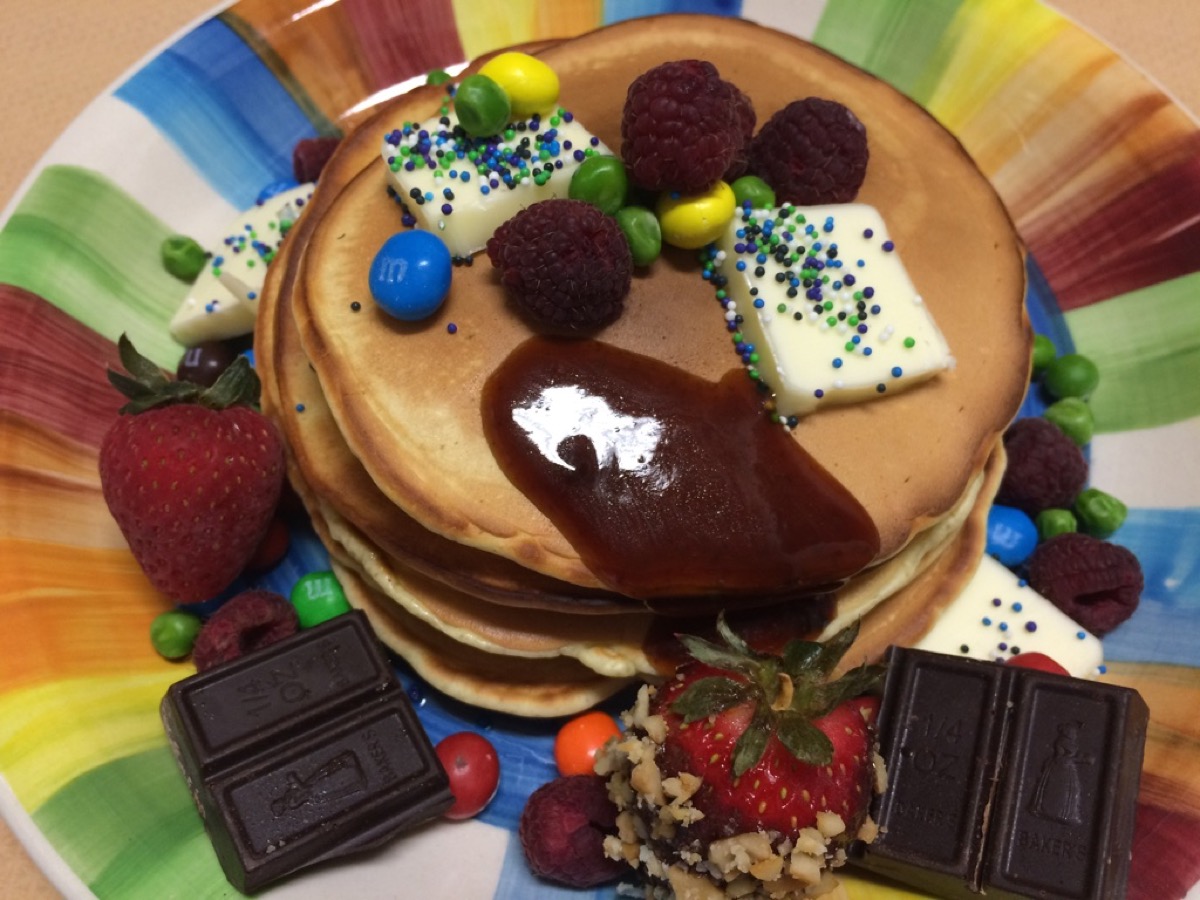 Strawberry Pancakes from side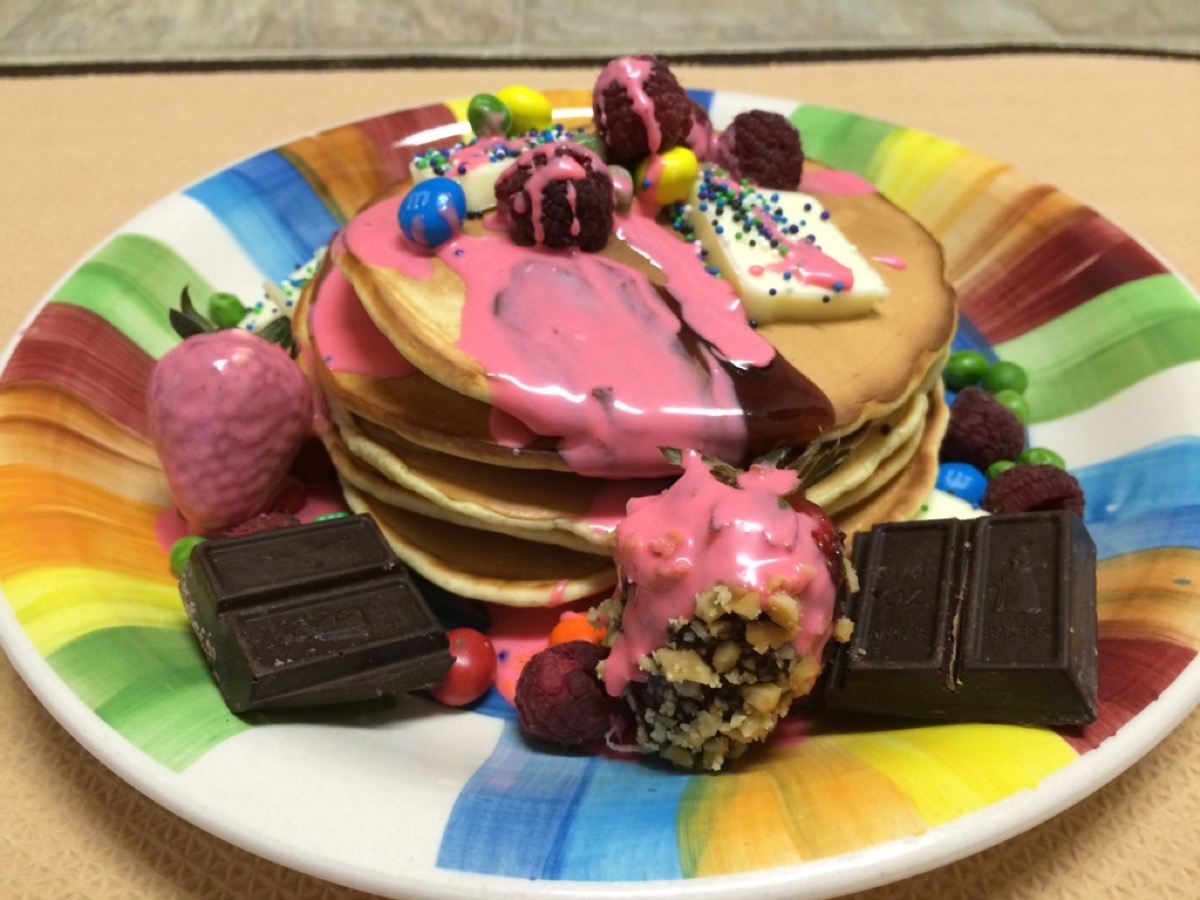 Strawberry Pancakes from side one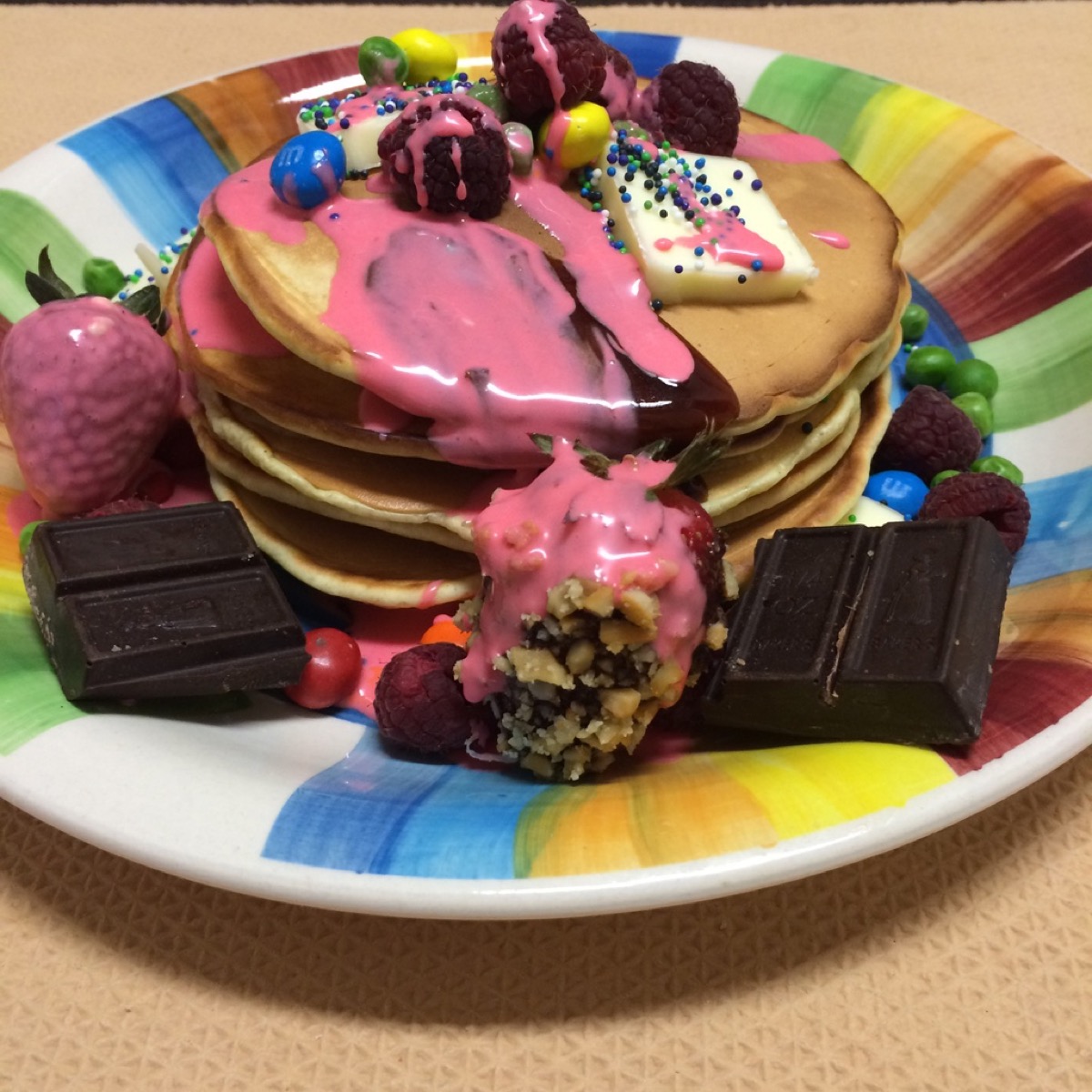 Strawberry Pancakes from top
I spent several hours and worked hard for making this recipe and design happen. Hope you have enjoyed this post and do let me know how you like it!