Making of a Gajar Halwa (Carrot halwa)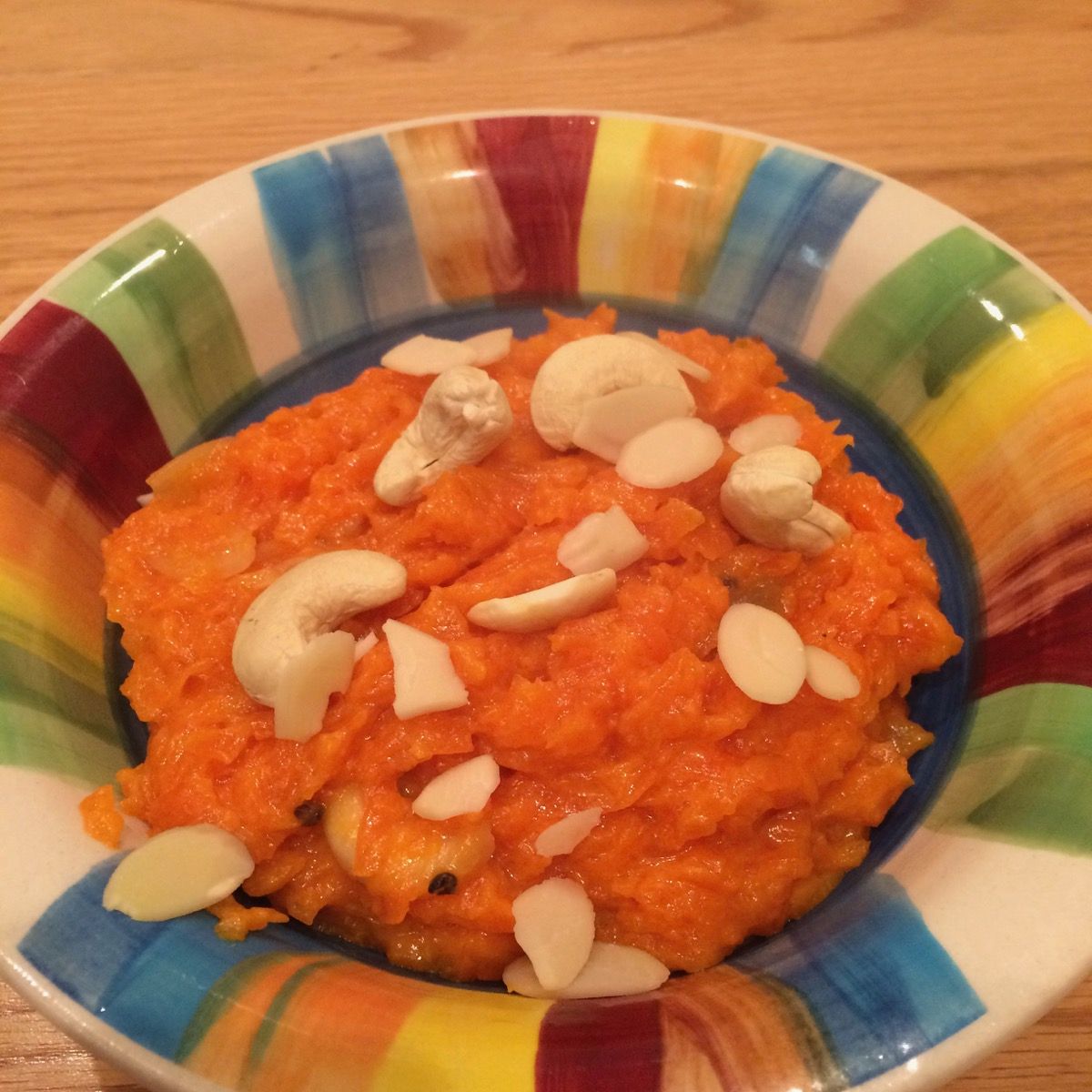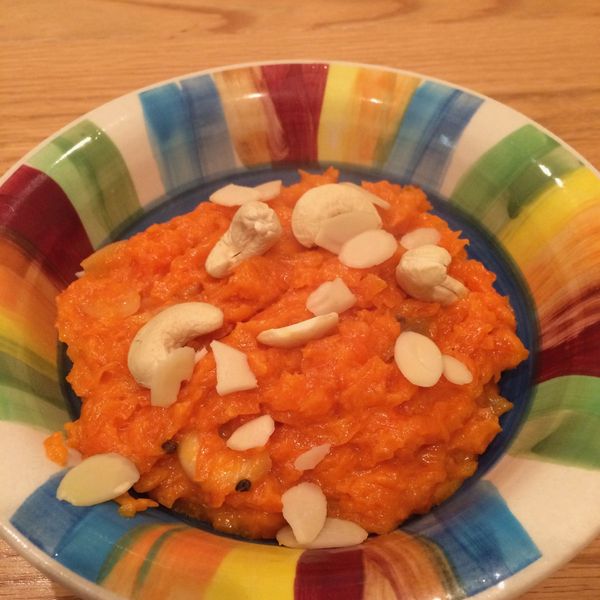 Gajar halwa or Carrot halwa is a carrot-based sweet dessert pudding from the Indian subcontinent. It is usually server in weddings and restaurants as a choice food for dessert. It's tasty, delicious, sweet (duh!) and full of dry-fruits. Just like any other food which is just incredibly awesome, I had a notion that it must be extremely difficult to prepare it at home. However, as time went on and I dabbled in cooking with so many (failed) experiments, I thought maybe dessert is one area where I haven't tried a lot. So this is the time!
There are so many recipes to make a gajar halwa on YouTube. However, I found this one from Sanjeev Kapoor's khajana most useful. It's terse, to the point and short without adding any unnecessary chatter.
I already brought carrots a week before. But before I could begin, I realized that there wasn't a Ghee (Indian butter) available to I ordered one from Amazon. I had mawa or khoya (An Indian word for dried milk paste) that was bought months back and still occupying the parts of deep-freezer.
Part of the reason why Gajar halwa is so tasty is because of addition of Khoya. It gives the dessert true feeling of being a dessert. If you taste any classic Bengali sweets, khoya is an integral part of it and strongly recommended. In fact lack of khoya was the primary reason why I postponed plans to make halwa so many times before. I made a recent trip to India so dry-fruits problem was solved too - With raisins, cashew nuts, pistachios, and almonds.
If you ask me about the most difficult part, it was all about grating a carrot. I had to use 4 regular sizes carrots. Due to small size of grater, it took me forever. But on the bright side that was a good sort of exercise after long time.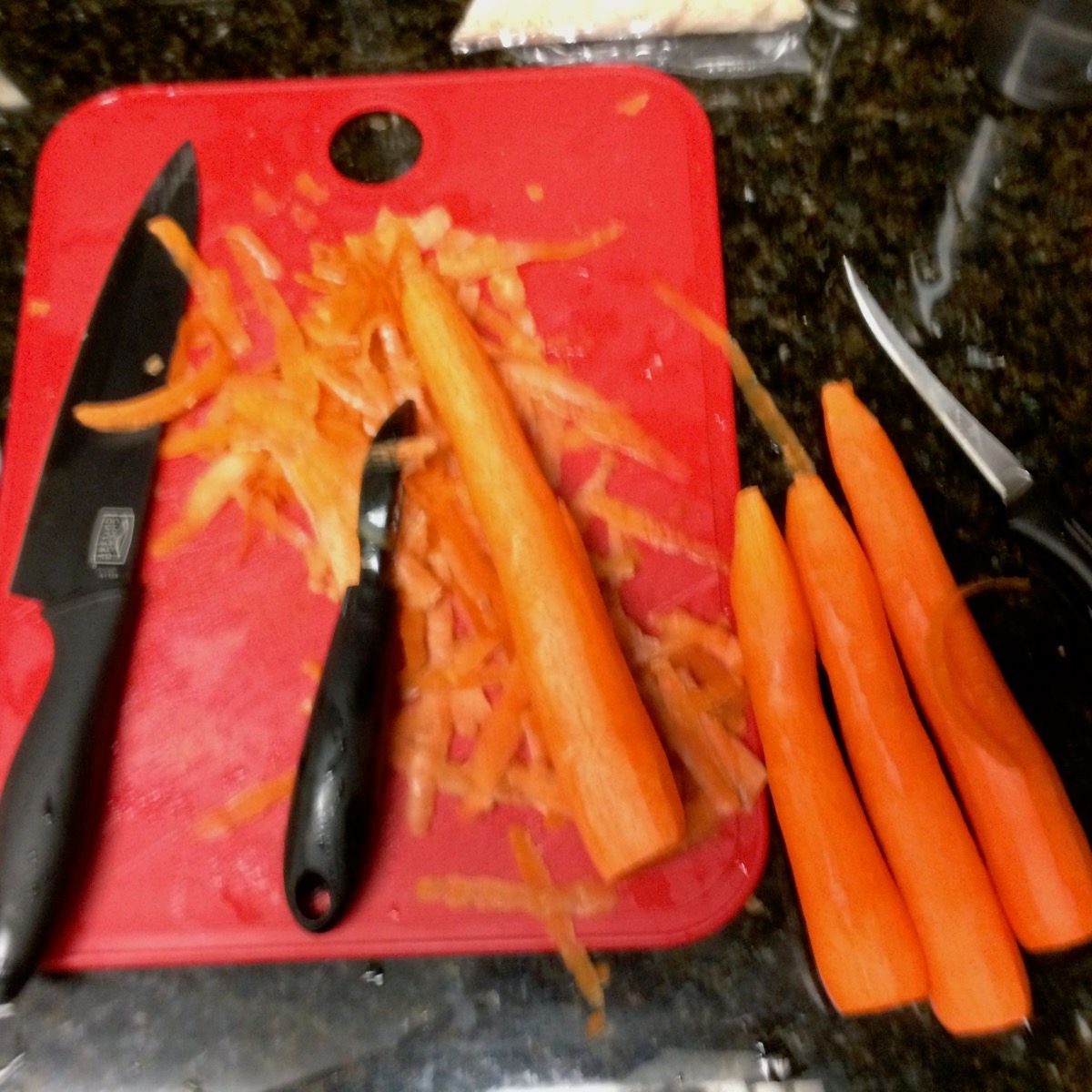 By the time I was done with grating and ingredients preparation, the whole kitchen was in big mess. But hey, you got to lose something to gain something.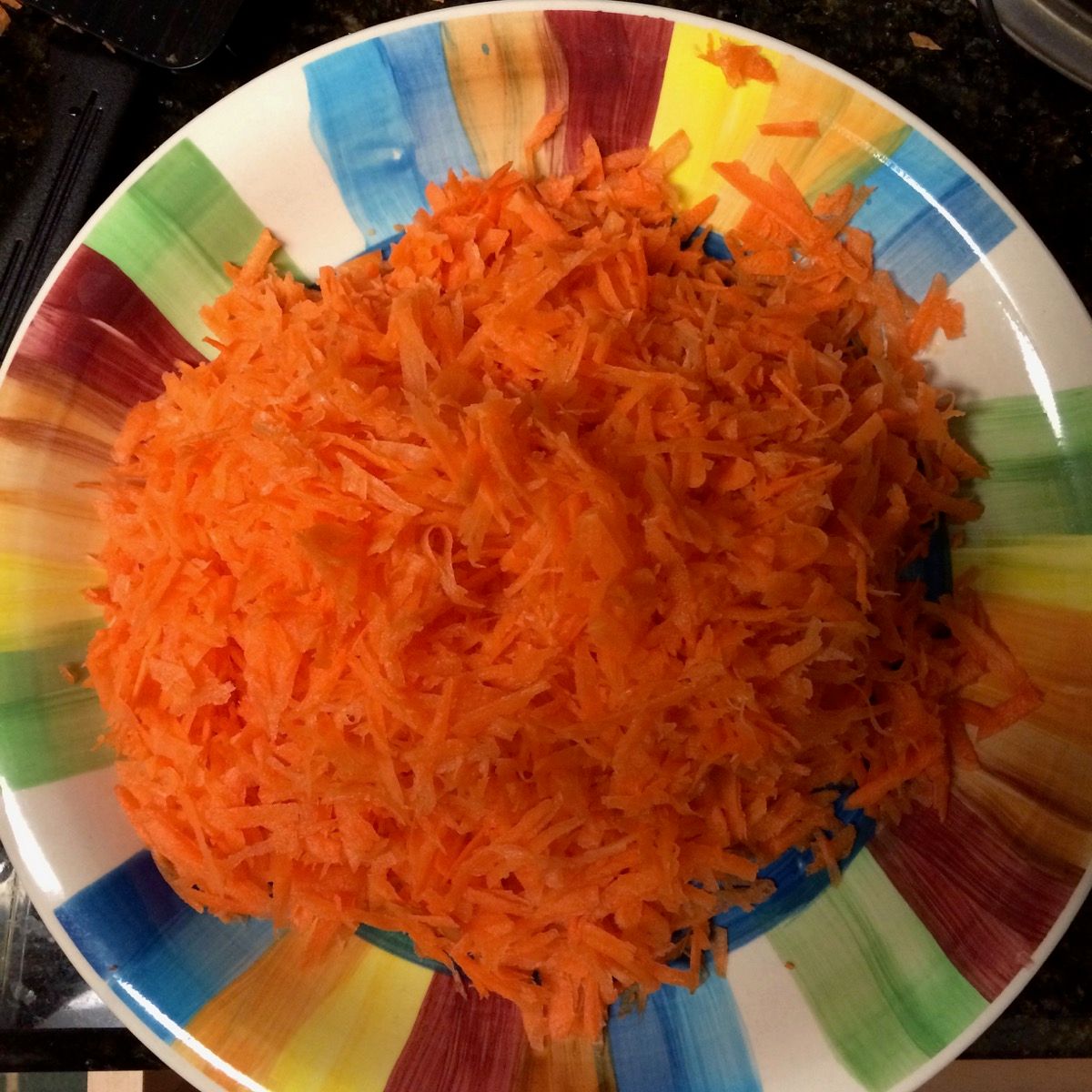 Once everything was in place, it was just matter of putting them in a cooking bowl sequentially and adding next ingredients when earlier step was done
In spite of my best estimate, the whole process still took me an hour from start to finish. Use of color is optional, and depends on the shade of carrots. When you cook the halwa, make sure to stir it occasionally otherwise it risks being burned and stuck to the bottom of bowl.
Do not worry if you see too much carrot in the beginning. As you cook it, it reduces significantly. So use your judgment there. Cherry on the cake would be to cover the halwa with silver foil - Now you can get the feeling of genuine dessert bought directly from the store.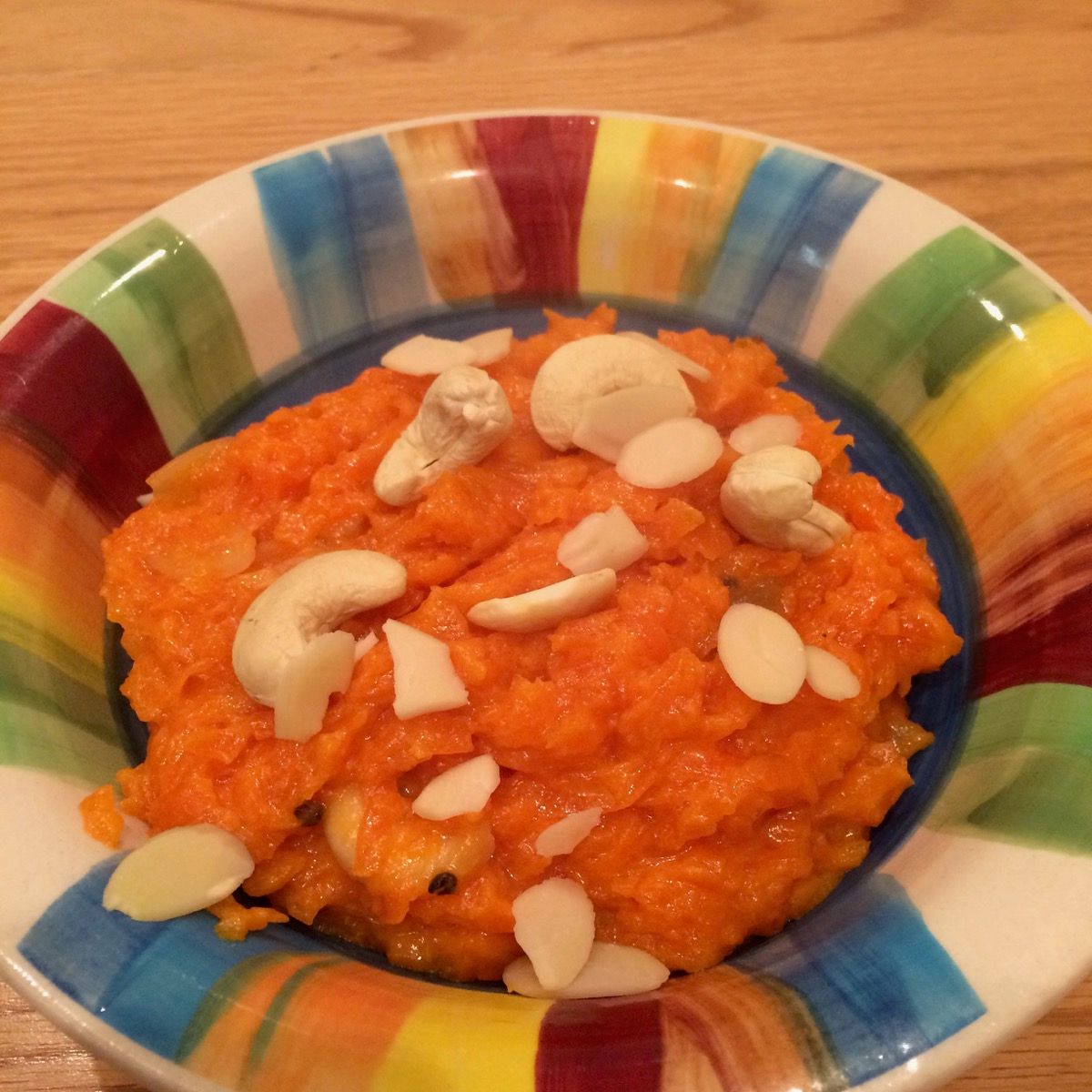 So bottom line is, try this recipe out. Video is extremely good at explaining every tiny detail. With one carrot you can easily make dessert sized Carrot halwa for 5 people. It can be stored in a fridge for 5 days without significantly affecting the taste and can be served hot or cold as a dessert.
Finally, to show how much mess I made, here are two images showing after and before of my kitchen platform when I was done grating the carrot.
Good news is that even after all this trouble, kitchen was clean by the time I was done with recipe and signed-off for the day.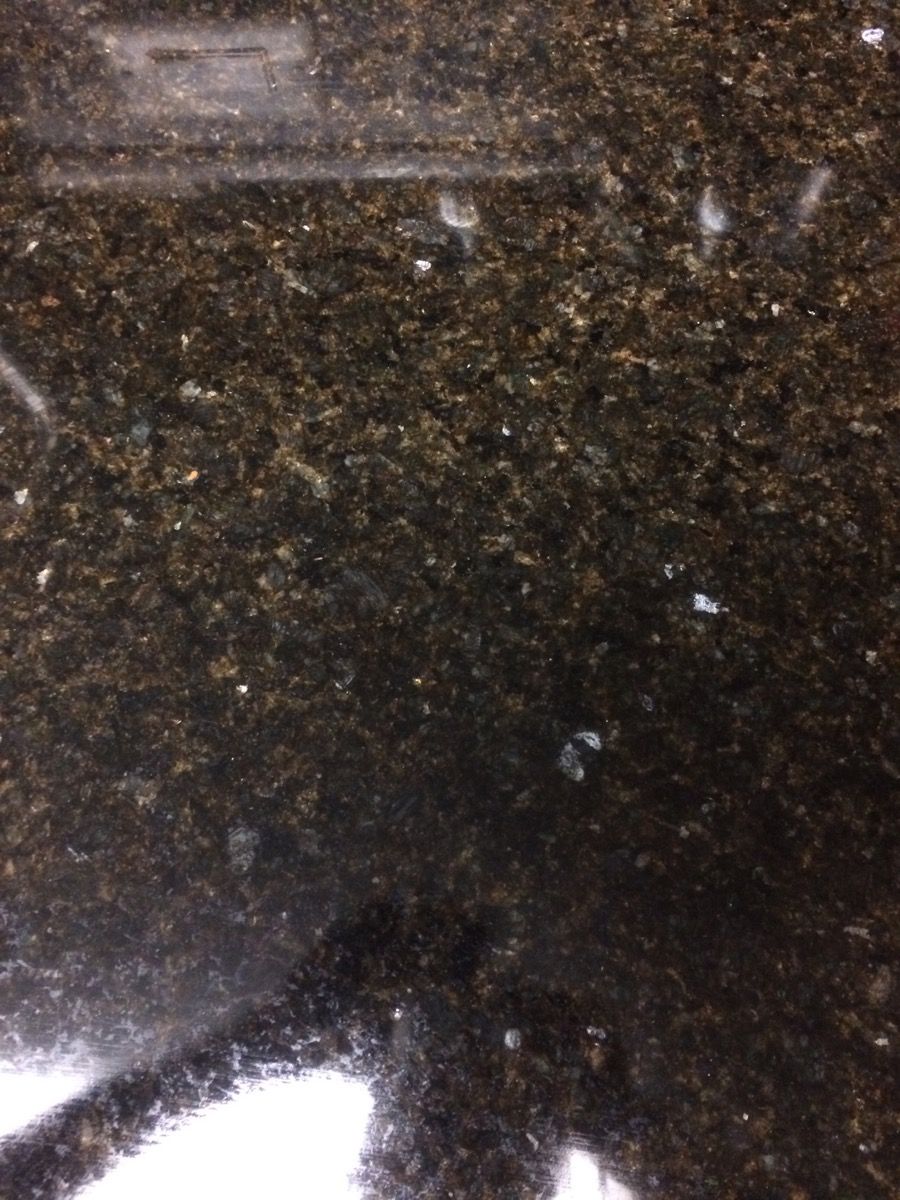 Any questions? Feel free to reach out to me!