Making a Methi Vadi (A snack made of Fenugreek Leaves)
When I was a kid, Methi vadi was one of my favorite snacks. Although I liked it, I never learned how to make it from my mom. As I grew up and started cooking at home by myself, I got cravings for eating Methi vadi and since none of the restaurants serve it, I was left with no choice but to make it at home.
During one of our weekly calls I asked my mom for its recipe and turned out I had all the ingredients one needs to make it. Although it was bit more time consuming and hectic, the taste makes it worth all the efforts.
First, you start off with following ingredients,
Fenugreek leaves (Washed and finely chopped)
Coriander leaves (Washed and finely chopped)
Salt as per taste
Carom seeds
Cumin seeds
Coriander seeds
Asafetida
Gram flour
Rice flour
Sesame seeds (Only few)
1/2 Chopped onion
Sugar
Curd as per taste (To mitigate bitter taste of fenugreek leaves)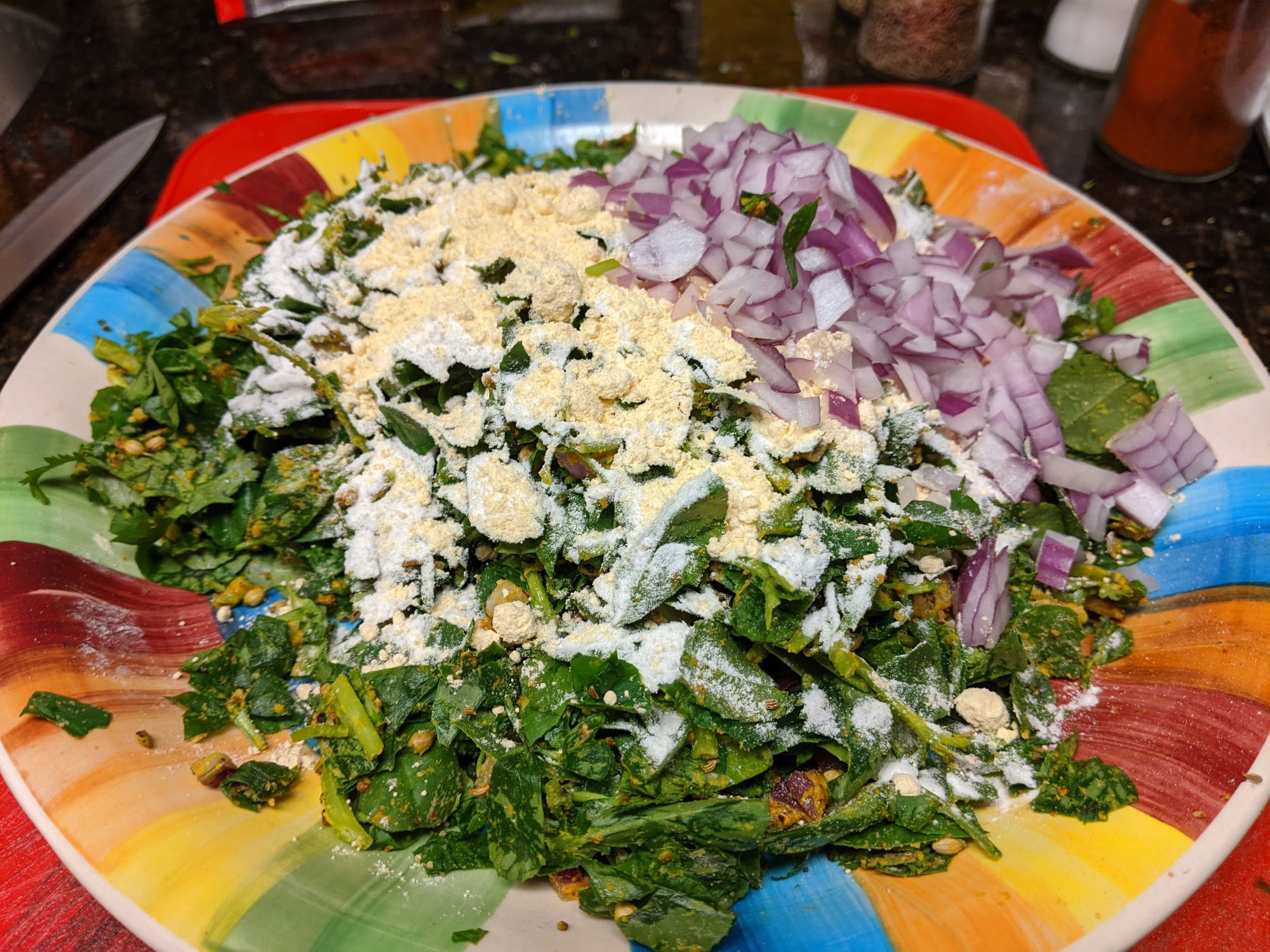 Mix them together in a large plate and check the consistency. If you feel like you're unable to make it into a solid dough, feel free to add extra rice flour on the top of it to make a binding mass out of mixture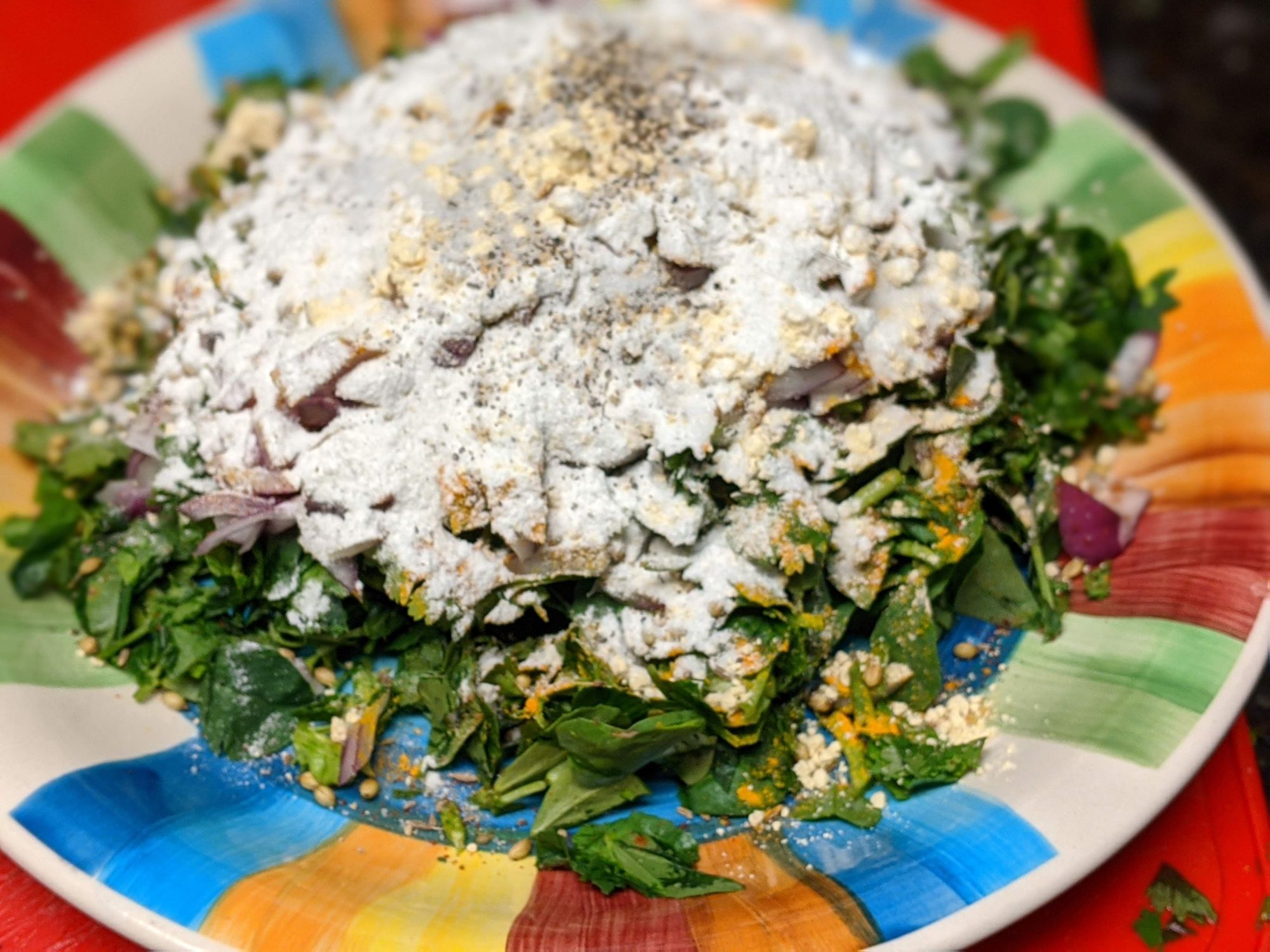 As you can see above, I made a first iteration of mixture but later realized that I cannot make it hold together firmly unless I add more flour. It's preferable to add more quantities of rice flour than gram flour (Besan). Usually 1:2 ratio of rice flour or gram flour is expected
Next, we need to knead it together into a solid dough. It's important to note that as you knead this mixture by squeezing it with your hand, fenugreek leaves and onion pieces give our a water which is enough to act as a binder. If there is an excessive water, you can always add extra rice flour maintain the balance.
Once you knead the mixture enough, you will see it getting converted into big ball of fenugreek leaves, coriander leaves, flour and other flavors we added in the mixture.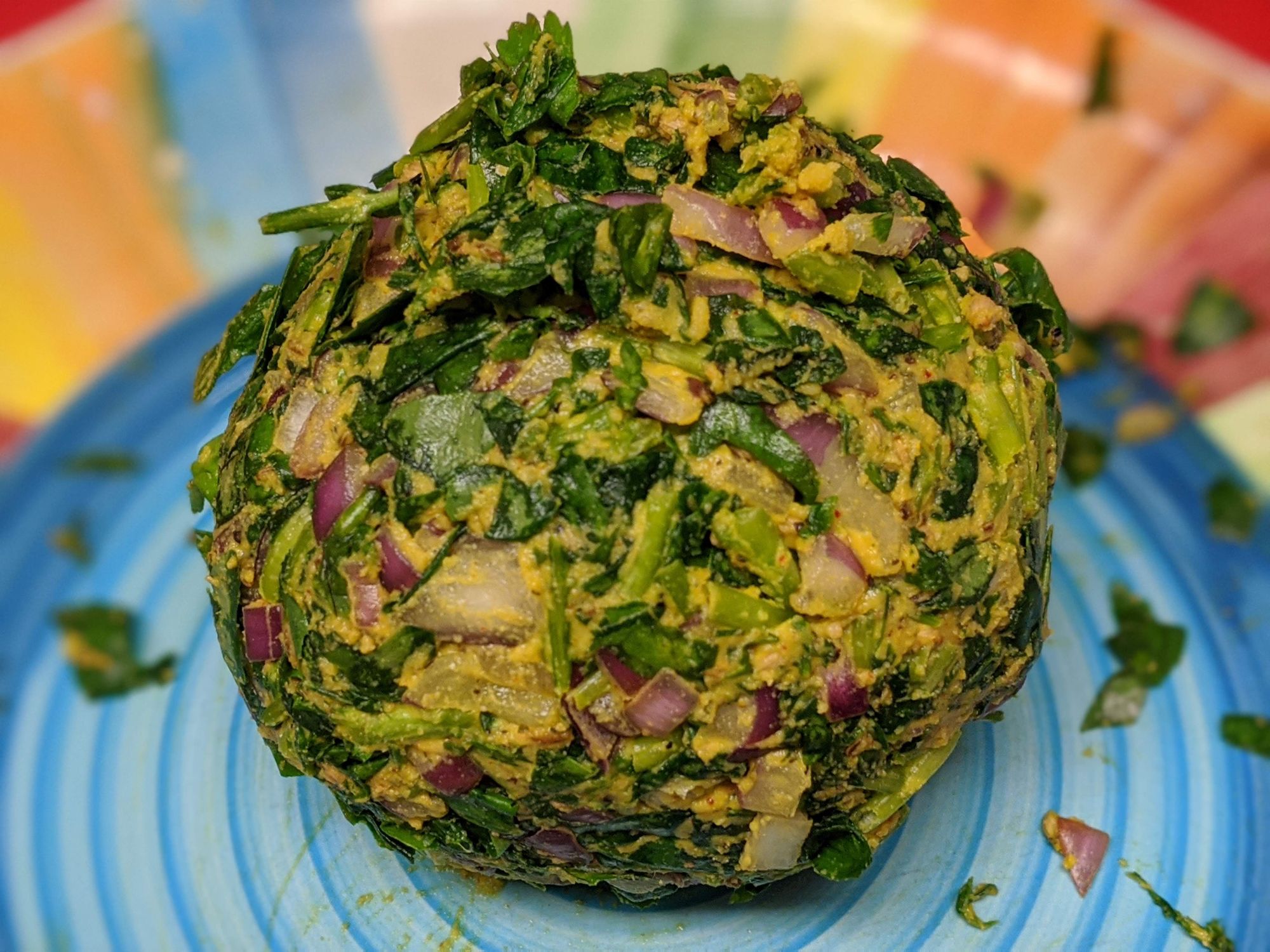 Now the next step is to pluck the small portions out of this ball and start making vadis (Small pieces in the form of circular disks). How can you convert it into thin shapes?
Take a chunk of mixture - Somewhat big enough that can fit into your fist
Lightly hold it between your palms and start moving your upper palm in circles so as to convert it into a small ball
Now apply little water to your palms so that this mixture won't stick to your hands
Start pressing these balls in both directions with your palms until they achieve desired level of thickness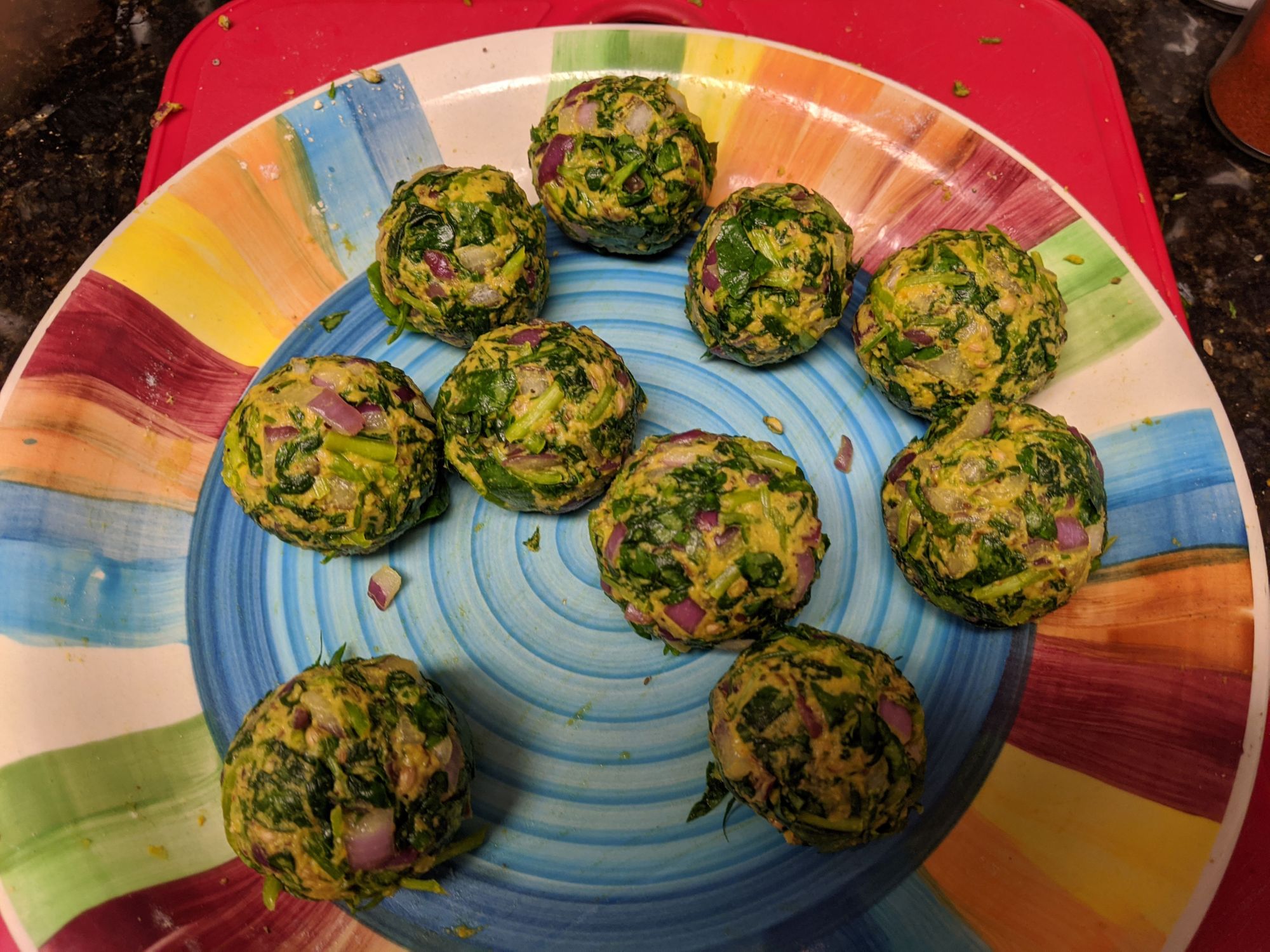 Now the next step is shallow fry them. It's important to know that we don't want to deep fry them in pan. Make sure there is enough oil in pan so as to only deep 1/3rd portion of vadis. Put the gas on medium flame, and slowly slide down vadis in it with a wooden or steel spatula.
If you want to make methi vadis little more crispy, coat it with rice flour from all the sides before making them ready for frying
Fry it for 2 minutes from all sides, now turn it around and fry other side for same time. Take it out after making sure it has been fried from all sides and spread them on a tissue paper to make sure all the excess oil is absorbed.
And this is how it turned out at the end of cooking session. I really loved it and taste gets even better when they're crispy and little less bitter if you add a sugar or curd to adjust how much sweet/sour/bitter you want your vadis to be.
This is all for now. Next time I will write about new item when I am cooking for the next week. If you've your own tips to share or have feedback about this blog post, please do let me know in comments.