Love Thy Neighbor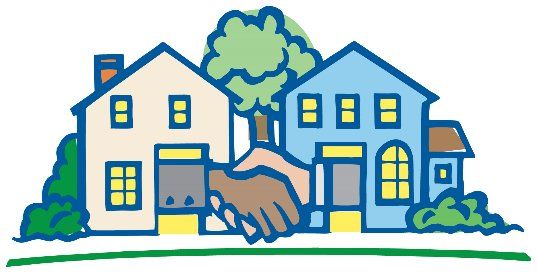 Sorry to keep ranting about my new apartment since last few days. But I cannot really get over an excitement about this place.
Last week I met my front door neighbor. She was a middle aged lady and looked really nice. She welcomed me to an apartment community asked if I liked it. This was my first ever interaction with actual neighbors since living in United States for 4 years. That felt kind gesture I am glad to be in community where neighbors keep up with each other and willing to help each other in need.
Yesterday, I met my downstairs neighbors. They are married couple. Before I moved into new house, our community manager mentioned them few times about how nice and friendly they were. I was also delighted to know that they like Indian food and are big fan of it. Eventually yesterday when I was going out for a walk, I spotted them. It was pleasure meeting them. First thing they asked me was that if they caused me any trouble since my moving in. Of course not, I said.
We also talked about exchanging phone numbers in case we need help in future. It was glad gesture. And I almost missed it, but they have very cute and good natured dog too. I said good natured, cause he hardly barks and there are no incidents of her barking at night. When she first saw me, she leapt at me with mouth wide open, but she calmed down after noticing her masters are on good terms with me.
I feel really lucky to find such amicable and angelic neighbors. All my previous neighbors were either indifferent and not-so-friendly type. I hope this relationship stays like this forever and I never have to leave this house. So far, all I have seeing in positive vibes from this apartment and this incident added more to it.
Why did I leave my previous apartment
To be honest, the reason for leaving my previous apartment was mainly neighbors and surrounding people. Dudes would come in the middle of night playing bass of their car stereo waking everybody in the 200m radius. Children would stomp and run around apartments shaking whole building. Some people even yell, swear on phones without any courtesy towards others. There were incidences where irresponsible kids would often peep into others' houses without any regard for privacy.
Worse, my downstairs neighbor was a maniac who would talk on the phone in middle of night, having two continuously barking annoying dogs and continuous shouting at neighboring kids and my adjacent neighbor would keep playing loud music all the time.
Looking back now I am not sure how I spent last few months there. But it was restless and not good experience at all given I was paying good amount of rent. Eventually, this new place is costlier than earlier, but even better cost keeps cheap people away from awesomeness of such places. My advice to you, be prepared to scrutinize apartment and neighborhood before moving in there. It's ok even if it takes a while to find a place or it's bit expensive. Don't make a trade off there. Especially if you are with family.
Good neighbors lead to positive energy.