New year resolutions - 2016
I usually do not make new year resolutions. However, the year 2016 is different. I am feeling unusually excited and energetic. My new apartment has given me new hopes and vigor. I am not sure but that might be the reason I started rekindling my unfulfilled wishes lately without thinking what other people think of me.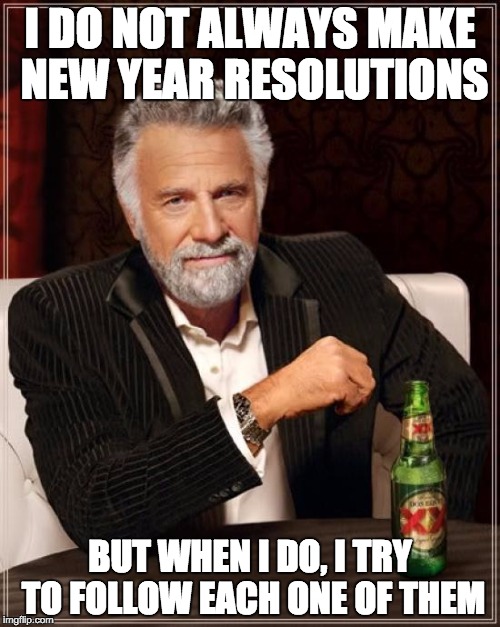 Speaking of resolutions, I do not make them because whenever I make the list, my subconscious mind tries not to follow it. But when list is missing I try to achieve something on the spur of moment depending on the mood and excitement for task.
However, this year I am going to make another experiment. Try to make a list and keep a track of tasks I would be able to achieve in the run
So here it goes,
Order is arbitrary and not by the importance, commitment of time, priority or any other factors. I am listing them as they pop into the mind. That being said, every resolution carries equal priority. (It means that either all of them are of utmost importance or none of them is)
Try to learn solving Rubik's cube

Visit India, try to visit as many relatives as possible. (Without keeping any grudge in the mind. Try to be as nice as possible on the surface)

Get converted into H1B

Learn to and cook at least 100 new food items. (That looks so outrageous, but believe me it's quite doable one you prioritize your time and energy)

Invite parents to US for 2-3 months or convince them to take trip somewhere to an amazing place

Learn Android and publish at least 3 apps to Google play store (This looks so much out of my league. But that is the fun part, try to make resolutions as high as possible. It will give you maximum kick when you're able to achieve them)

Host the website on own hosting service as opposed to on the Ghost. It will save me $8/$10/month since I already pay good amount to my hosting provider as I mentioned in the Other post

Buy something exciting for Mom and Dad (I never did it like buying something explicitly but would do that next year)

Try not to get started on Marriage. Preserving my freedom, independence and joy for few more years

Write 150 more blog posts on various topics such as technology, food, day to day, passion and ramblings

Visit Zürich
(I have a layover of about 7 hours at Zurich airport while traveling back to States. If everything goes fine, I will be able to visit this wonderful country. I know, it's too short to visit. But hey, you never know if you will ever get the chance to visit any european country. This too is possible only if everything goes alright with my H1B application)

Visit Niagara Falls. (This again is dependent on if my parents visit me here in the States. If not, I am not really inclined to visit it by myself. That wouldn't be either cool or fun)

Learn German (I figured it was too hard to do both skill and time wise. Learning new language and that too professionally is no child's play. I would keep myself from trying to do it for some time)
I think this list should be fine for first day of the new year. I will keep posted on how do I track and fare on these resolutions.
In the meantime, wish me best luck in my endeavor