Spring 2019 - New England Trip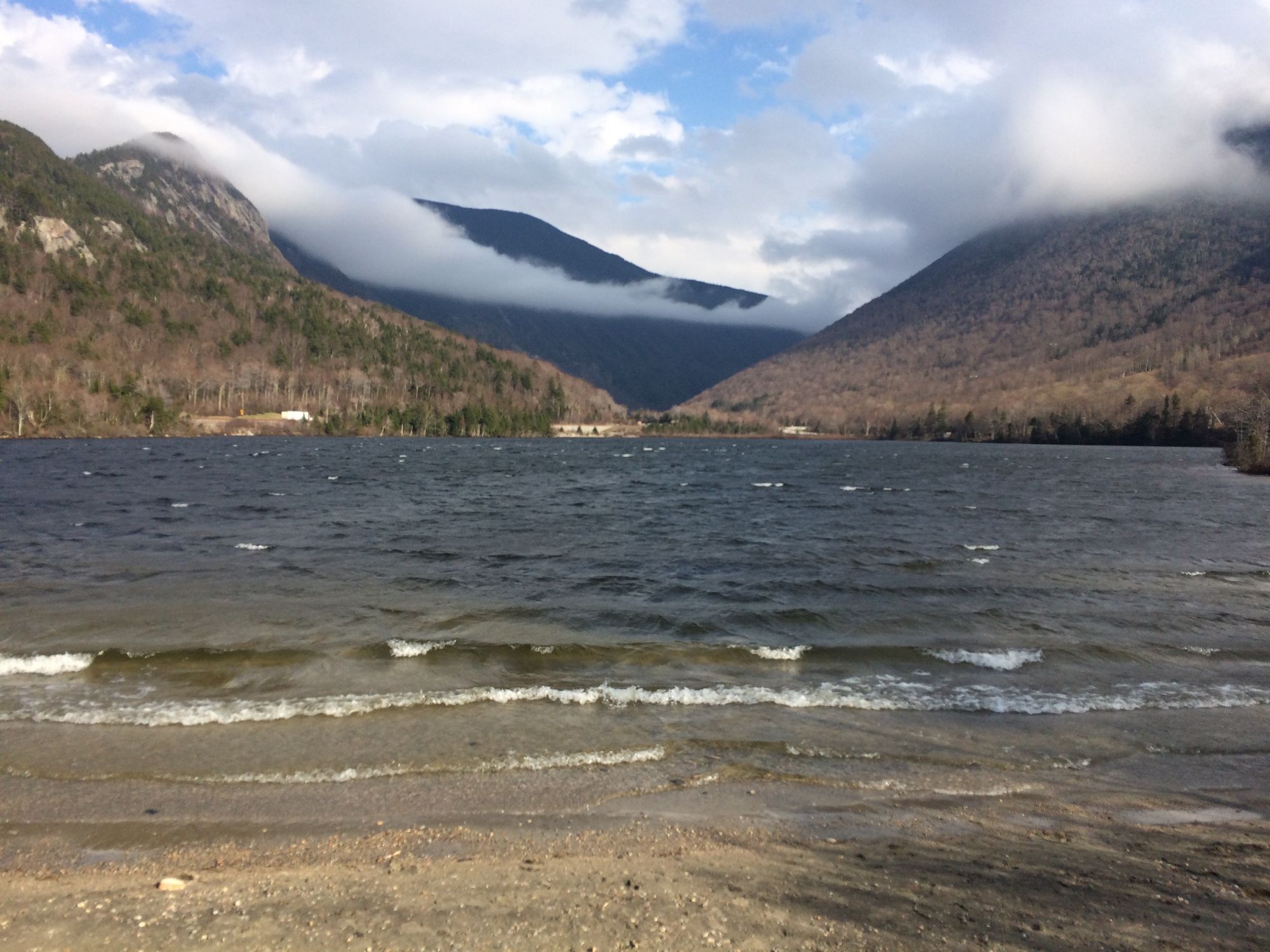 This spring, I had a little vacation in New England area with my friend. Springtime is a great time to visit National parks, waterfalls, and, trails. It's not too cold, not too hot, and it intermittently rains. And I love rain! This post is about our 6 days trip which encompassed Vermont, New Hampshire, Maine, and Massachusetts.

We had rented a Ford-Escape for the duration of my friend's stay in Boston and we thought and it proved that was the best possible option, given the public transportation in Boston and heavy charges associated with using Uber and Lyft. So without further ado, here it goes,
Day 1:
We left Boston early morning around 9:00 to visit the first place in our checklist - Ben and Jerry's Ice-cream factory tour. It was 3 hours of drive from my place, but it was a good journey with Spotify and sunny weather. The factory was small and neat. Unfortunately, it was undergoing routine maintenance when we visited so we could not see it running in action. On the bright side, we got free scoops of ice-cream of our favorite flavors.
Next, we had a pizza lunch at Zachary's pizza place. It was a small and cozy place situated just a few minutes from the factory. The pizza was thin crusted, juicy, and soft. So sad that it was our first and only chance to visit it. I felt so happy after having their pizza that I left a wonderful review on Google pages.
Before we left, we had a chance to visit Vietnam Memorial in Williamstown which was just 20 minutes away from the factory. It was a great and well-maintained memorial with a detailed history of war and patriots who gave their life while fighting for the country.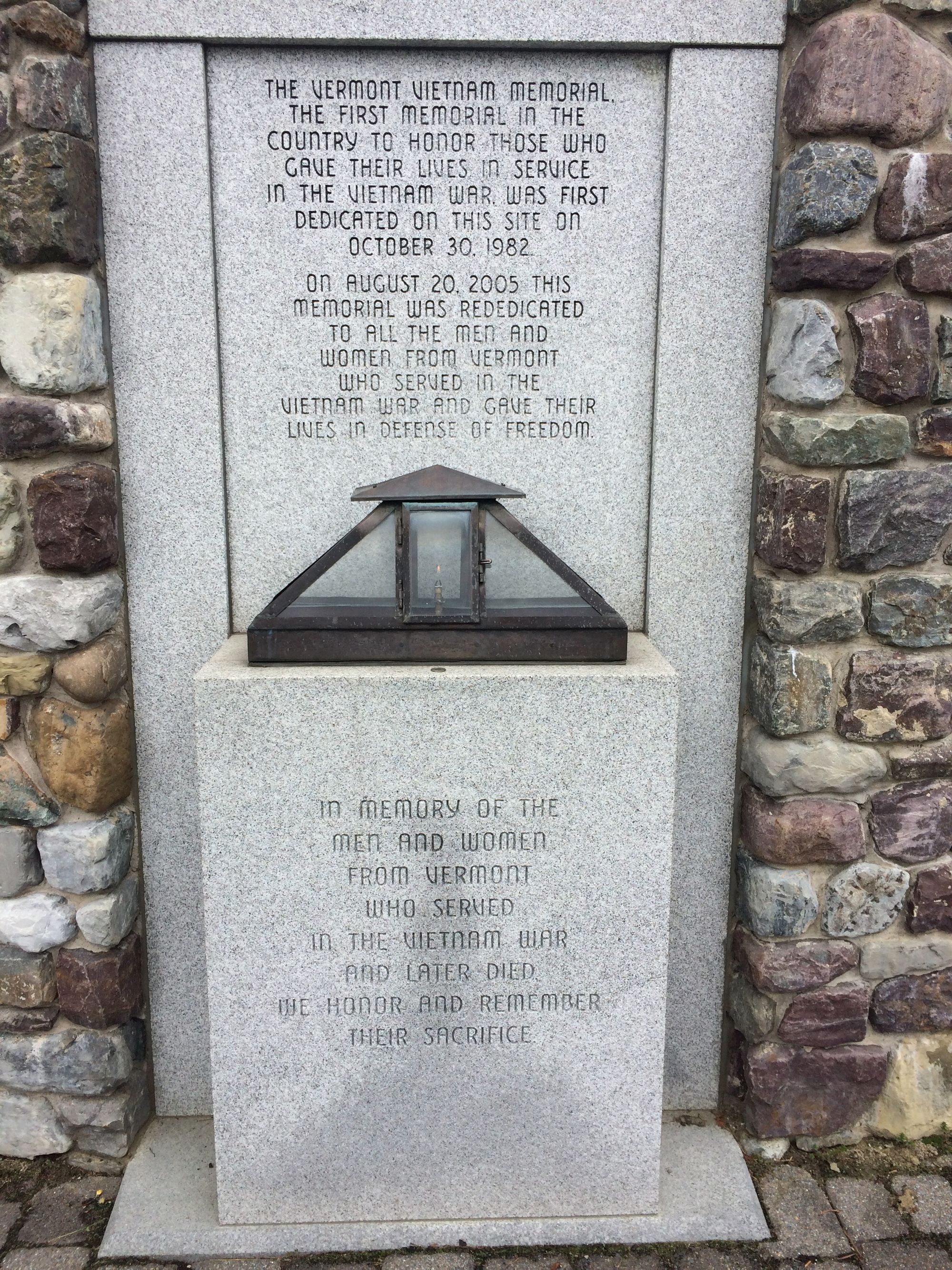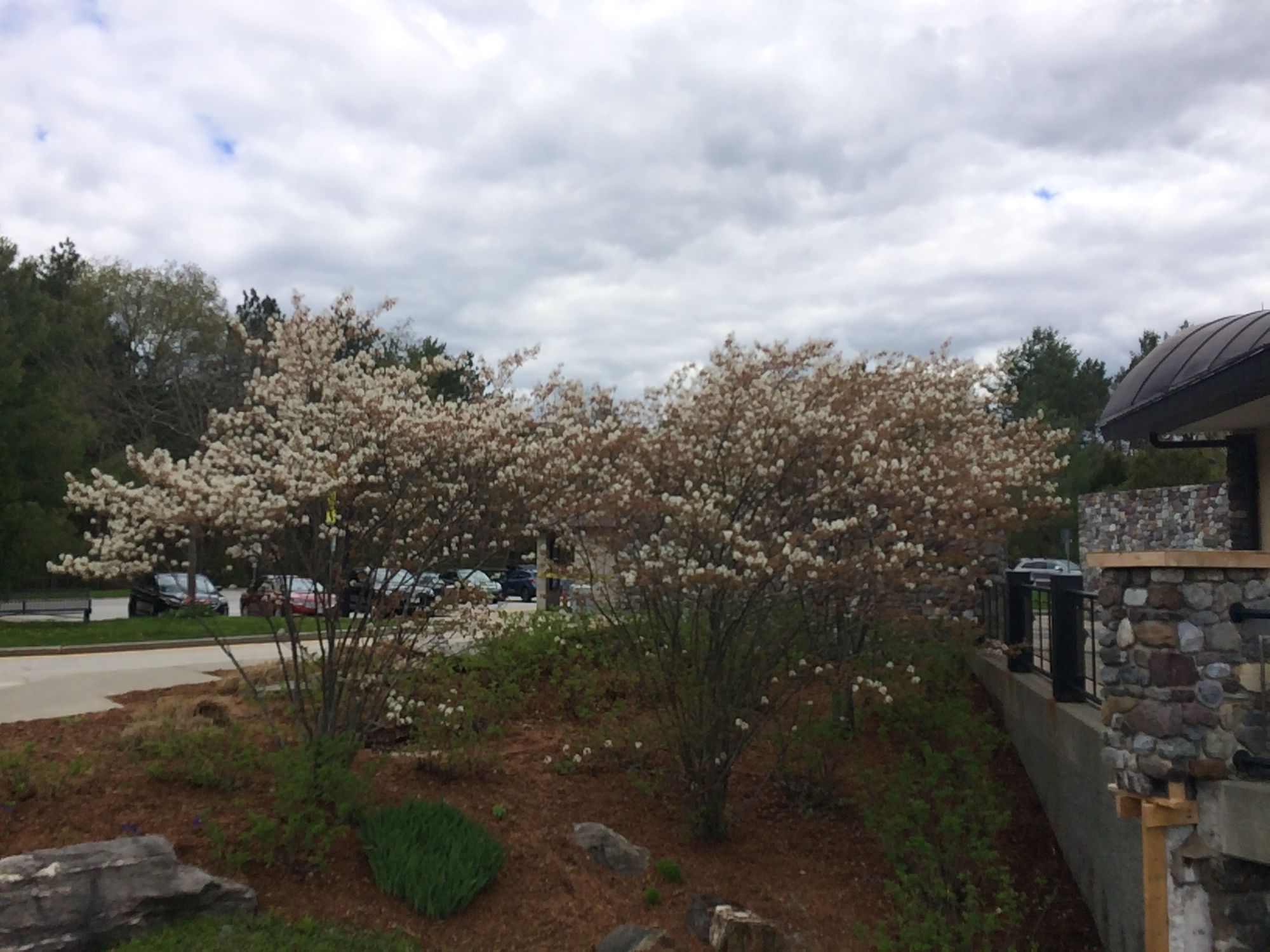 Next stop was directly in New Hampshire, which was around 2.5 hours by road. Here's where comes the part of natural beauty with trails, trees, greenery and colorful scenery surrounding the road. Yes, we were driving on the famous New Hampshire Route 112.
First stop, we visited Pemigewasset River and then to the another well-known attraction in park - The Basin in Franconia Notch area. There is quite a geological history of how this whole area was formed, and it's interesting read! We also did a Basin Cascade Trail, which wasn't too long or tough, but we spent most of the time standing in the stream and taking pictures. There is also a small attraction nearby where we stopped by on our way - It's called "Molly's Falls Pond State Park".
Molly's Falls Pond State Park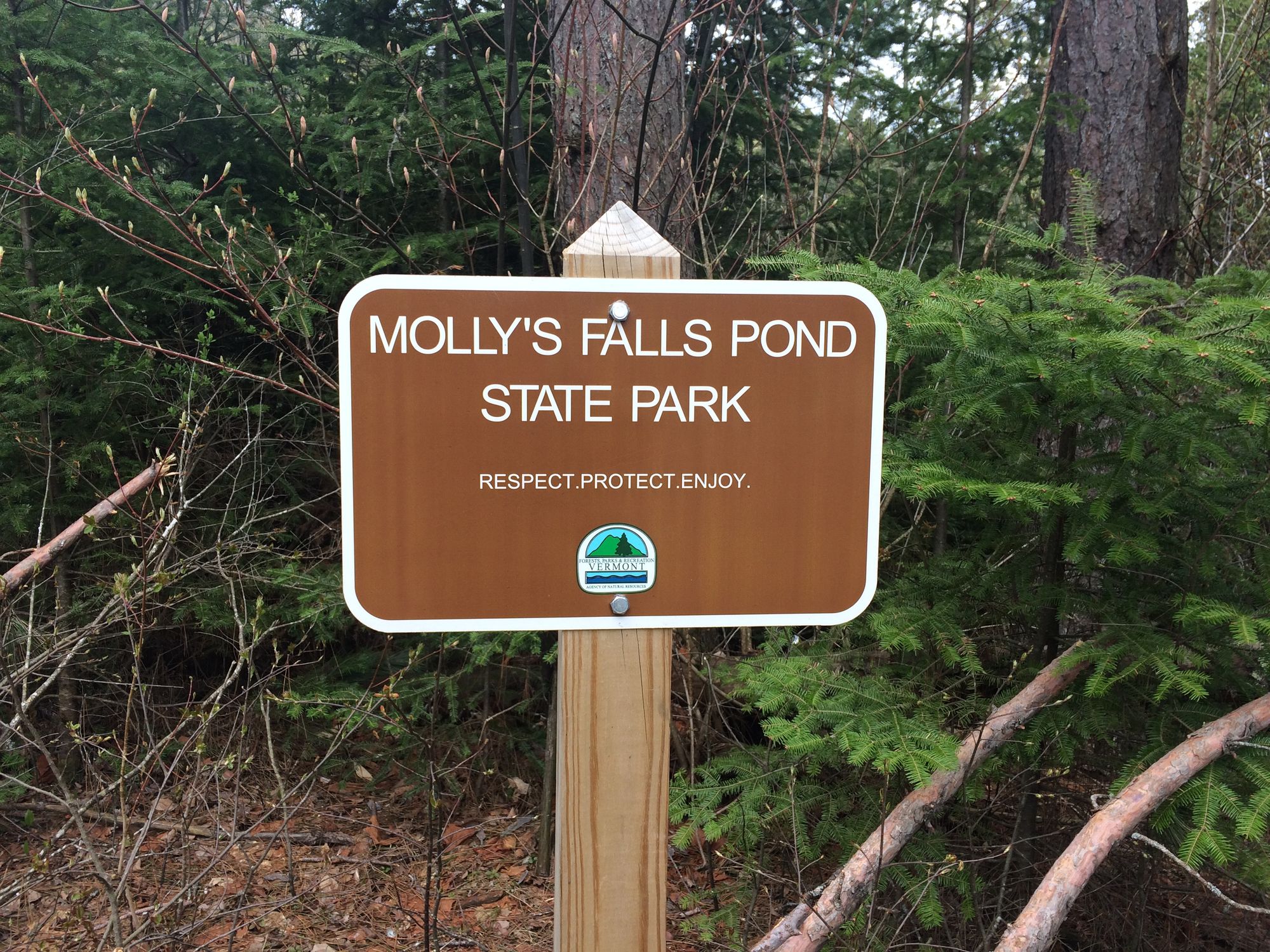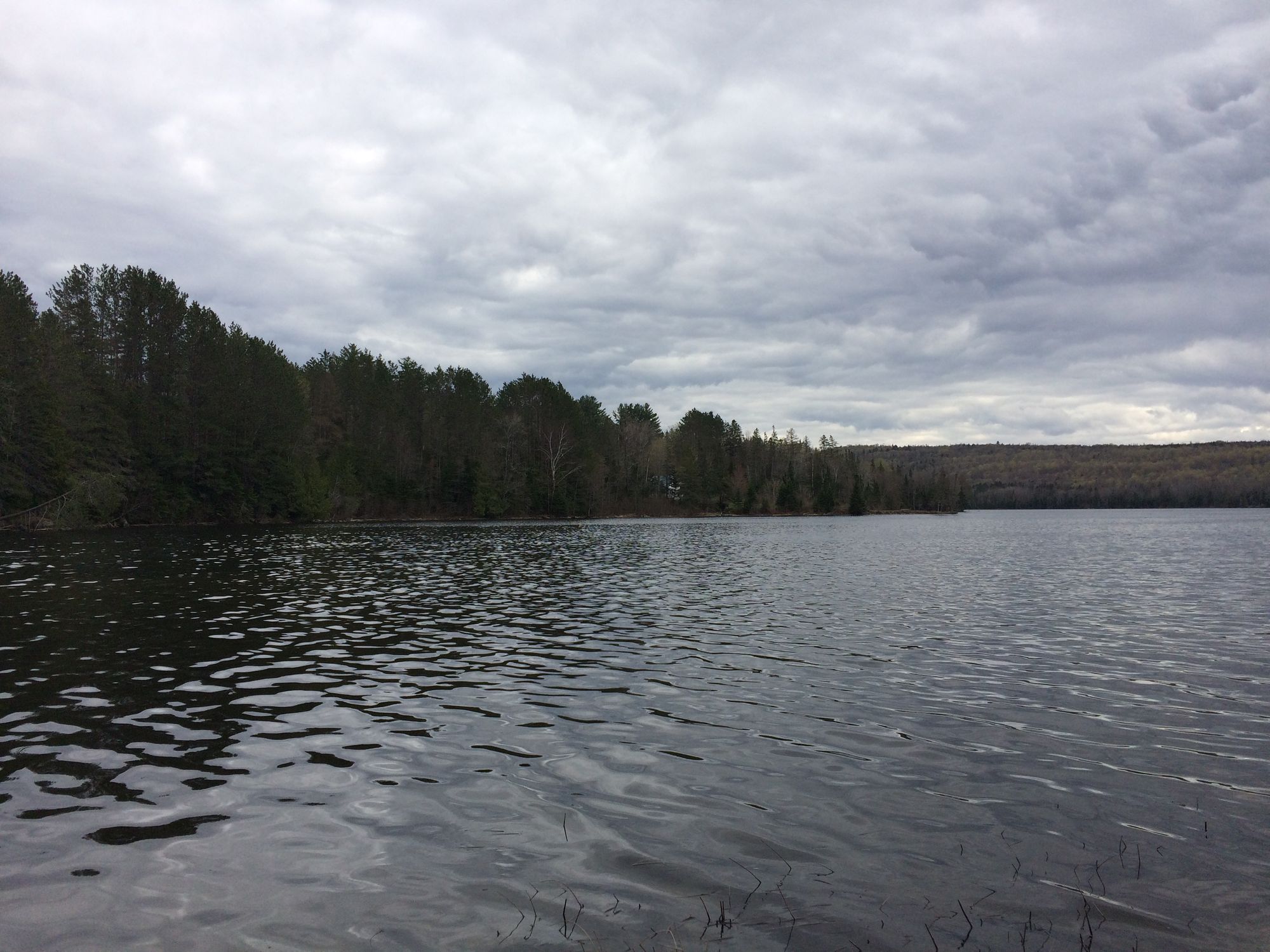 Basin Cascade Trail and Waterfall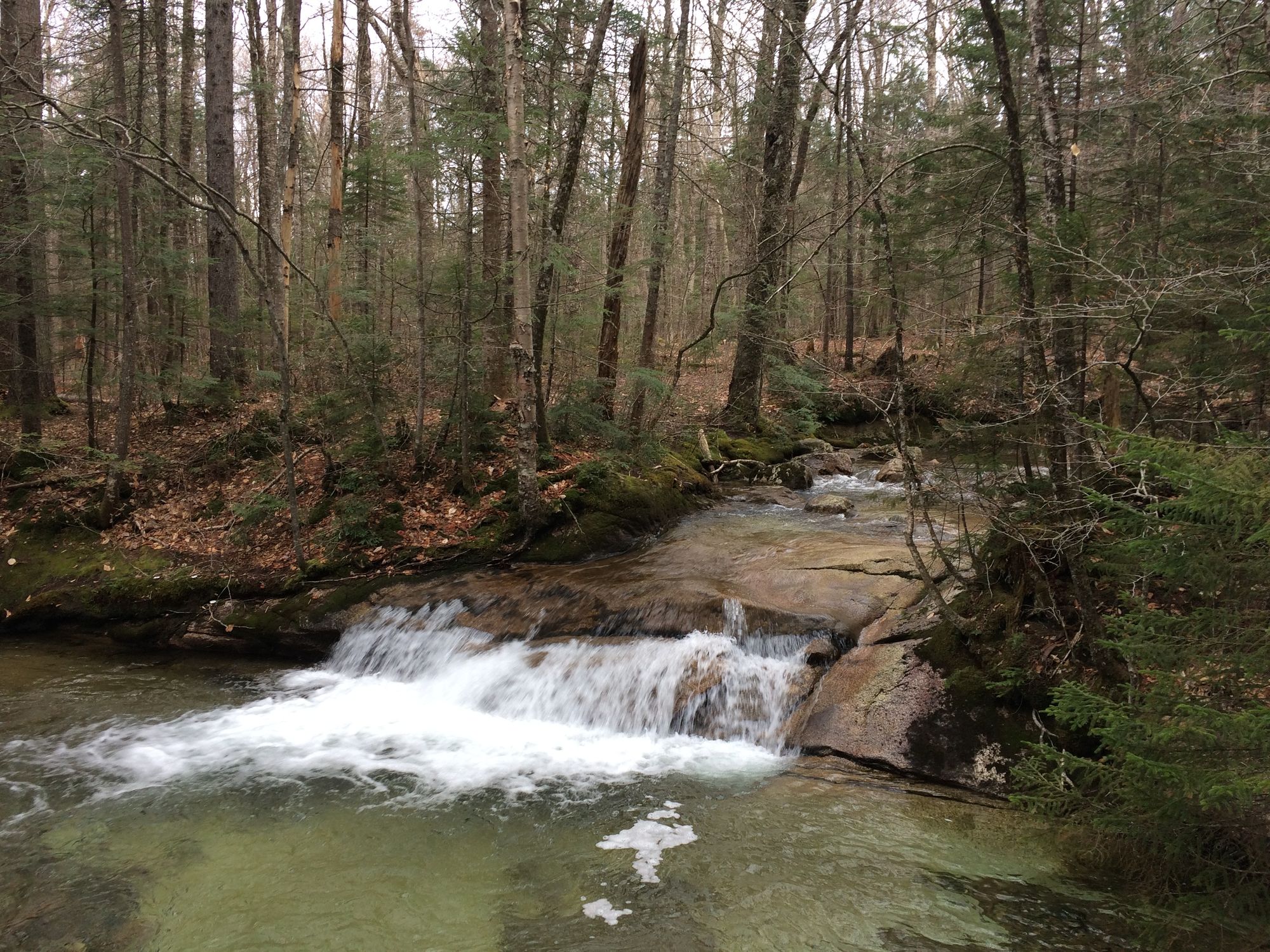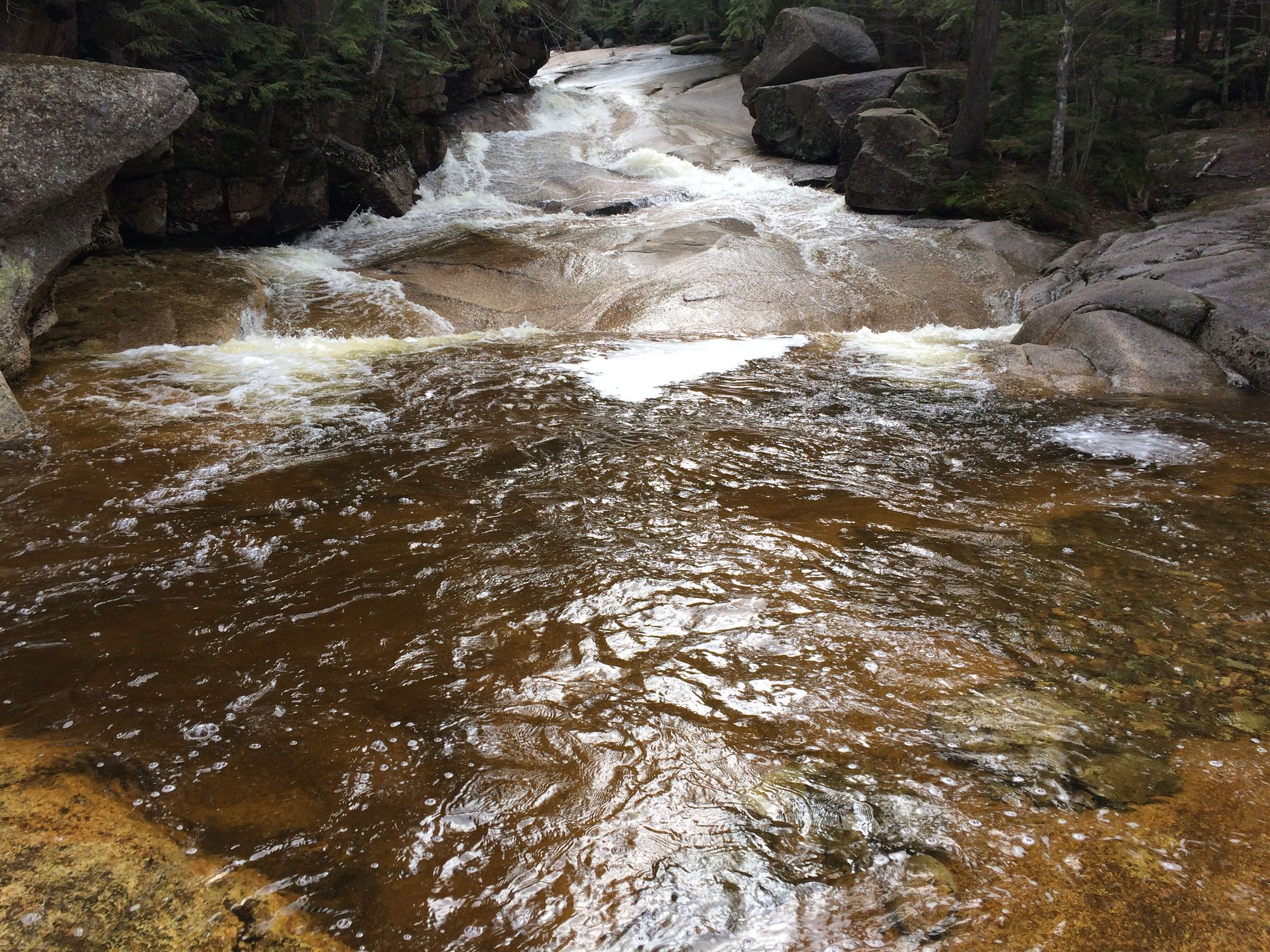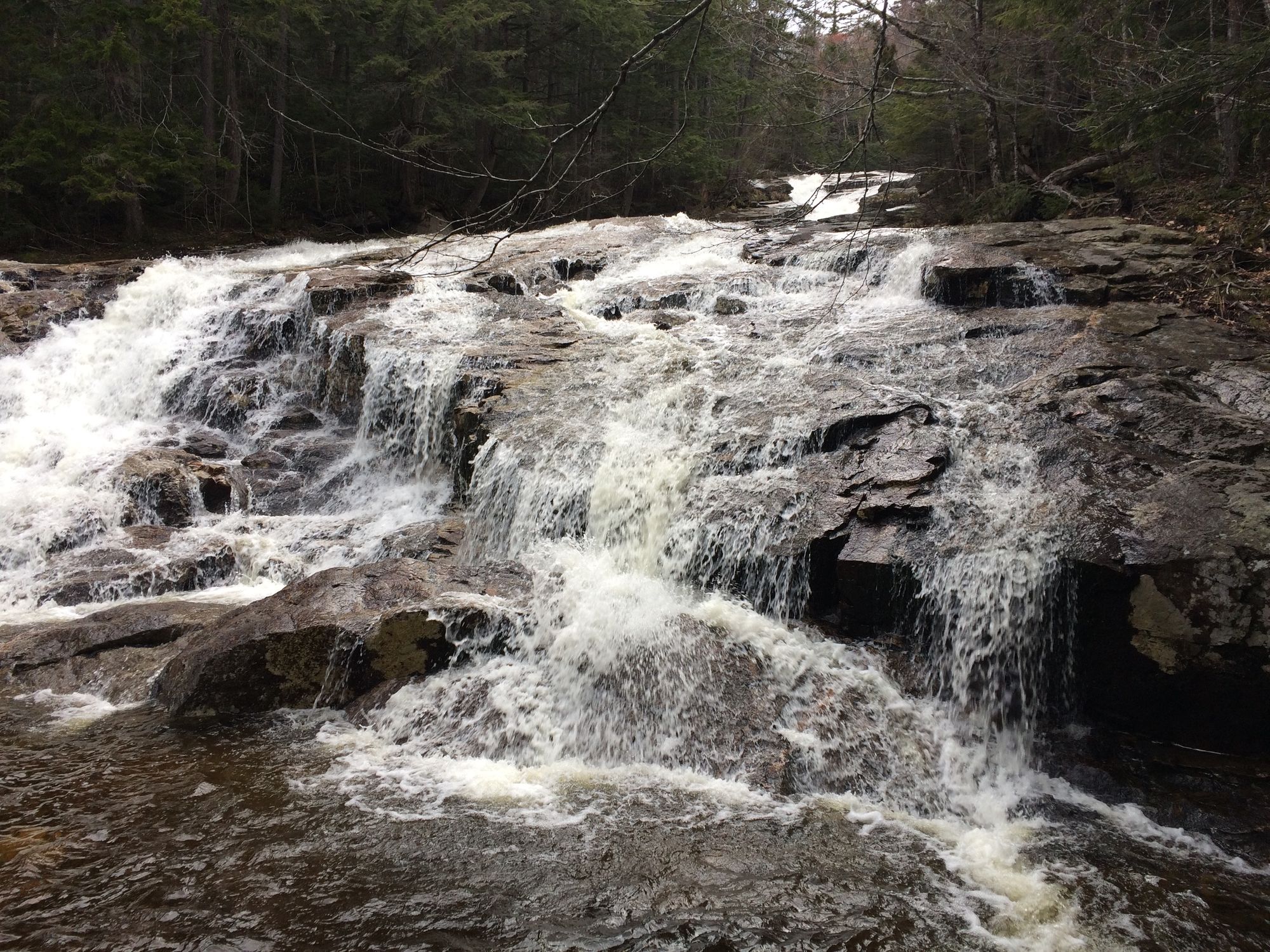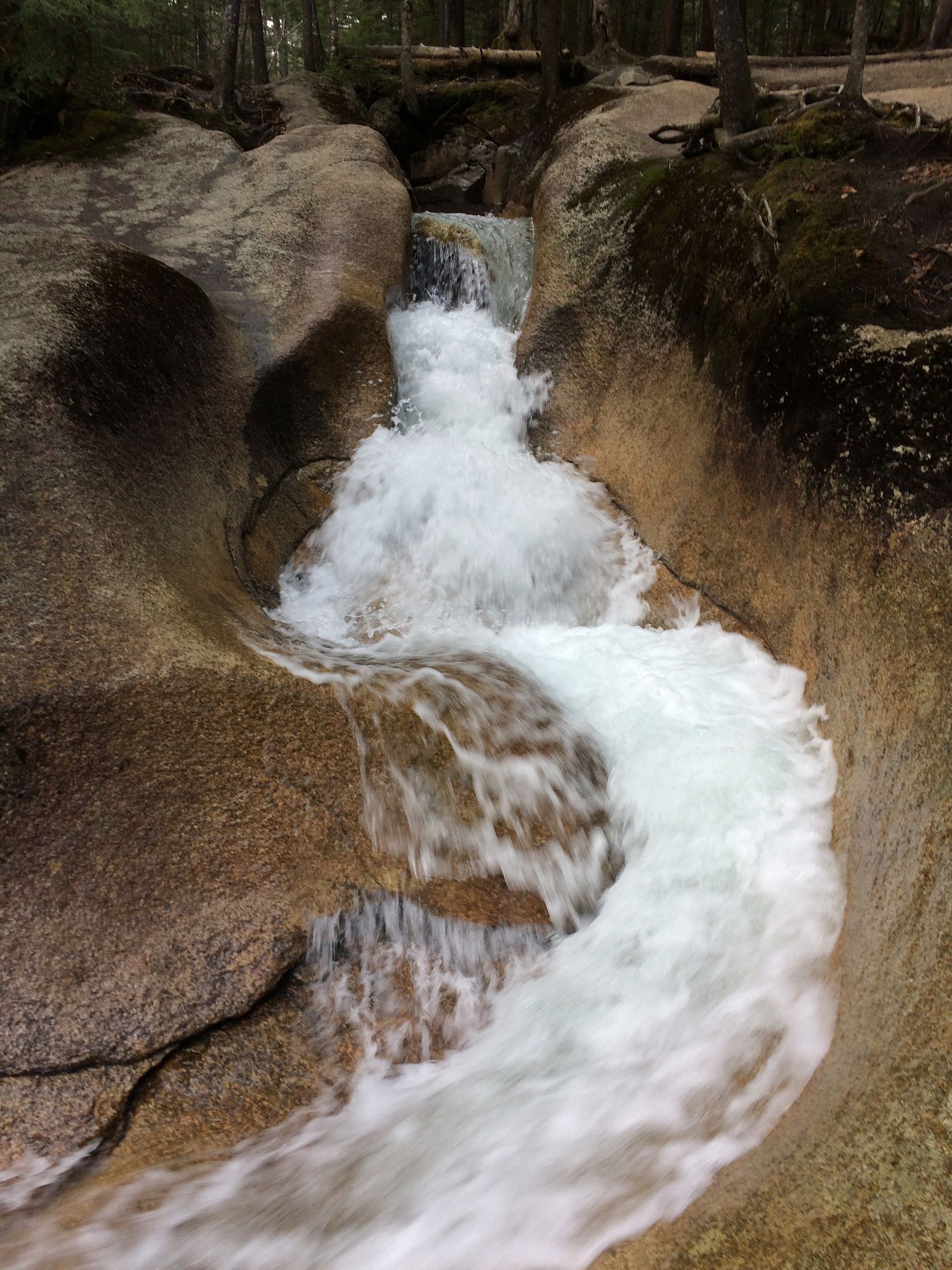 The Basin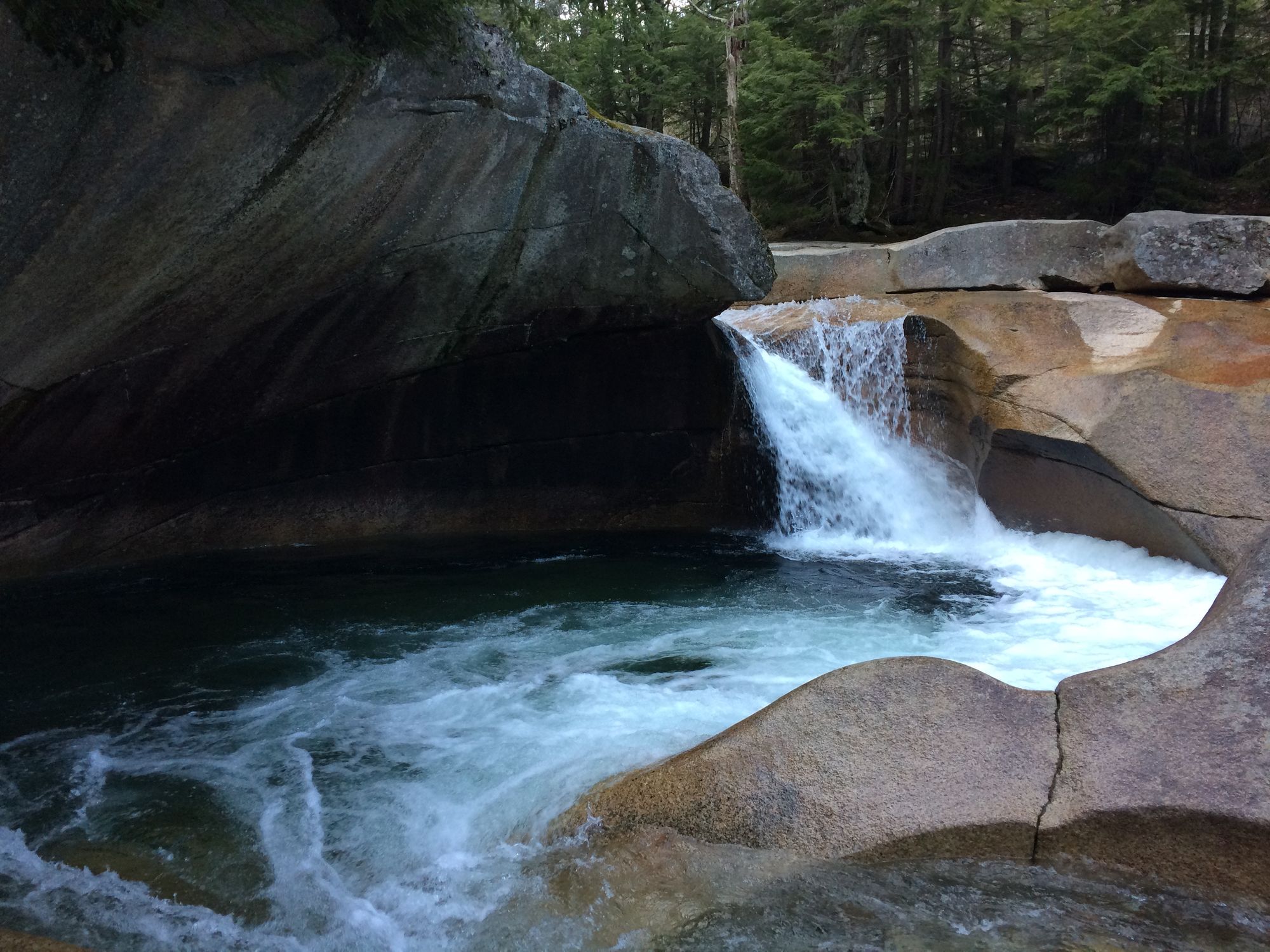 By the time we reached the hotel, it was already too late and dark. Had dinner at El Charro. It was so much disappointing that they forced me to leave a review on Google pages. I went to bed early as we had to utilize the whole next day around forest and trails in the White Mountains region.
Day 2
Day 2 began with all the excitement for The Flume at the base of Mount Liberty. We had a free breakfast at the hotel, and since our hotel was just a few miles away from The Flume, we didn't even have to rush.
For those of you who wonder what the heck this Flume is,
The Flume Gorge is a natural gorge extending 800 feet (240 m) horizontally at the base of Mount Liberty in Franconia Notch State Park, New Hampshire, United States. Cut by the Flume Brook, the gorge features walls of Conway granite that rise to a height of 70 to 90 feet (21 to 27 m) and are 12 to 20 feet (3.7 to 6.1 m) apart. Wikipedia
It was a great walk. Ticket was a bit expensive, but it's understandable given how hard do they have to work to maintain it in the magnificent conditions.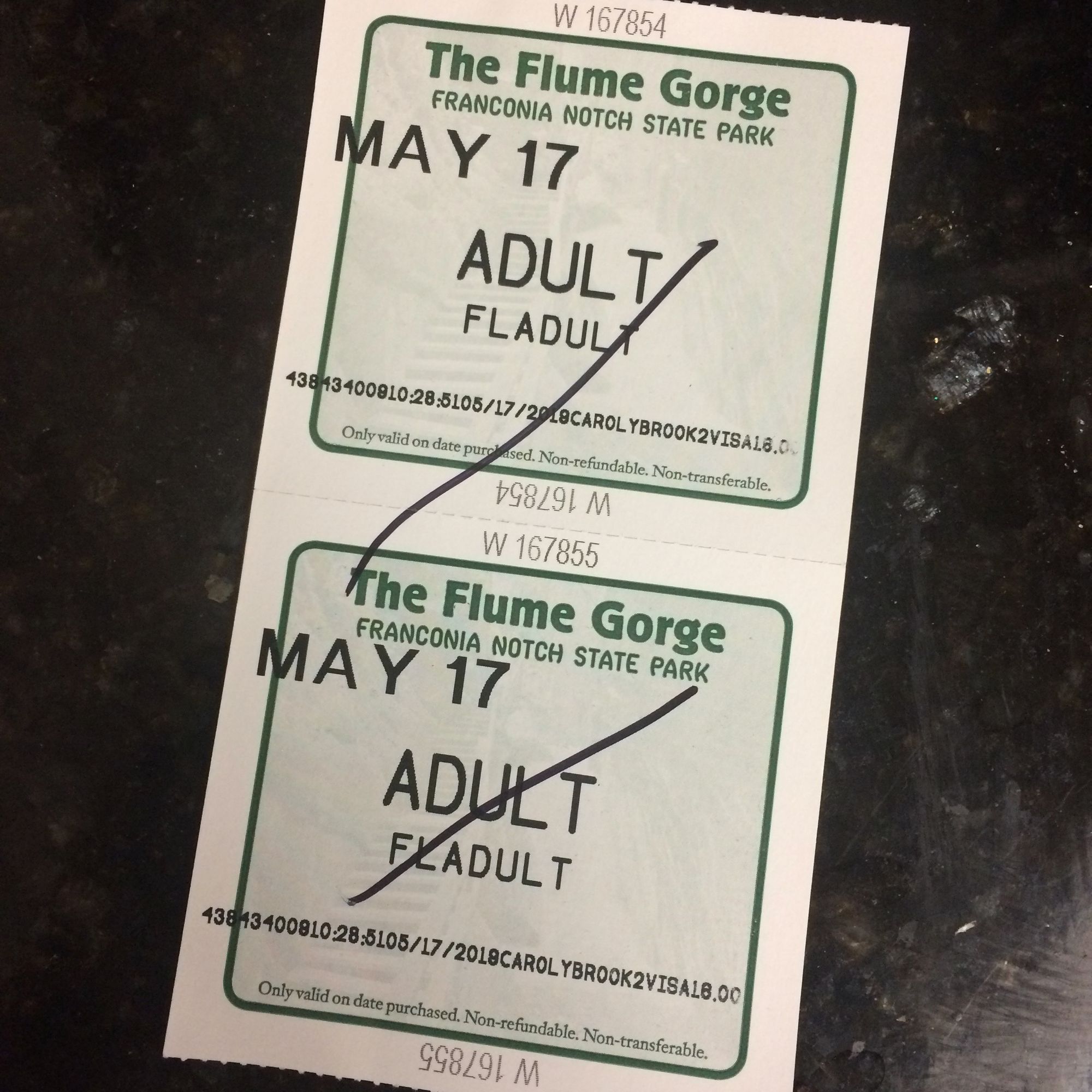 Way to the flume, which was full of ups and downs, was wonderful and splendent but also tiring. It was about a mile hike, but given the frequency of slopes, we felt as if we had walked 10 miles.
Trail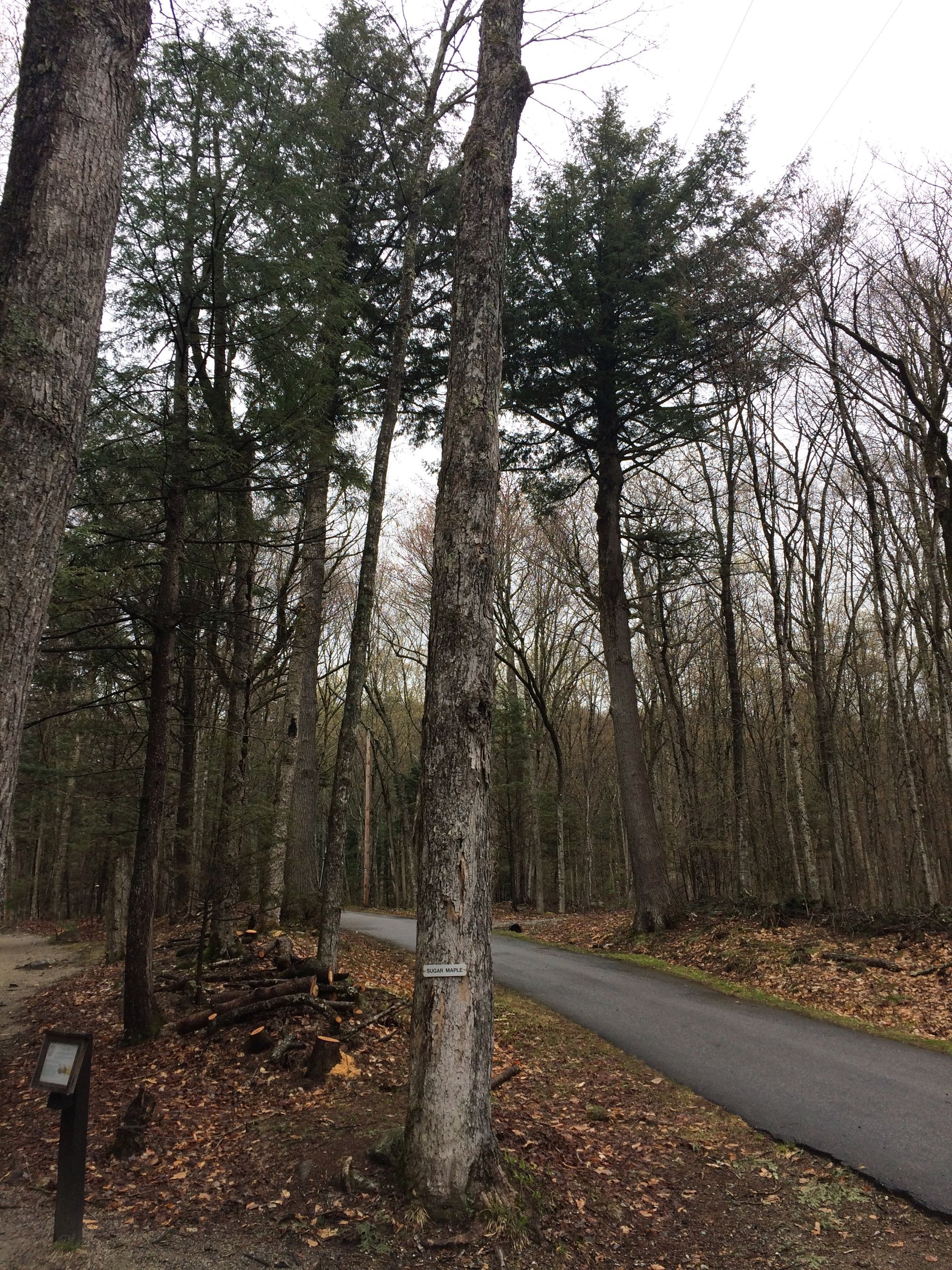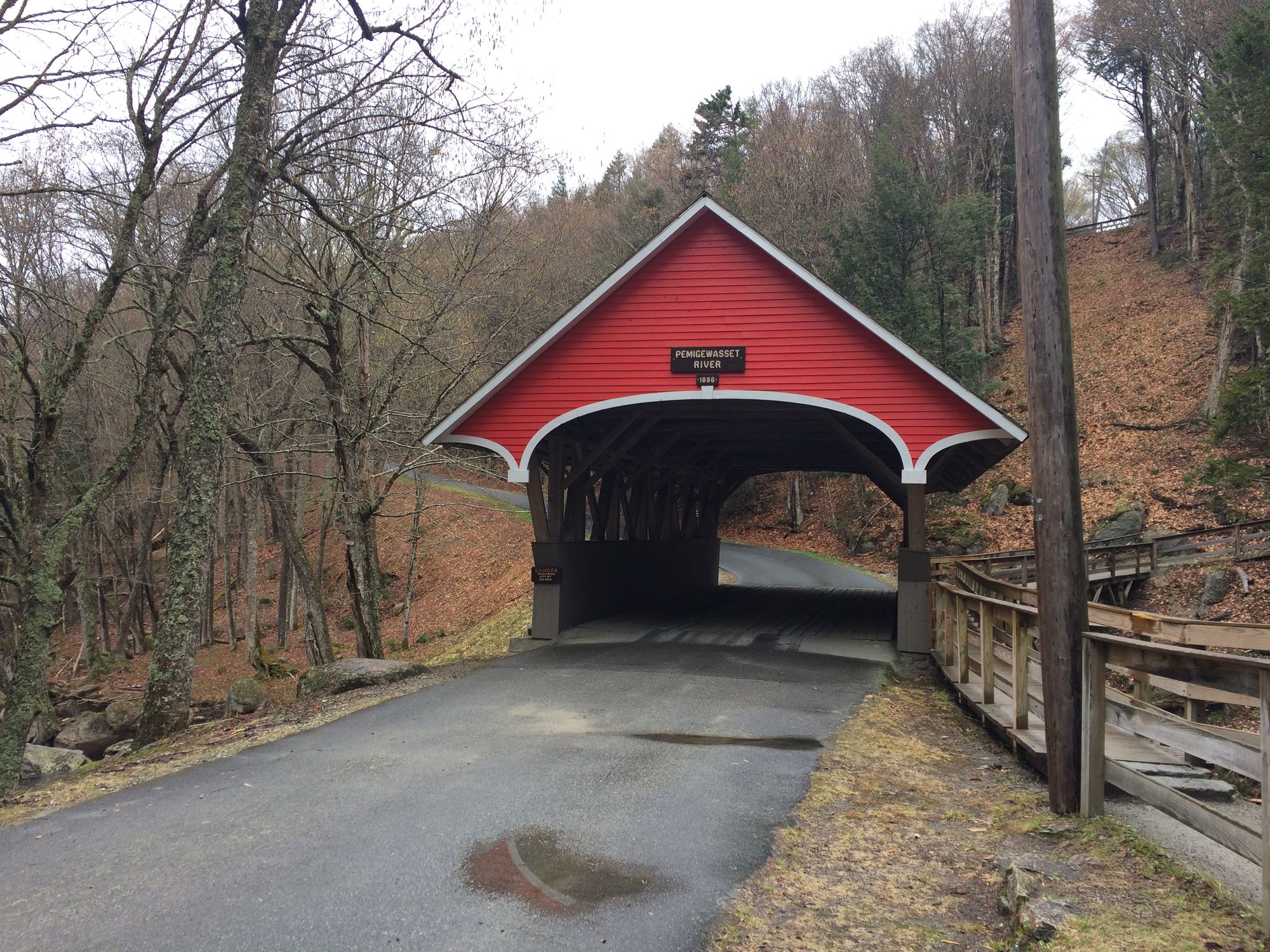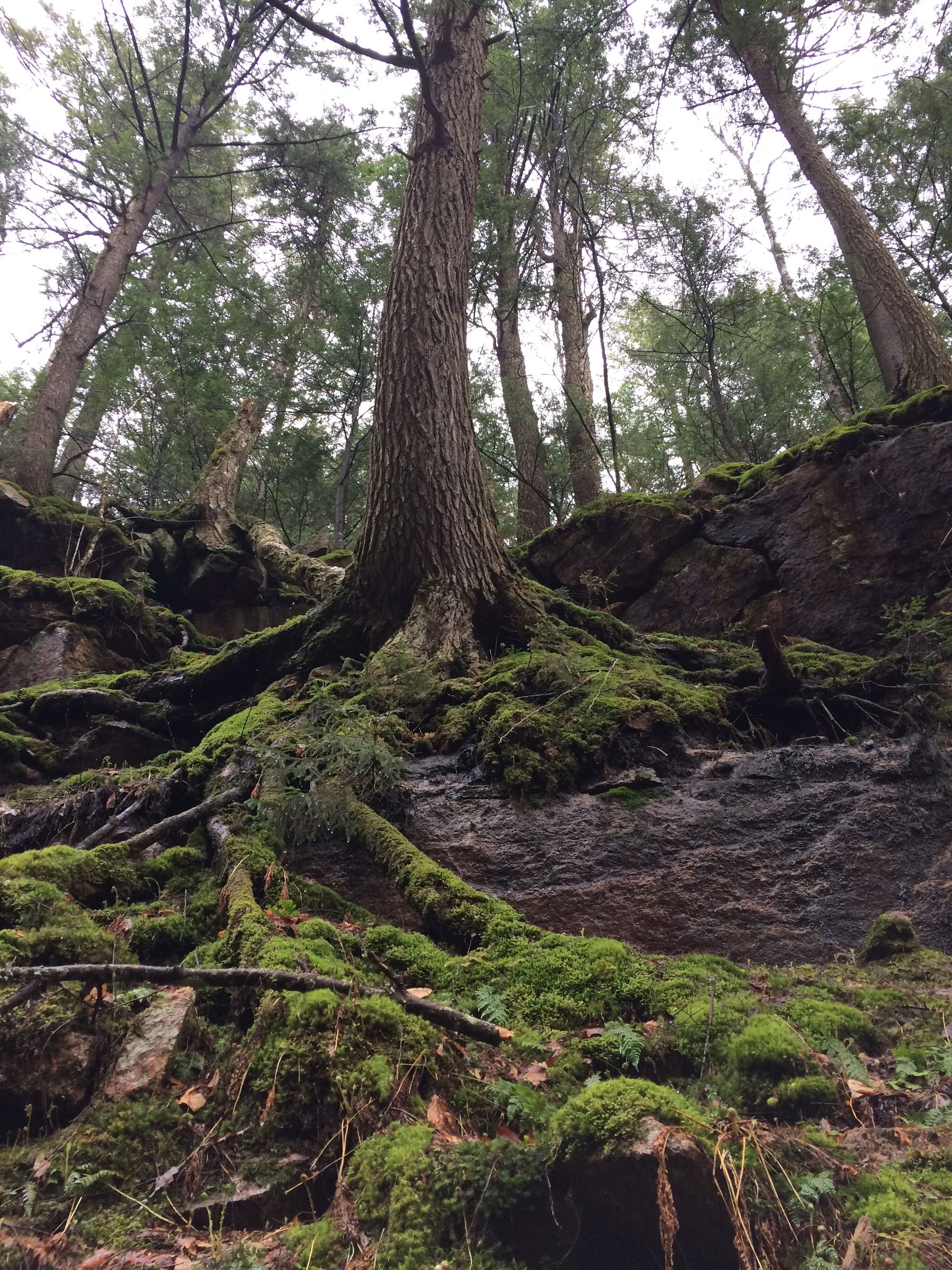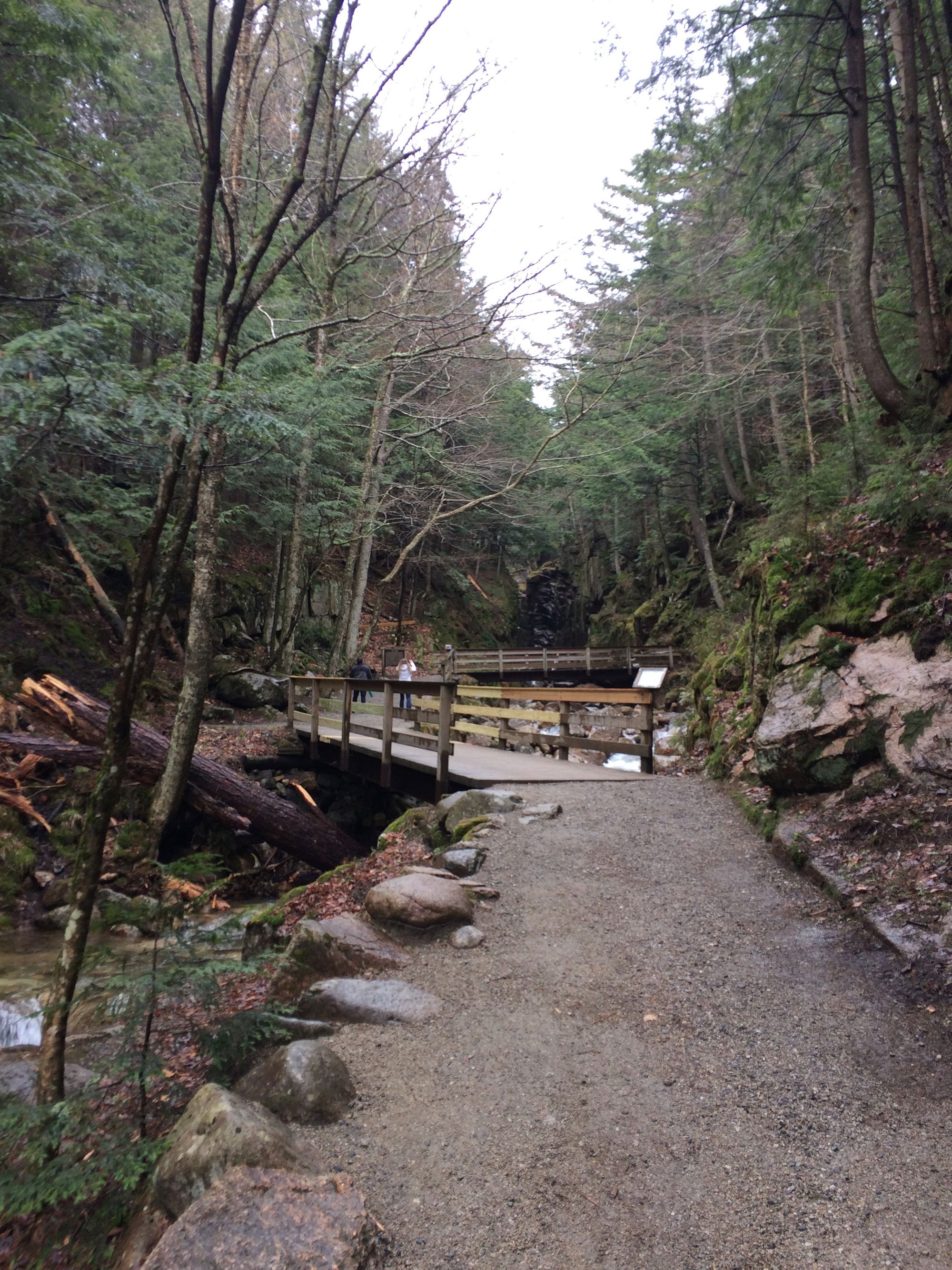 Flume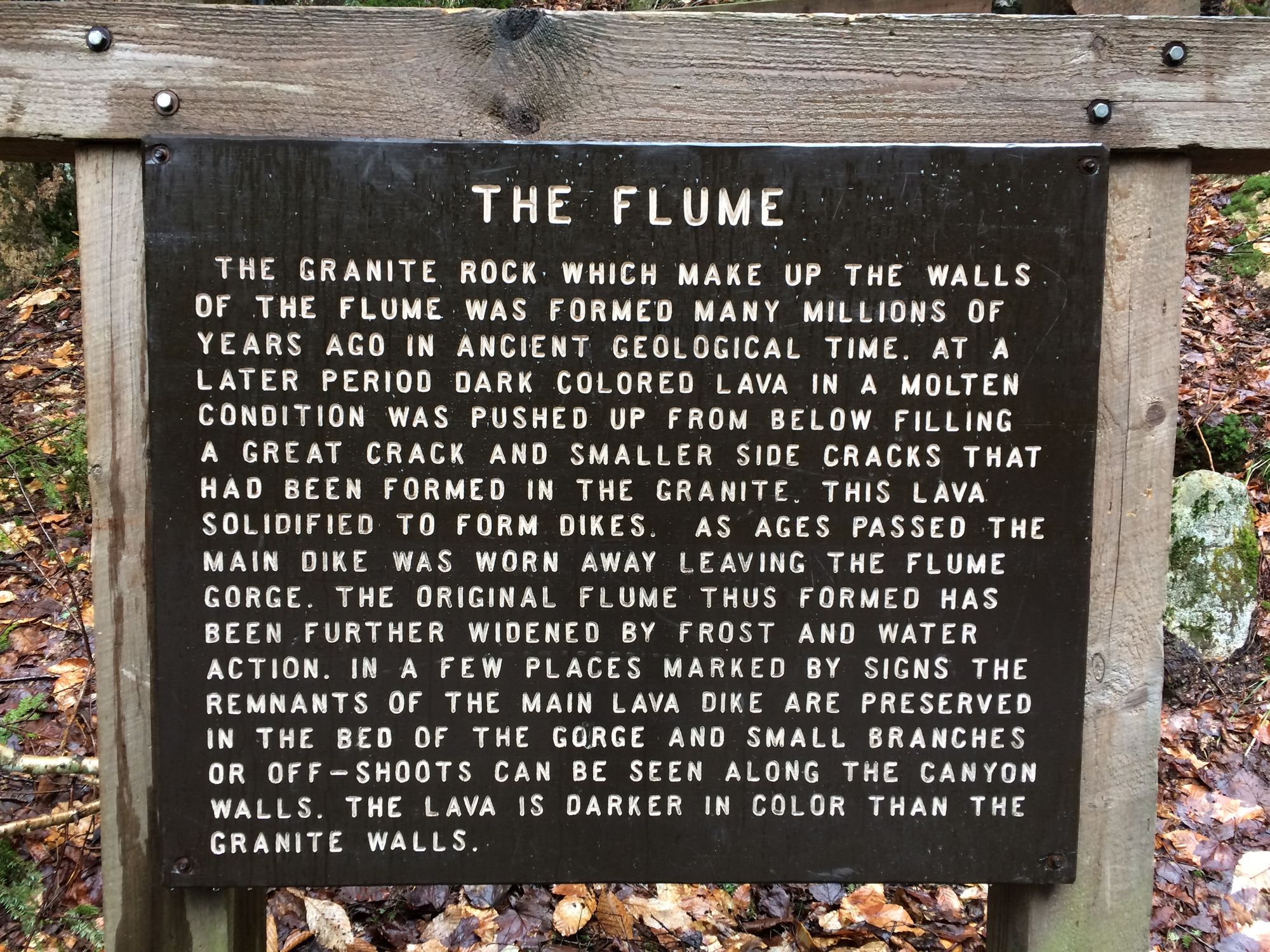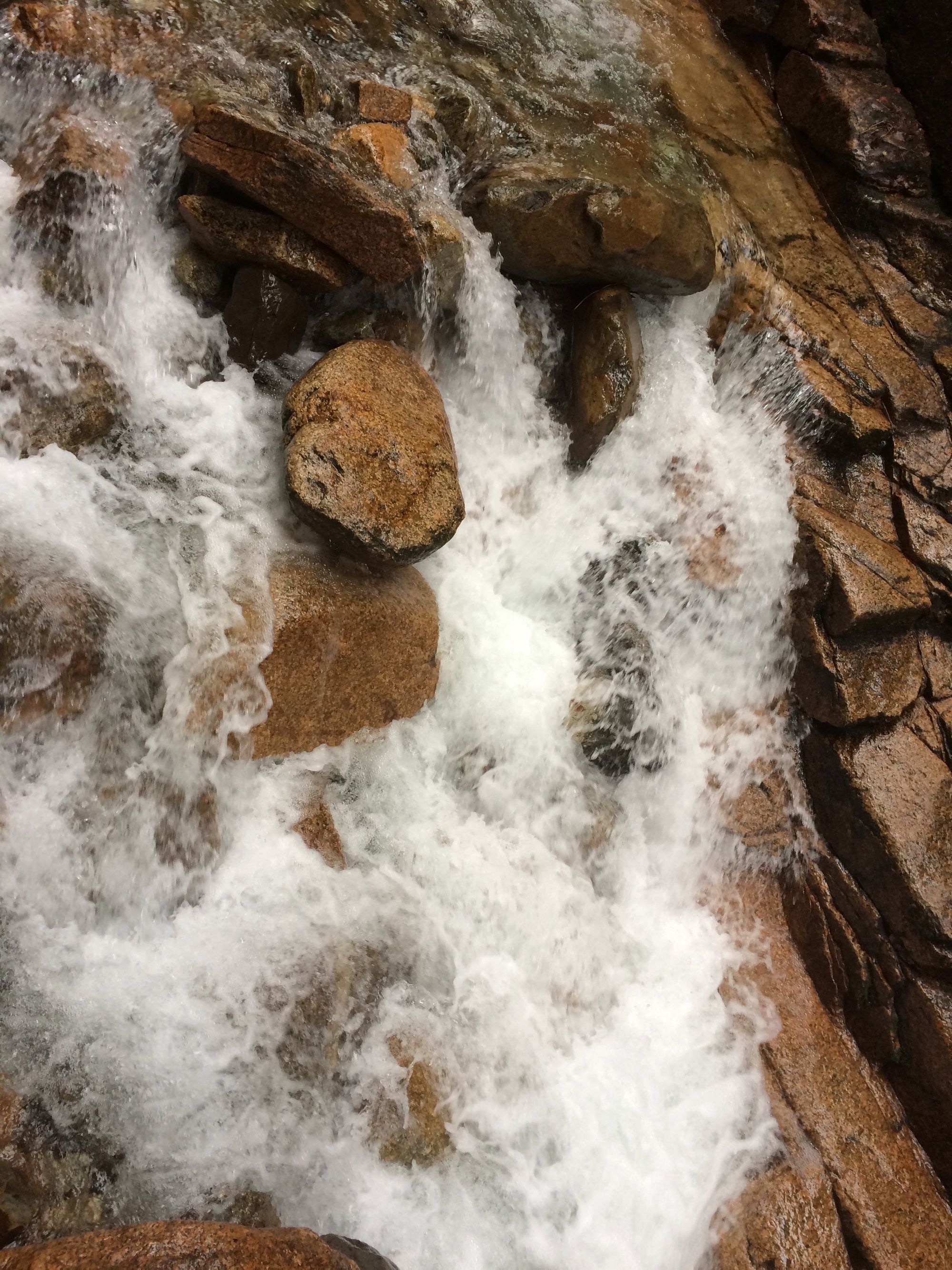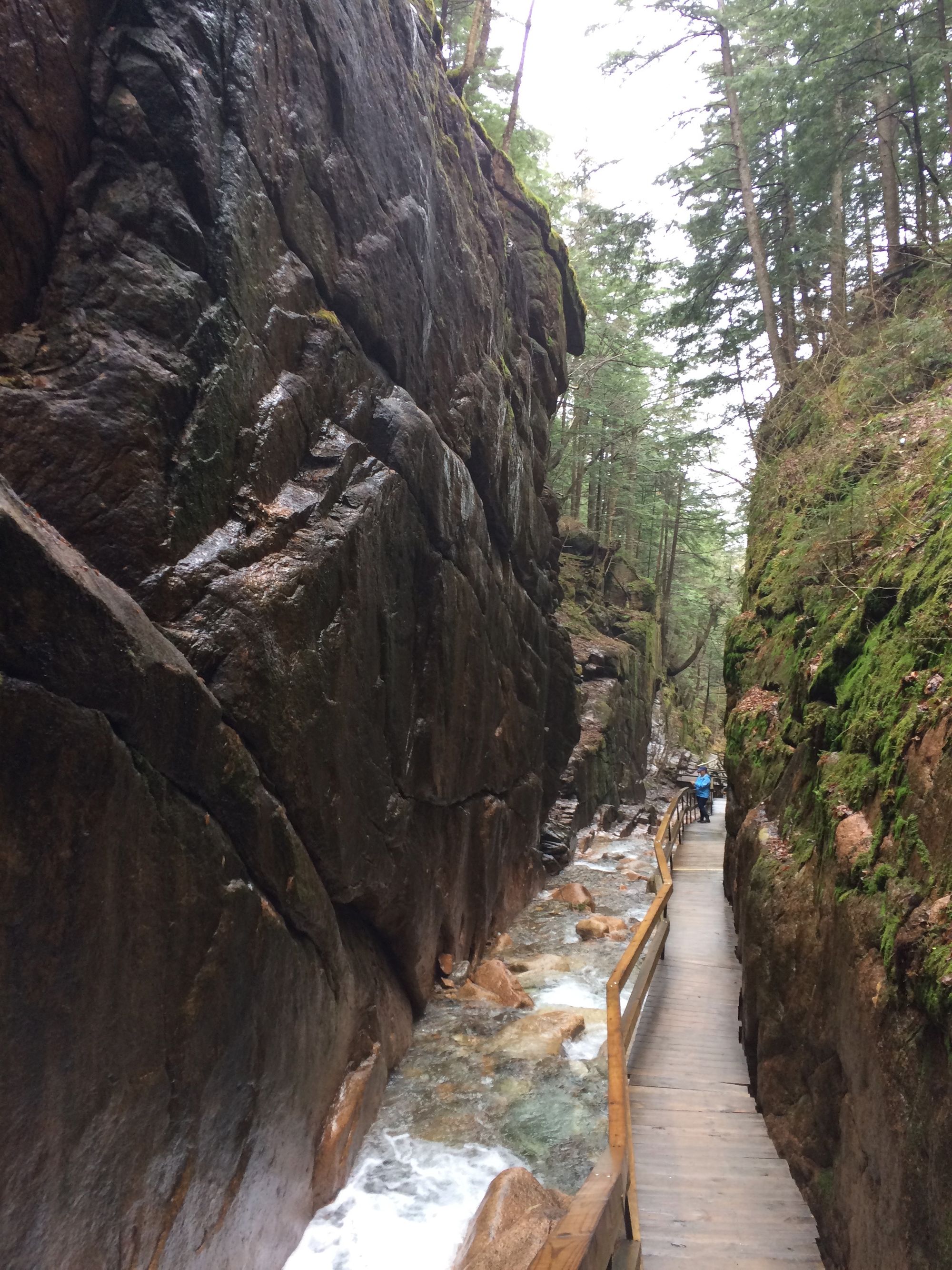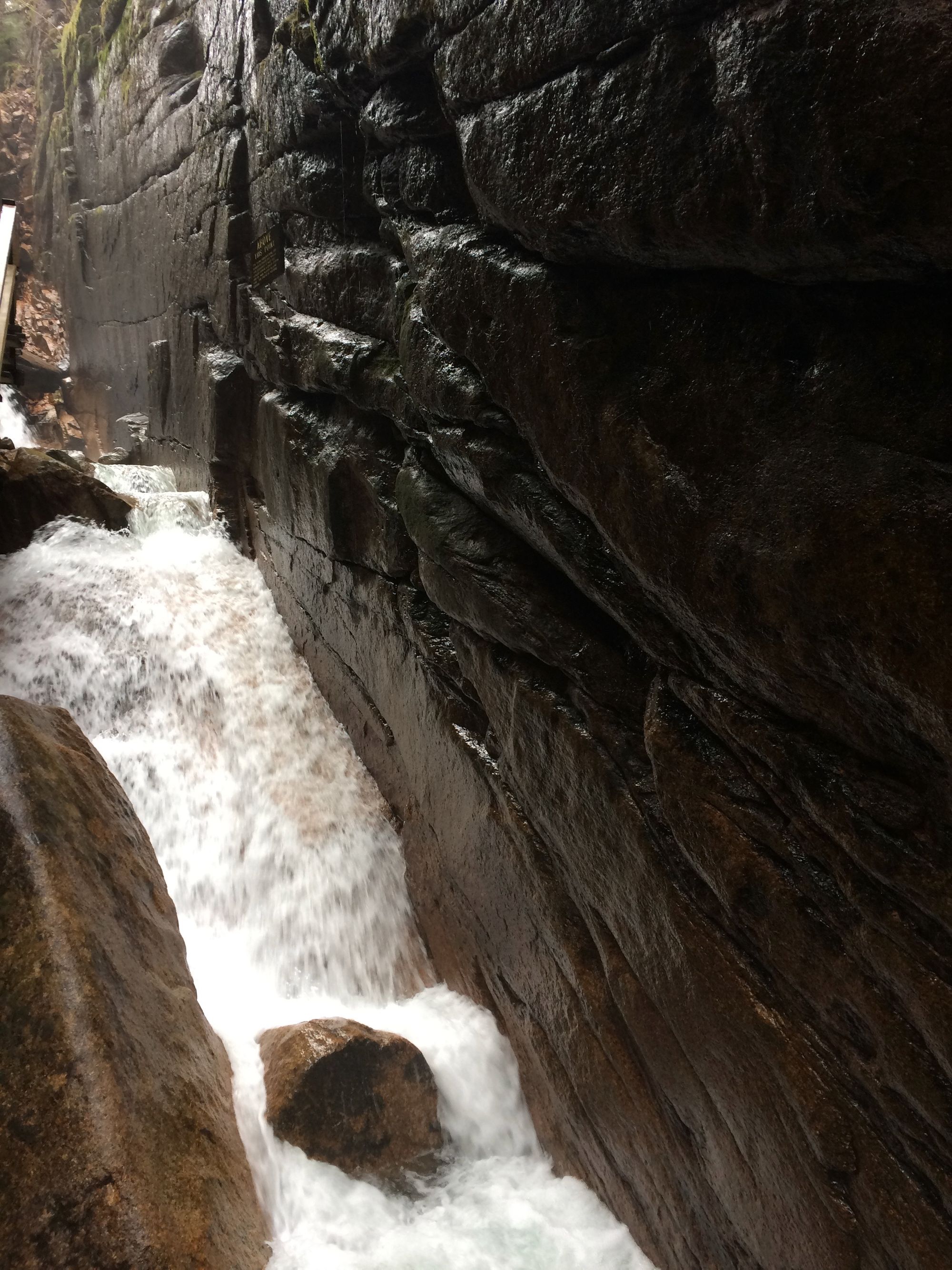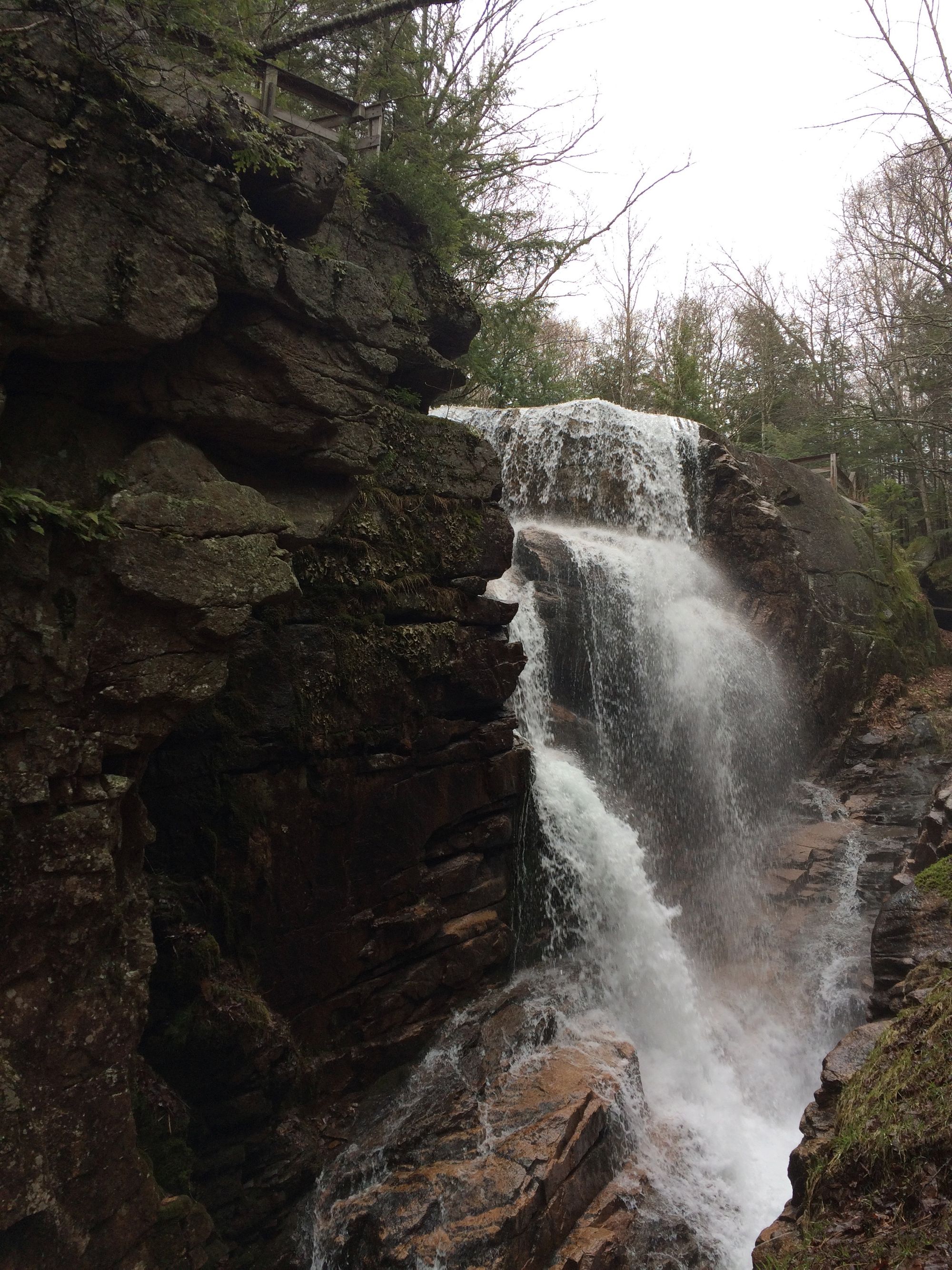 The next stop after The Flume was a Sabbaday Falls. It too was just a few minutes away from The Flume, which was an awesome part of the entire trip. Everything was at most 45 minutes of distance from our hotel. I visited this place exactly two years ago with my other friend. The water runs with such a force that you feel like keep watching this marvelous scene for hours. You can actually feel those water droplets on your clothes and body as you pass by the fall.
It was disappointingly cold, and unlike last time when we actually stood in the water, this wasn't exactly a time for that. It was mid-May and the water was still too cold to touch for more than 15 seconds.
Sabbaday Falls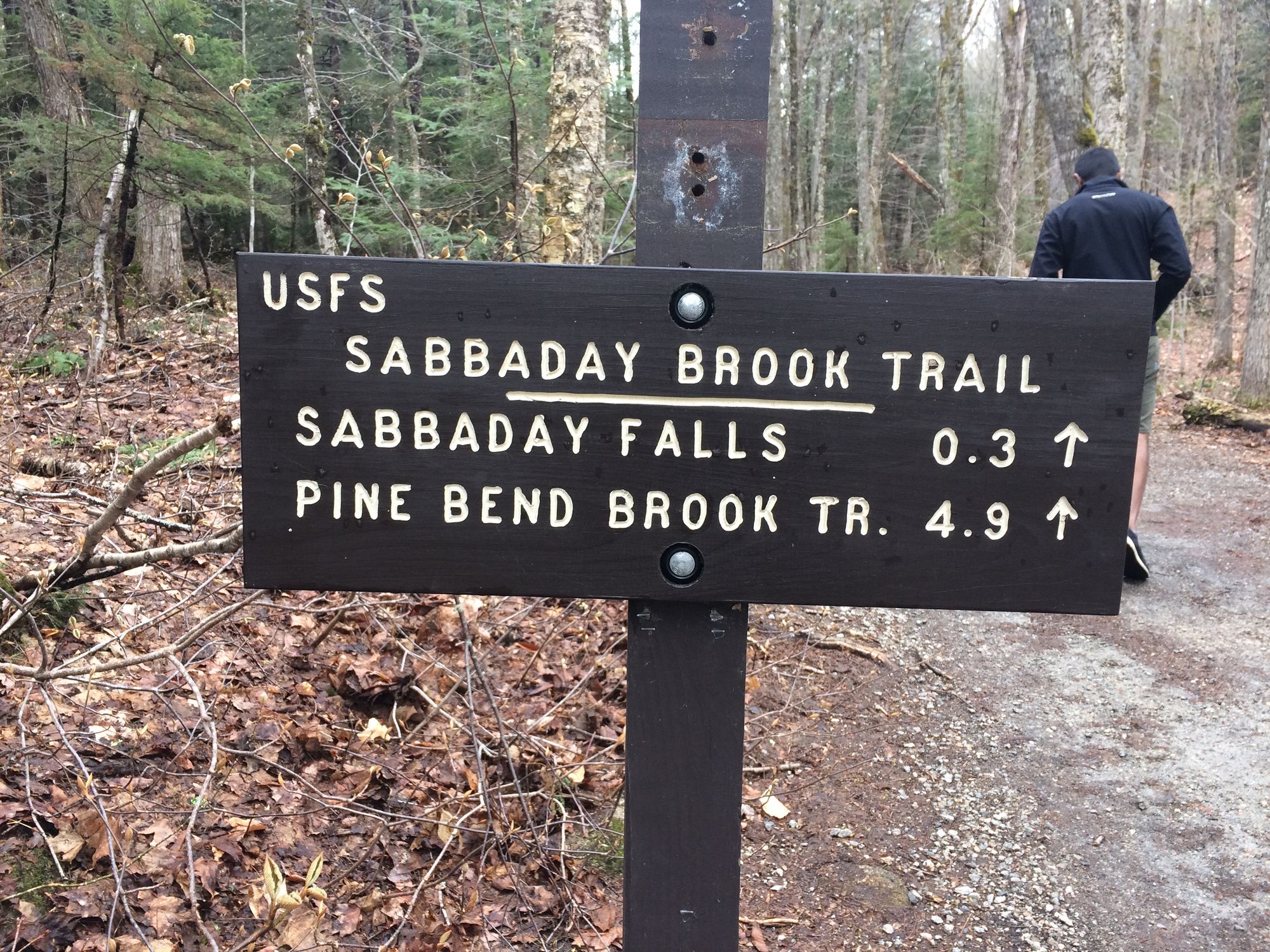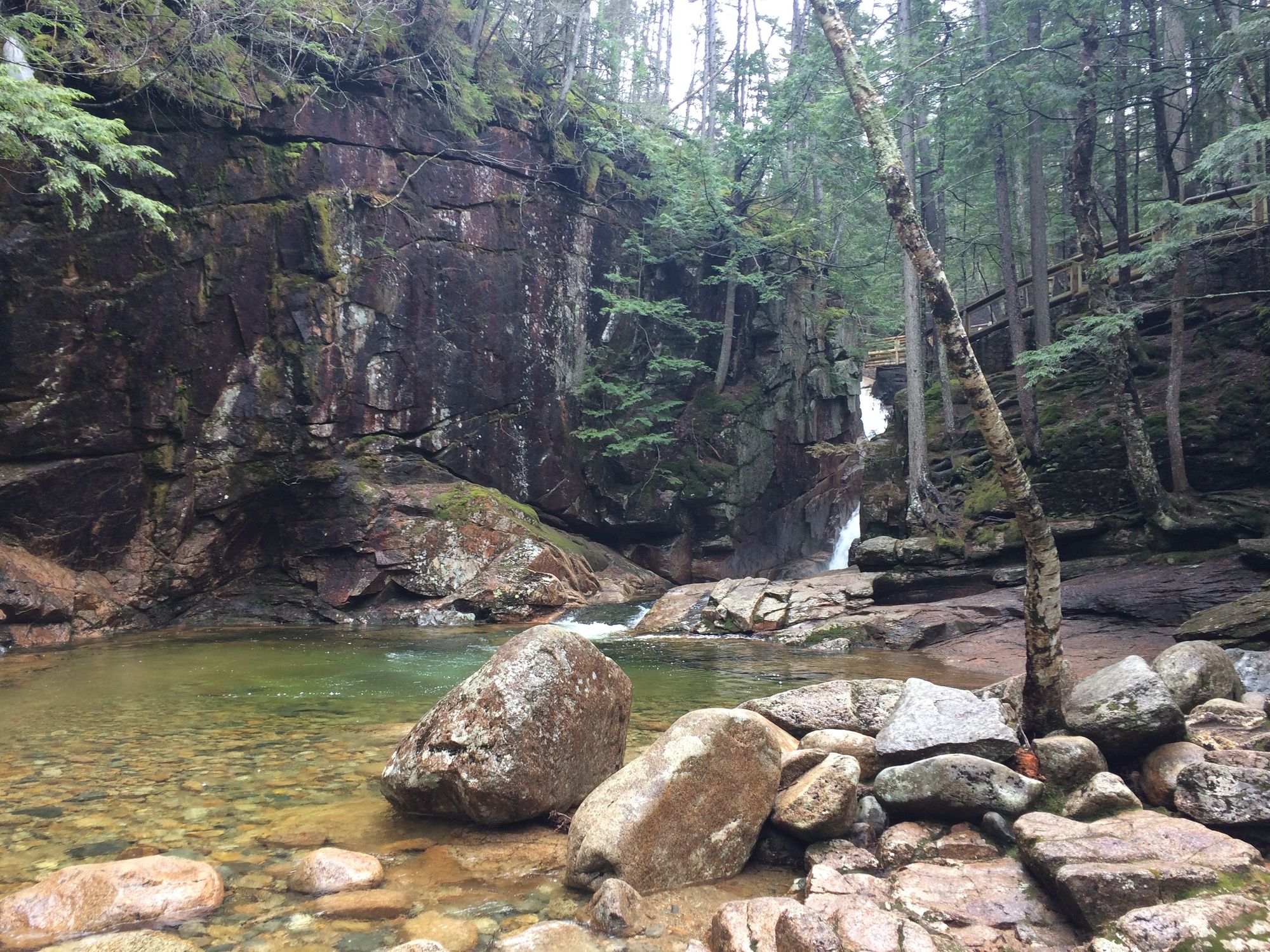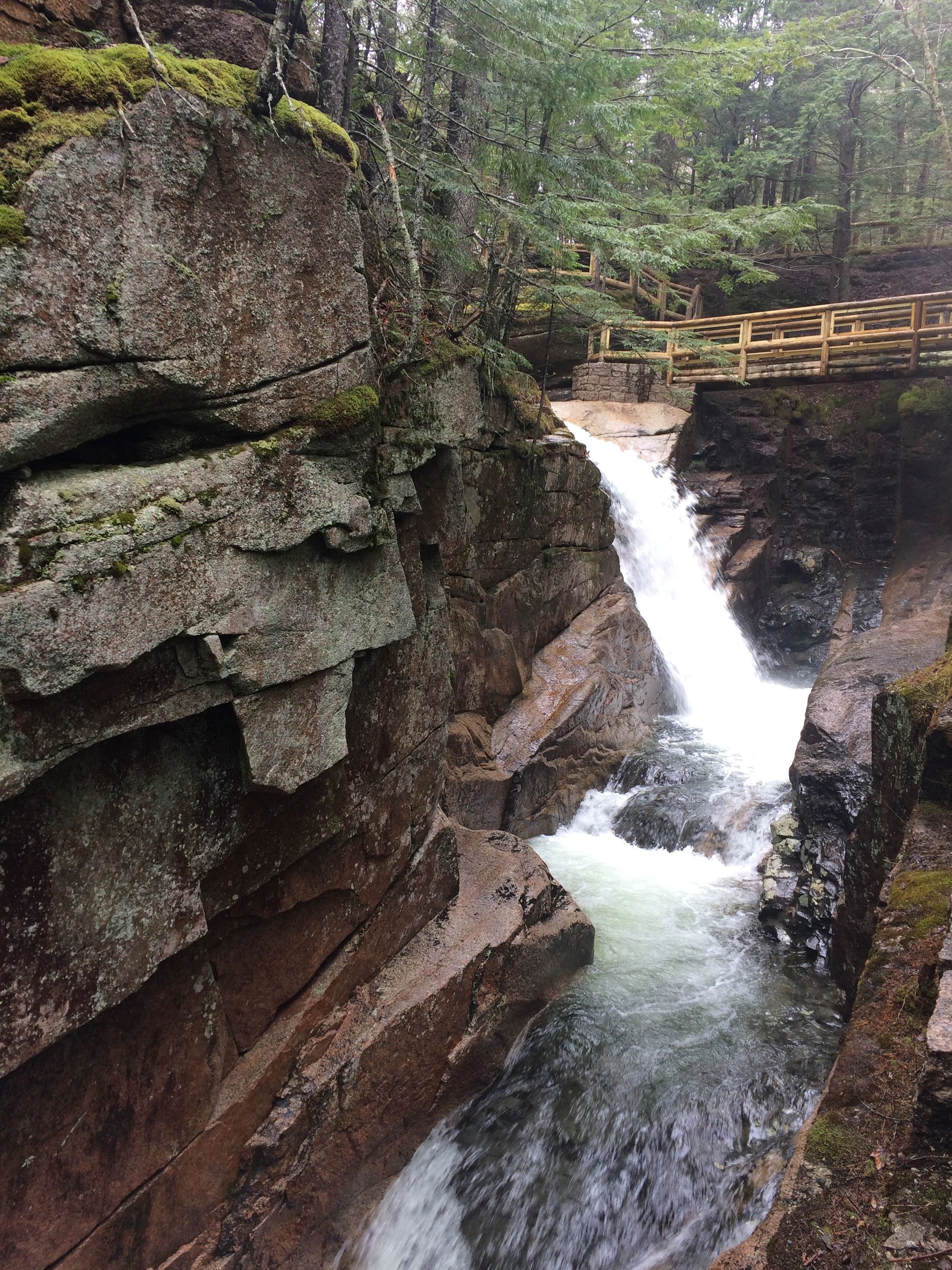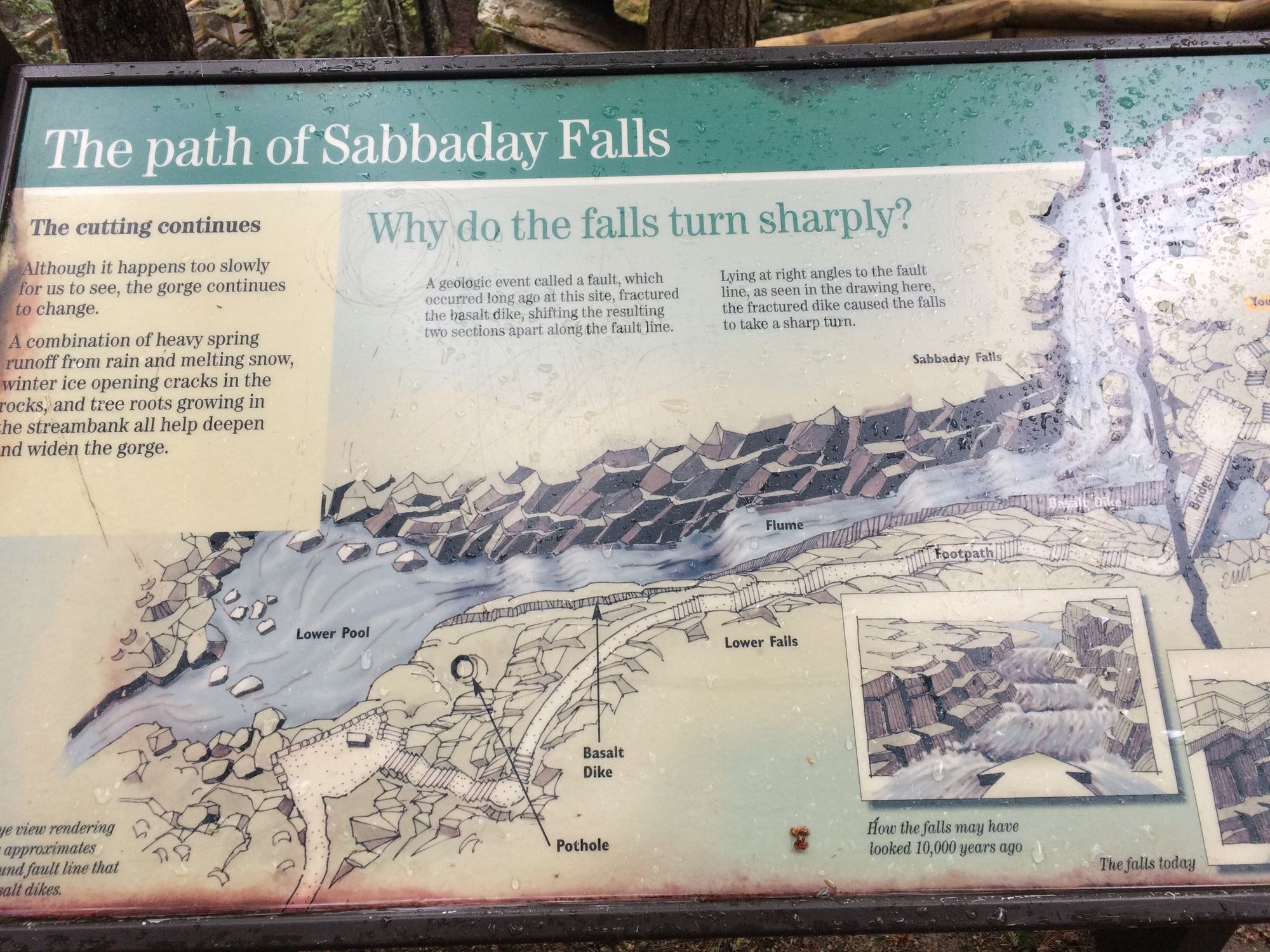 Next, we went to Echo lake and beach. We wondered why this lake is called as beach and not simply a lake. However, by the time we reached there, it was all clear why. Although lake, it had currents and waves just like a normal sea or ocean which was fascinating to see.
Sadly, it too was too cold to stand on the lake shore and way colder to even enter the water. We hung around, took some pictures and came back to the car.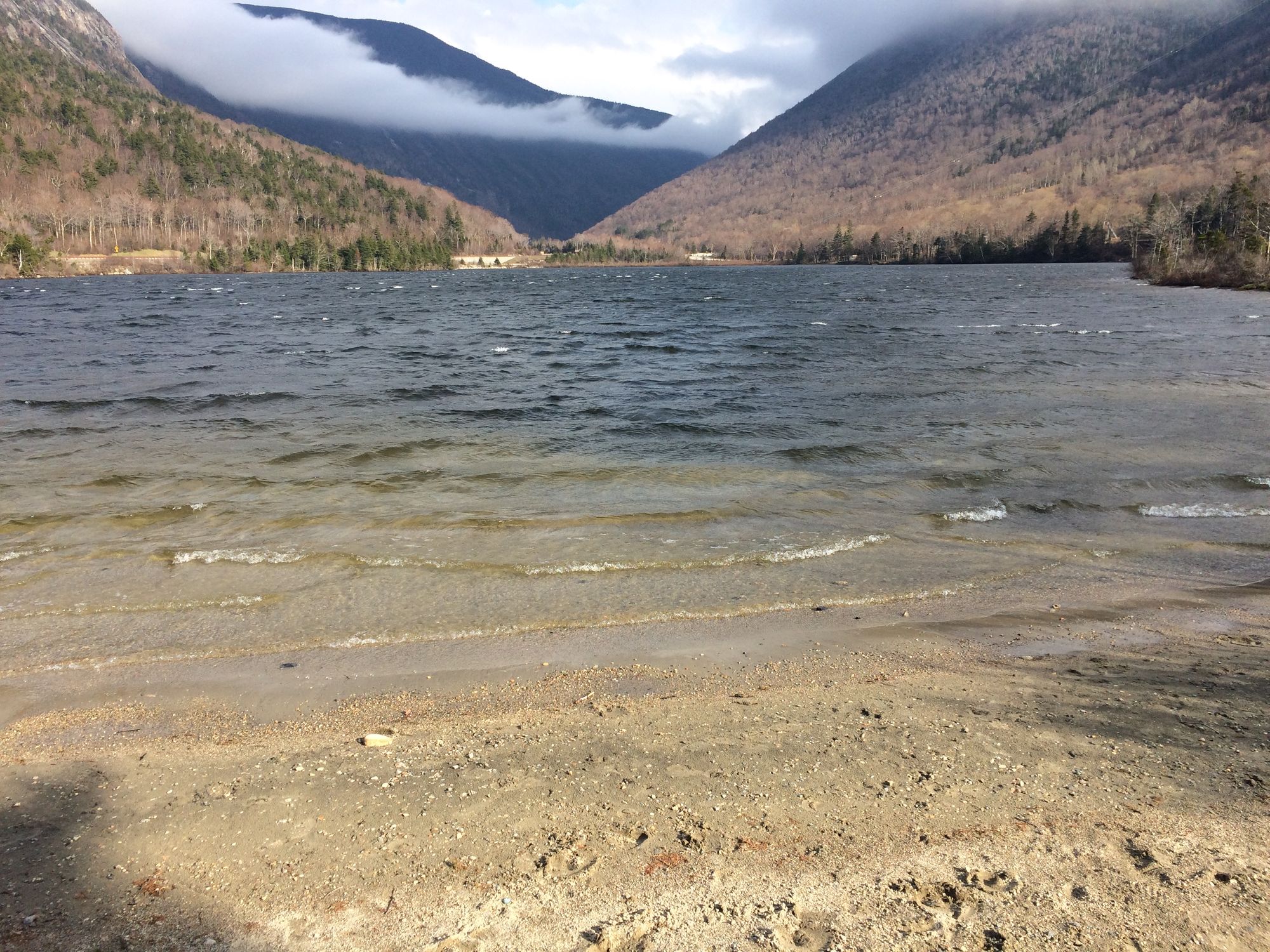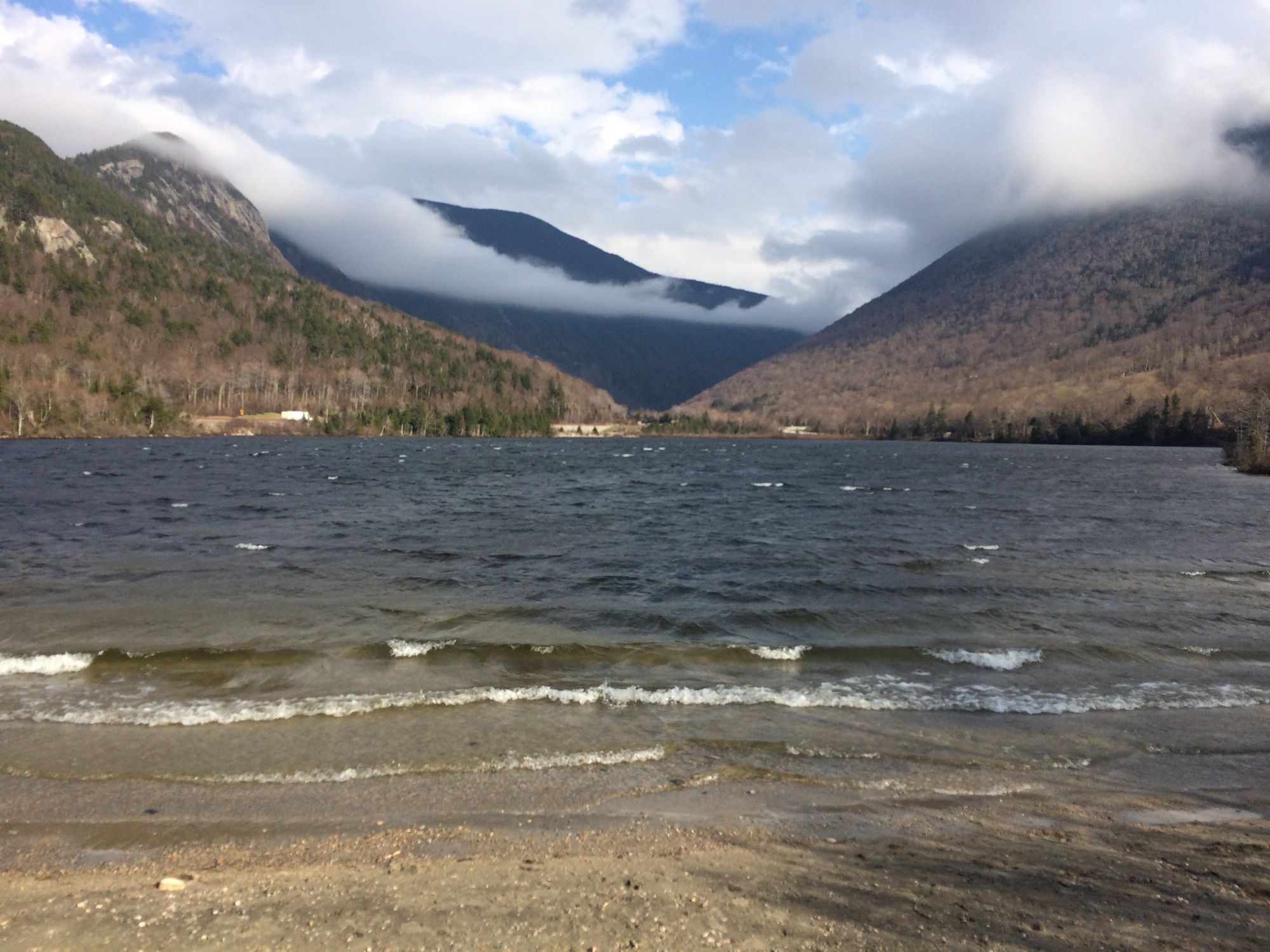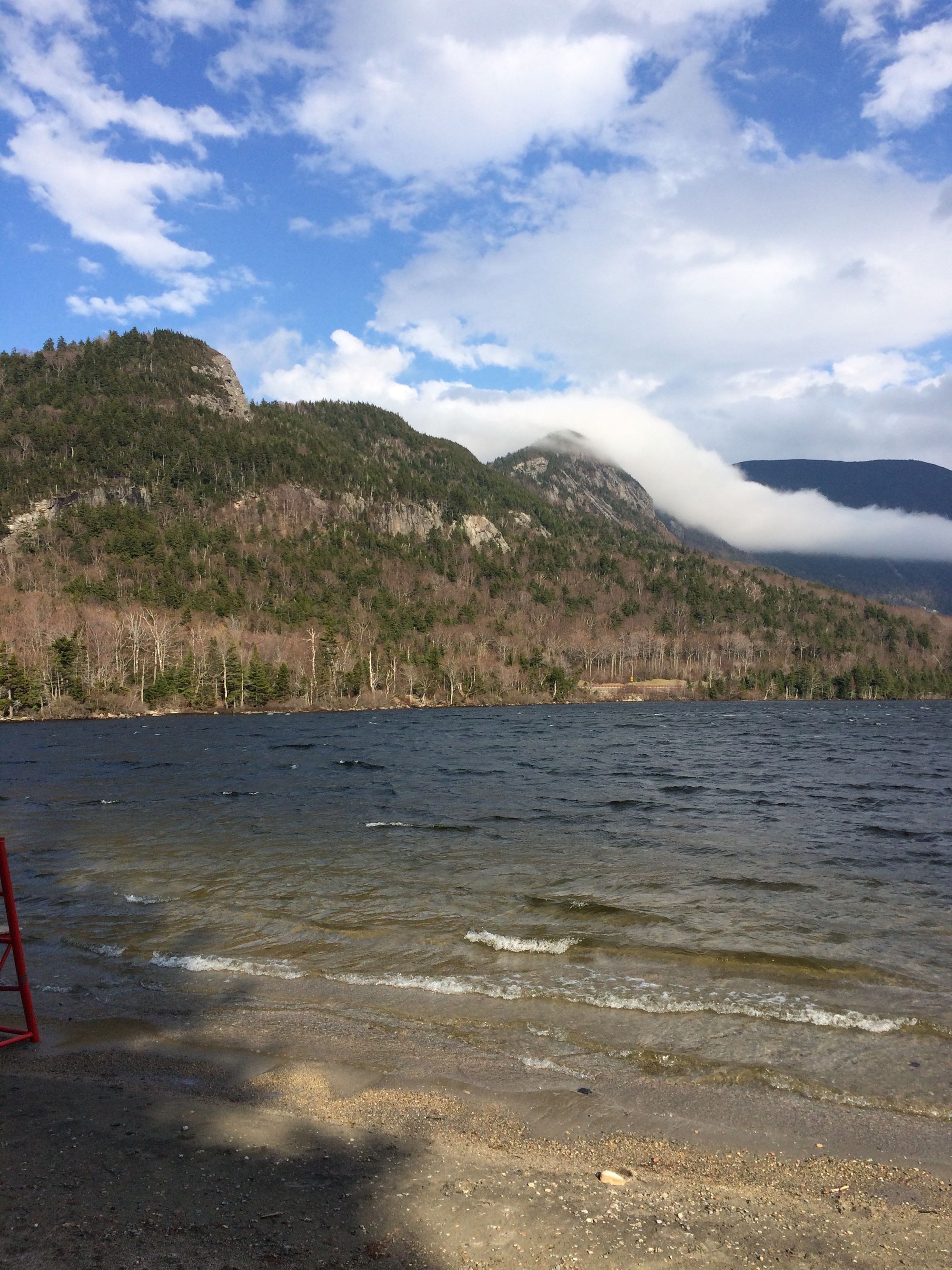 Day 3
We began our journey to Maine on the morning of Day 3. Isn't it wonderful you can travel with all the peace when you've at least 2 days assigned at the place? It was a long journey and we left a bit early to let us enjoy Maine before it was too dark.
However, something else happened on our way. We came across Swift river (Name actually means a lot for me since I write iOS apps using Swift programming language).  It was a nice stream - Clean, clear and musical. Guess what else it had - I beautiful collection of small waterfalls along the edge of the river. We spent some time at it, walking around, taking pictures, sitting on rocks, thinking about life and universe in general.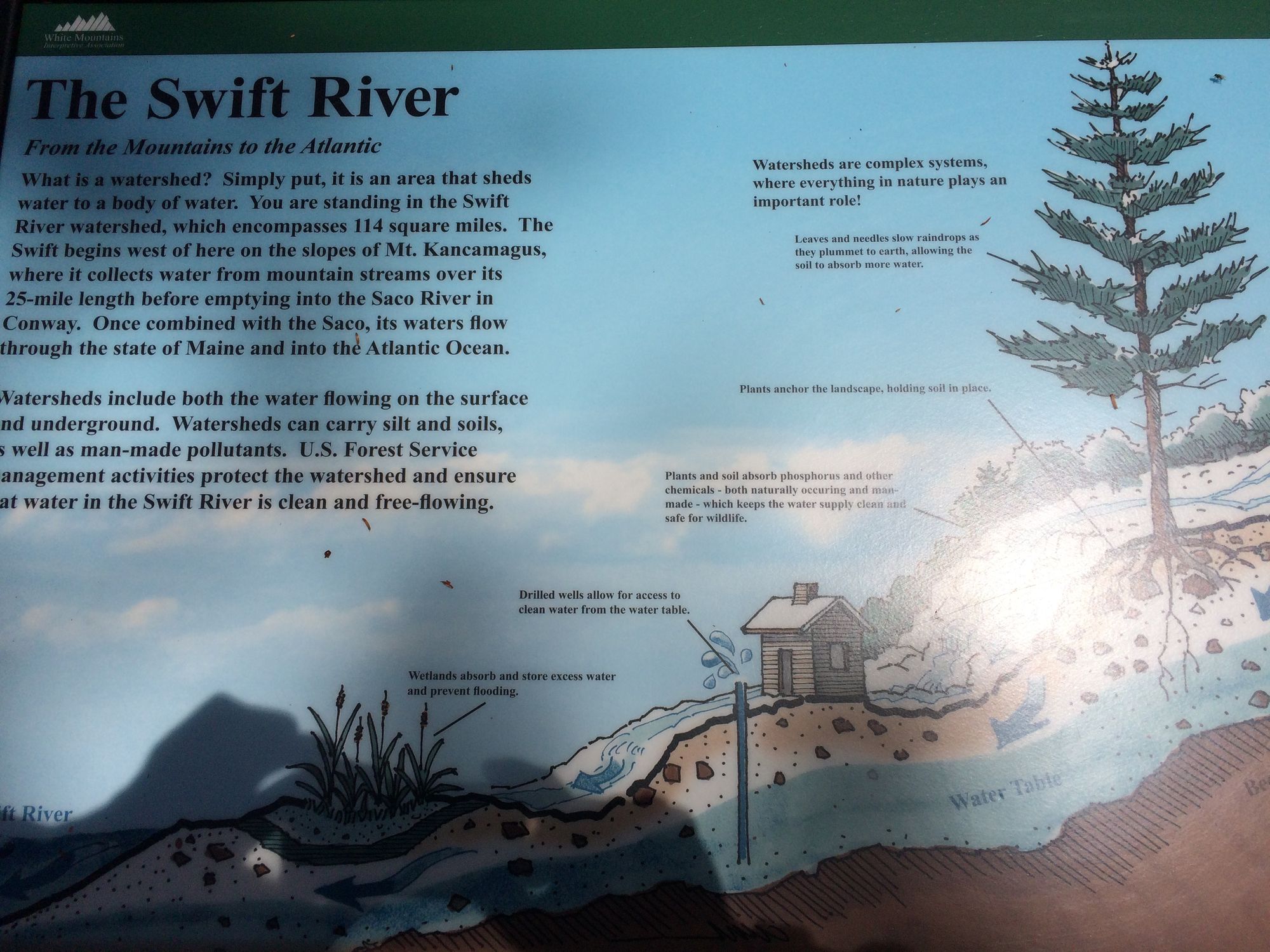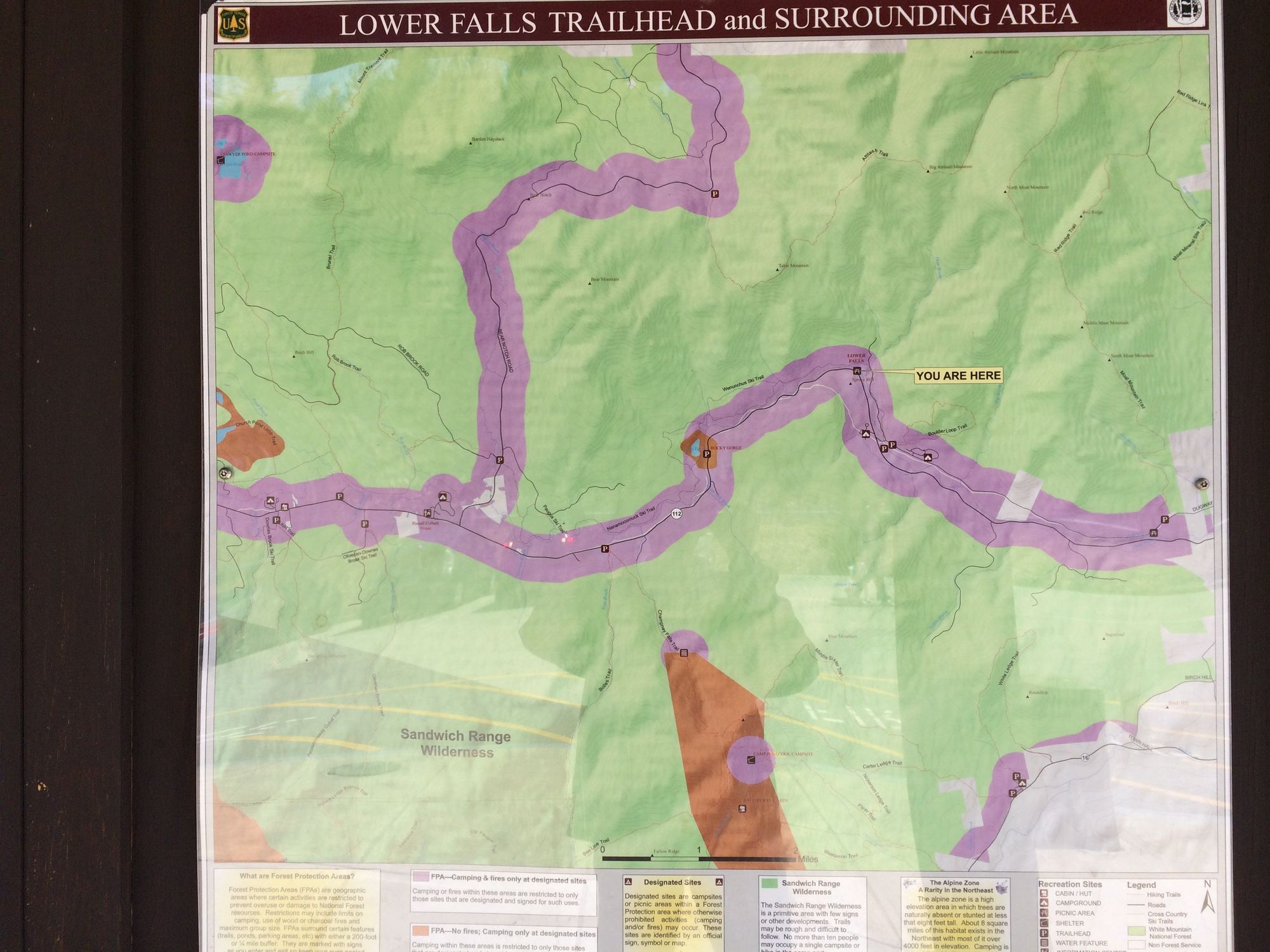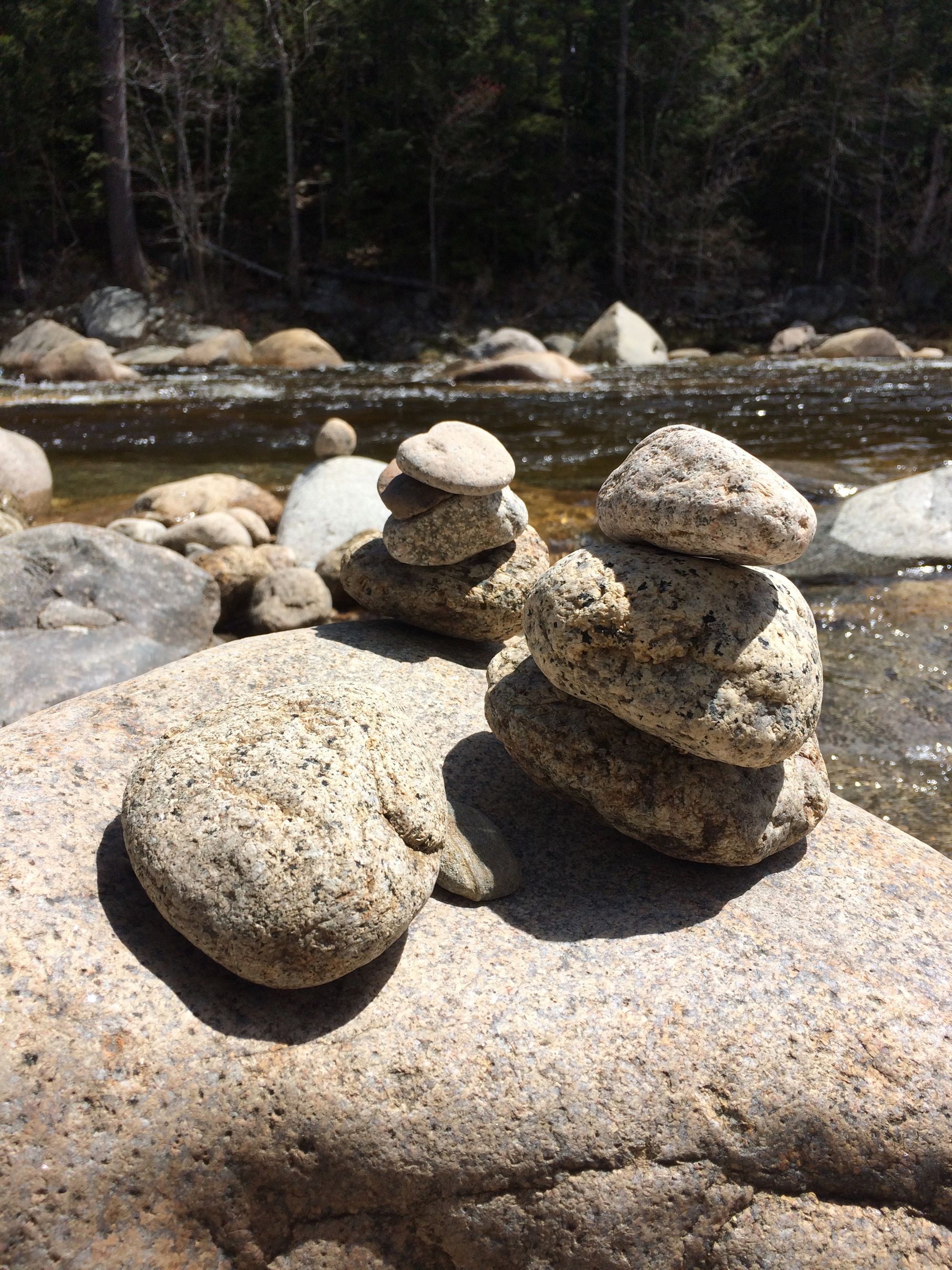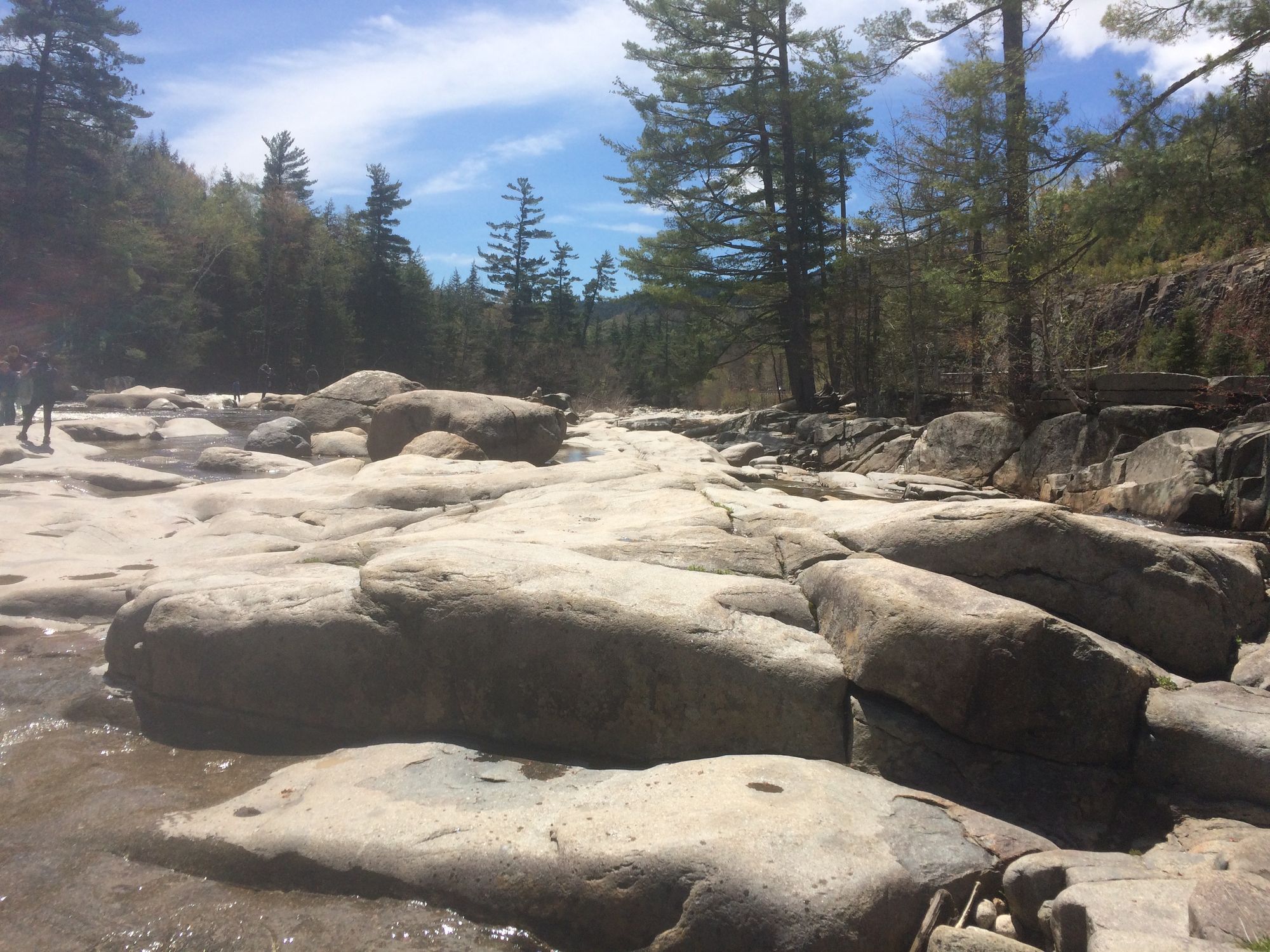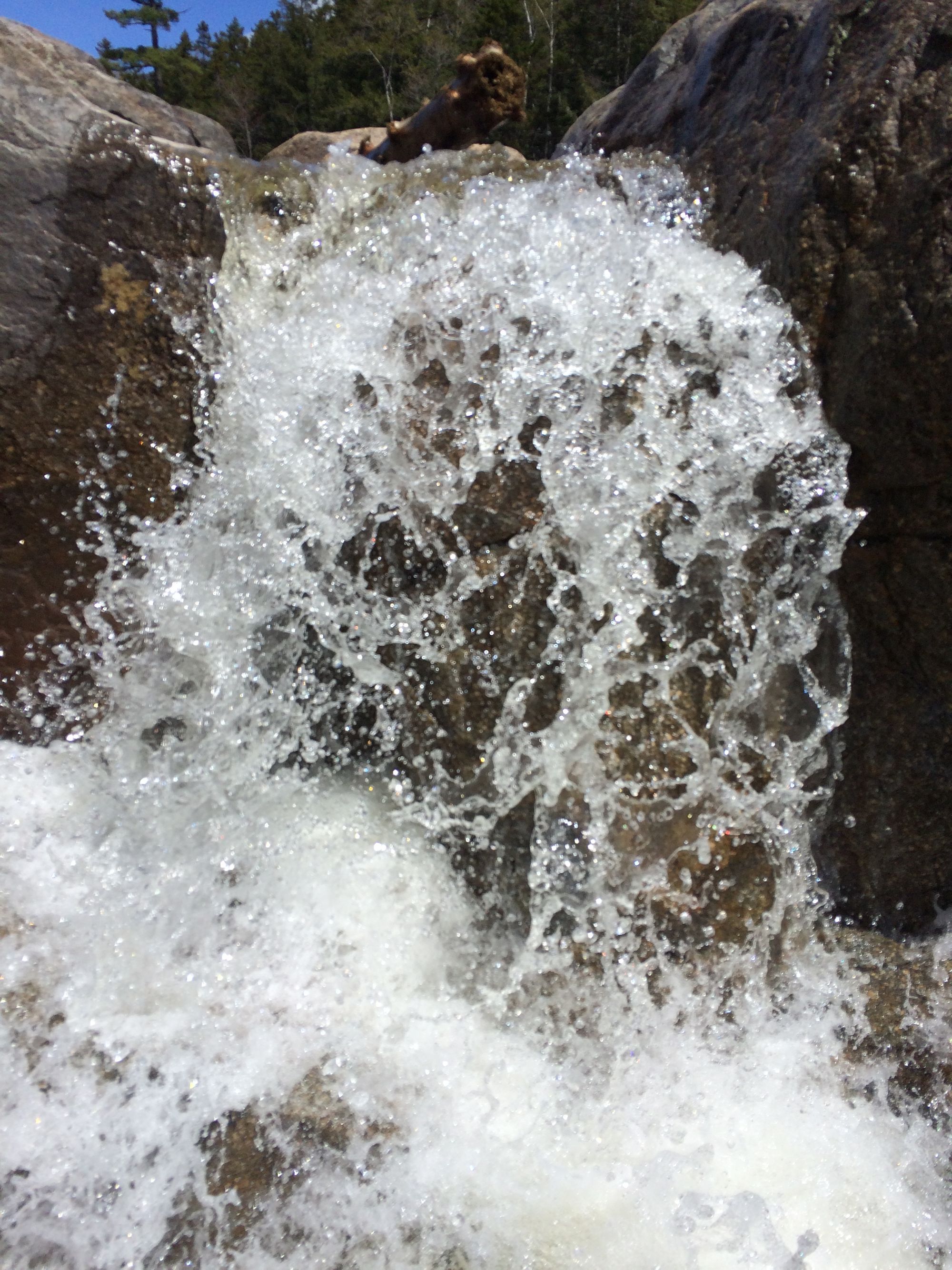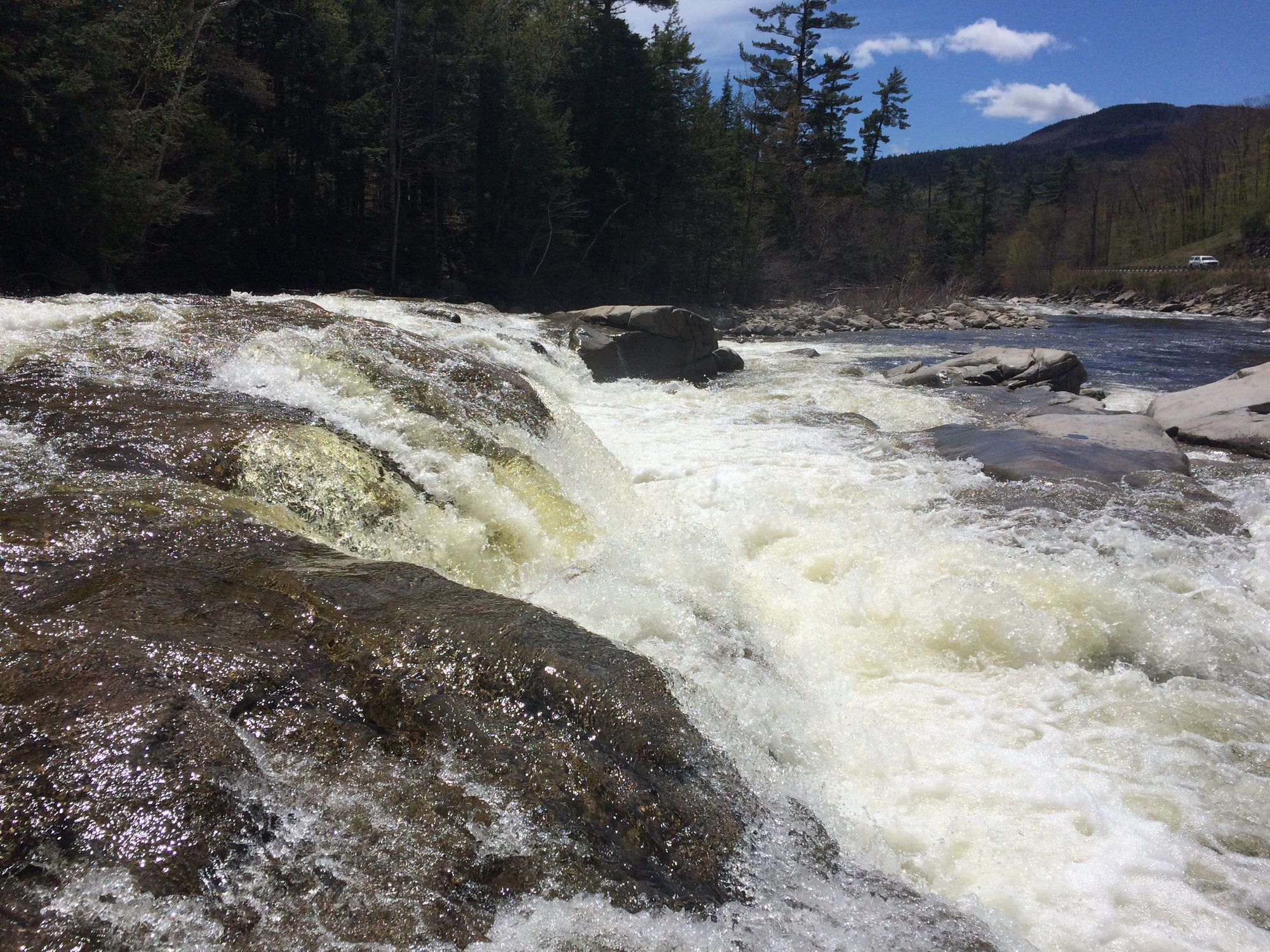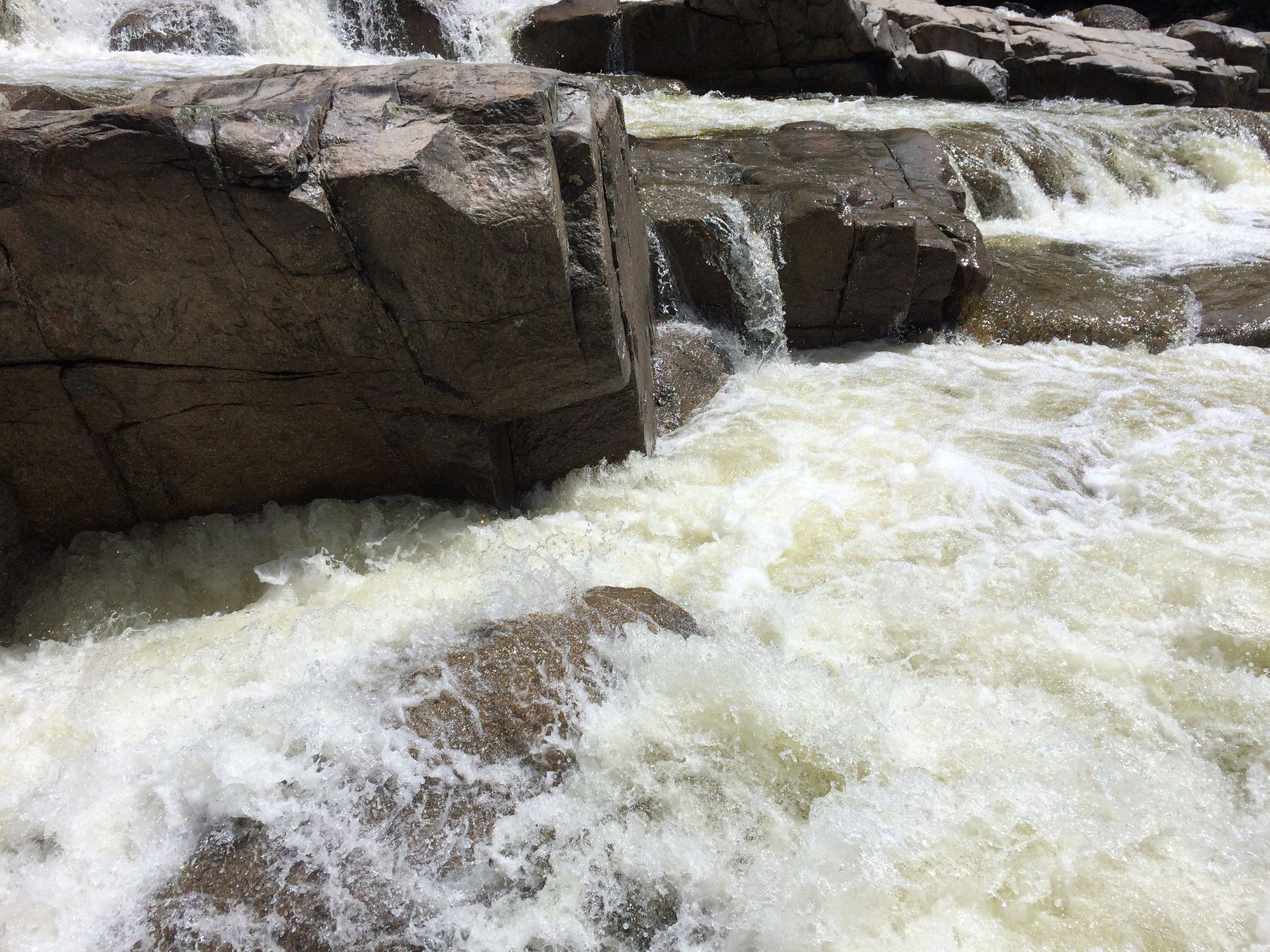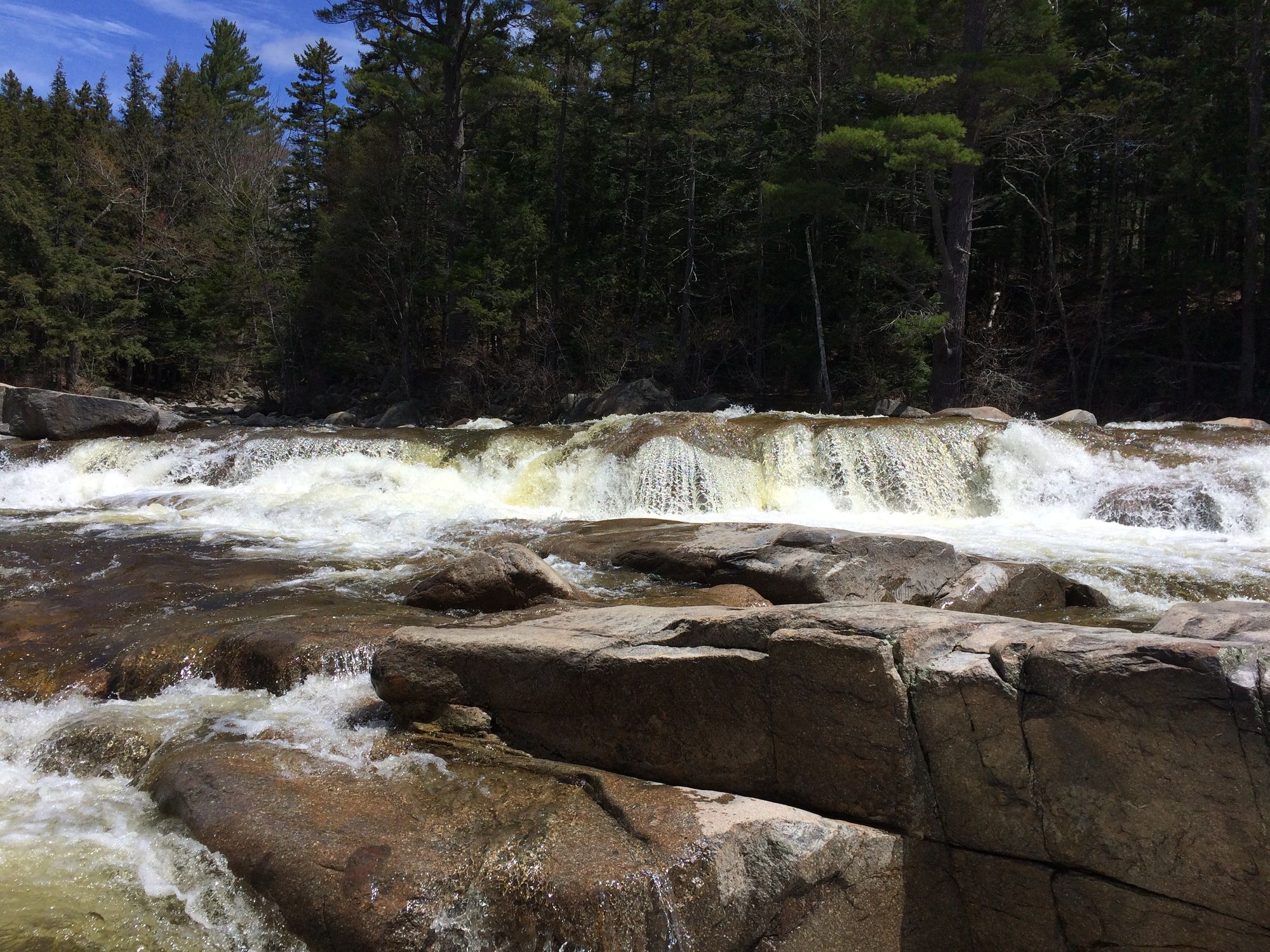 Given the amount of time we spent at the Swift river plus time for lunch, it took us 6 more hours to finally reach our hotel. Some honorable mentions about restaurants we visited on our way to Maine.
The first place we went to was called The Black Horse Tavern in Bridgton, Maine. It's a family-run business with fine dining appearance. Food was expensive, but I wasn't disappointed given the overall appearance, service, and food quality at the place. By the time we were about to reach Maine, Chili's tempted us. It was on our way and probably the only Chili's closest from either Massachusetts or Maine. All we went there was for Molten Chocolate Cake which is worth the price and nothing if you start counting calories.
We reached Maine at around 5:30 in the evening. By the time we settled and ready to leave, it was already 6:00. Since Acadia National Park was already closed, there was nothing much we could do. But there was one wonderful option of walking along The Shore Path. It was an ordinary walk, but walking by the bay brought it the special aura. Water wasn't clean, but it was more like sea flora and fauna rather than the human created mess. We could jump down and walk close to bay waters, but it was risky due to slippery rocks and that awful smell of moss, lichen, and algae didn't help either.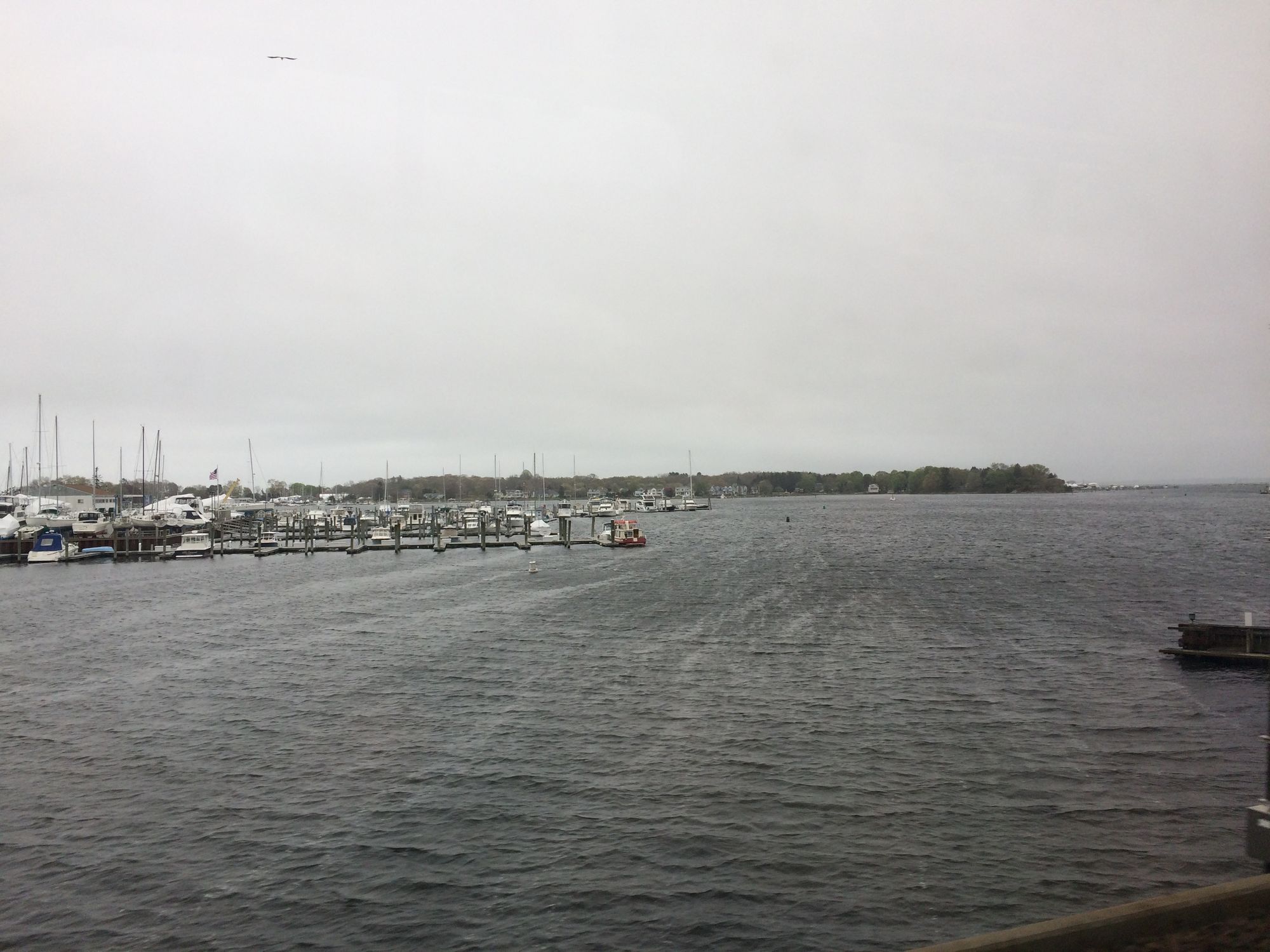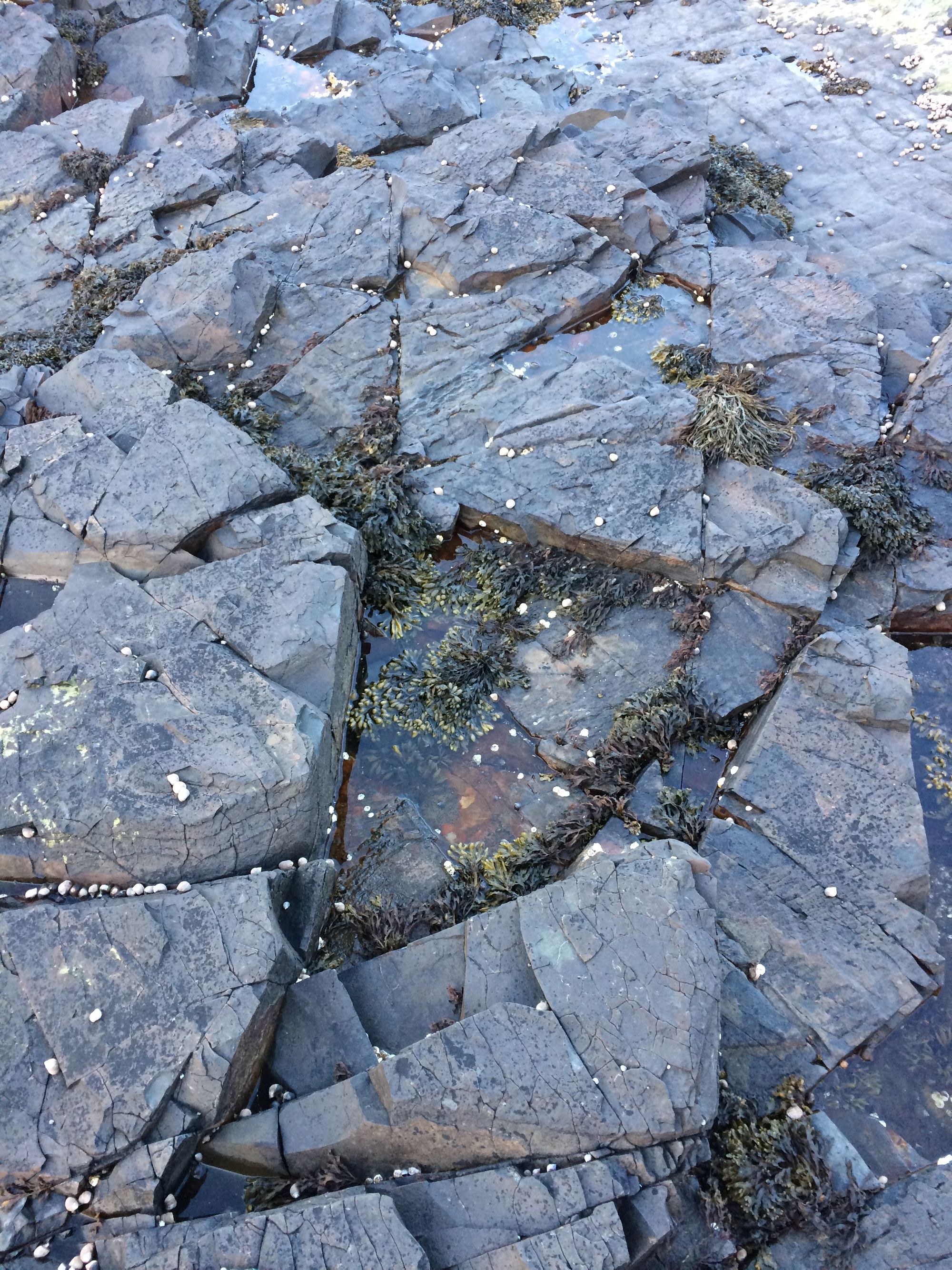 There were just too many options for good seafood in that area. After much deliberation, we zeroed in on Stewman's Lobster Pound which was at a walkable distance from Shore Path. Food was great and I shrugged away from Lobsters with the excuse that it was too expensive for my wallet - Which wasn't a lie!
Day 4
Day 4 was interesting. It's the day when we covered most of the attractions around and found a wonderful breakfast place. We went to the Governor's restaurant and bakery for breakfast. Surprise surprise...their pancakes were too large to be consumed by the single person like me. Piece of advice, if you want a great quantity of food with no extra burden on your bank balance, make sure to order 3 regular pancakes with syrup. You should be all set not just for the morning but part of the afternoon too.
The day began with a visit to a Hadlock Falls and Waterfall bridge in Acadia National park. A 30-minute drive to the base and then 40 minutes of the walk back and forth.
Hadlock falls and Waterfall bridge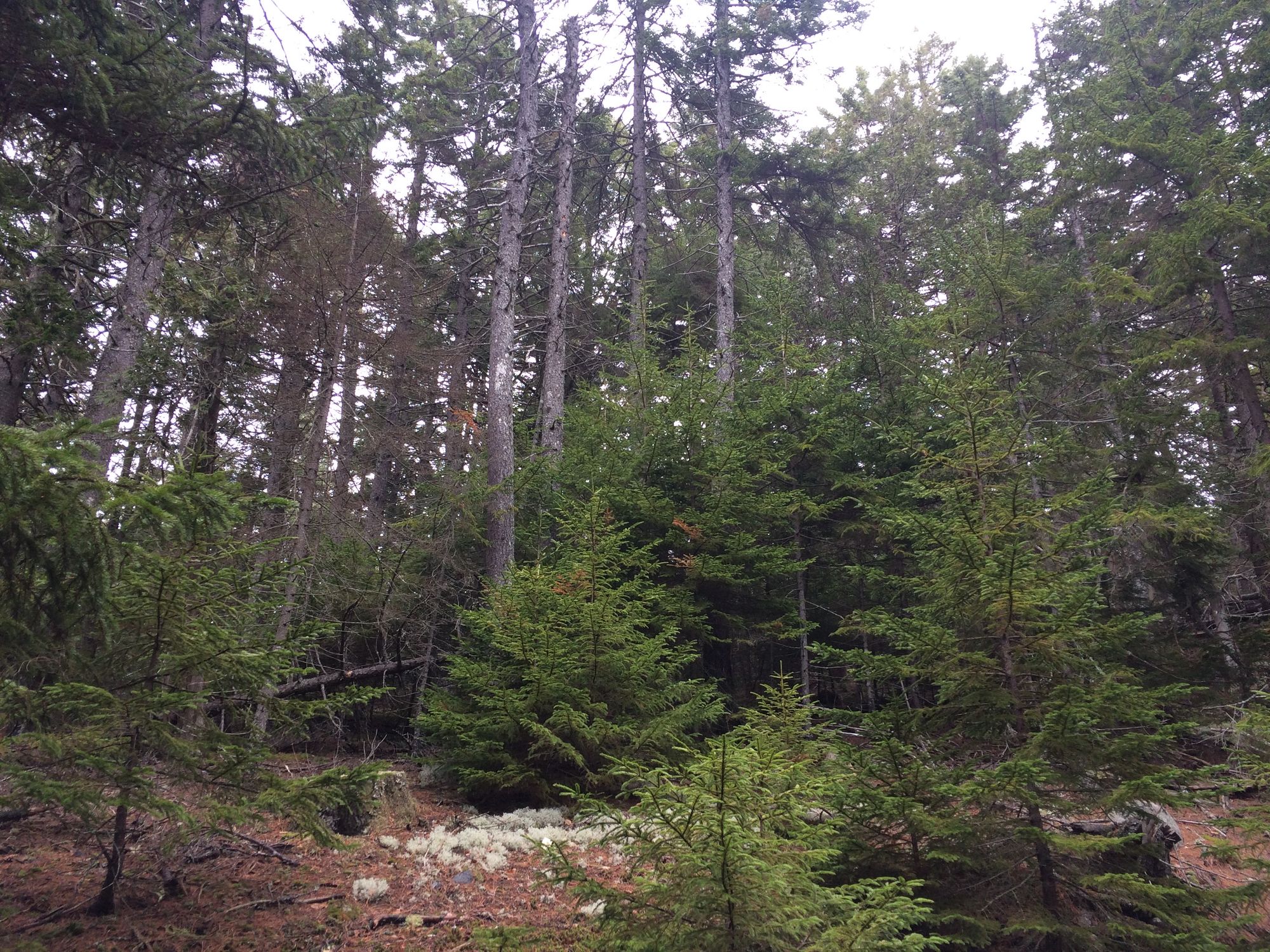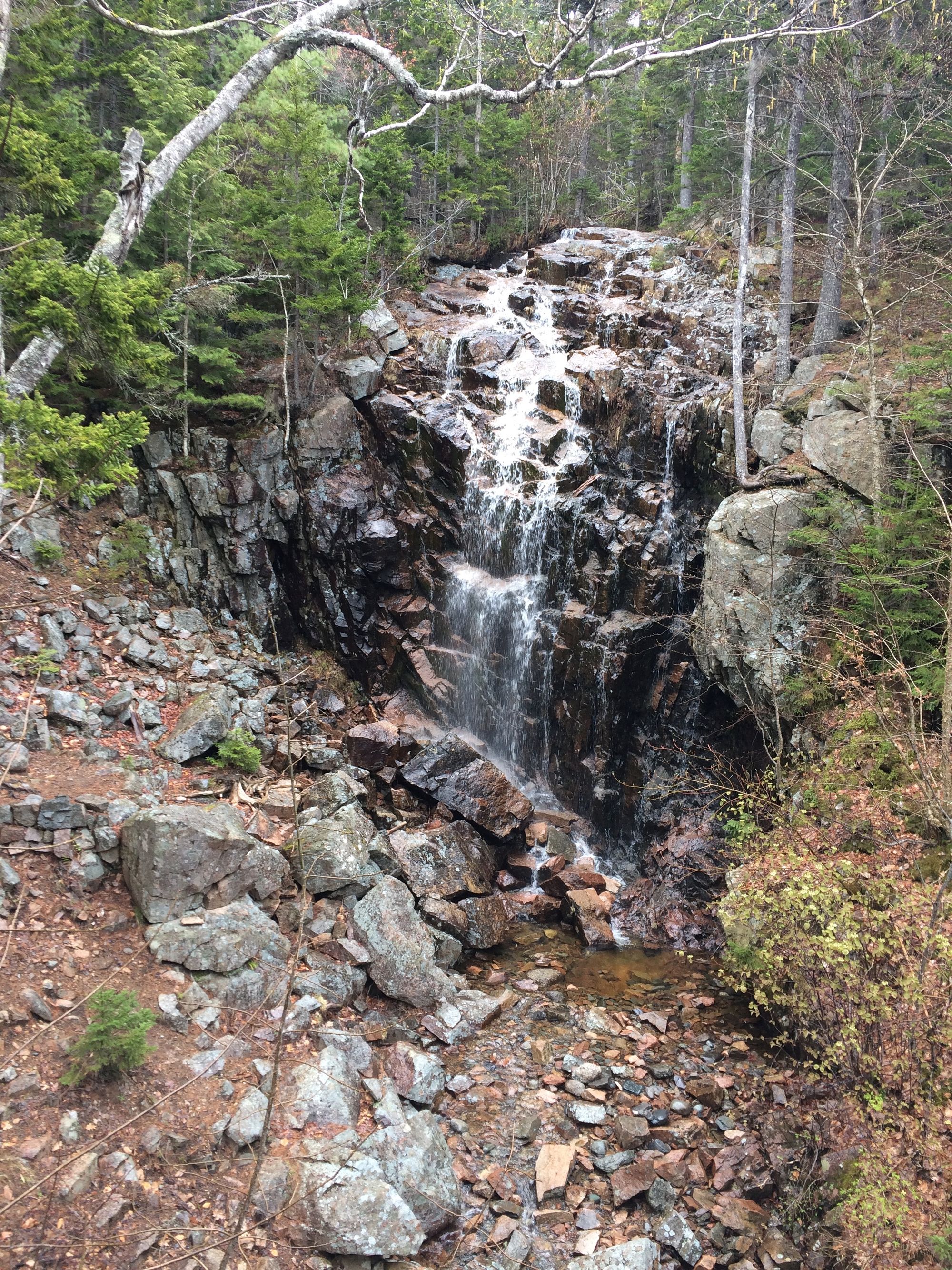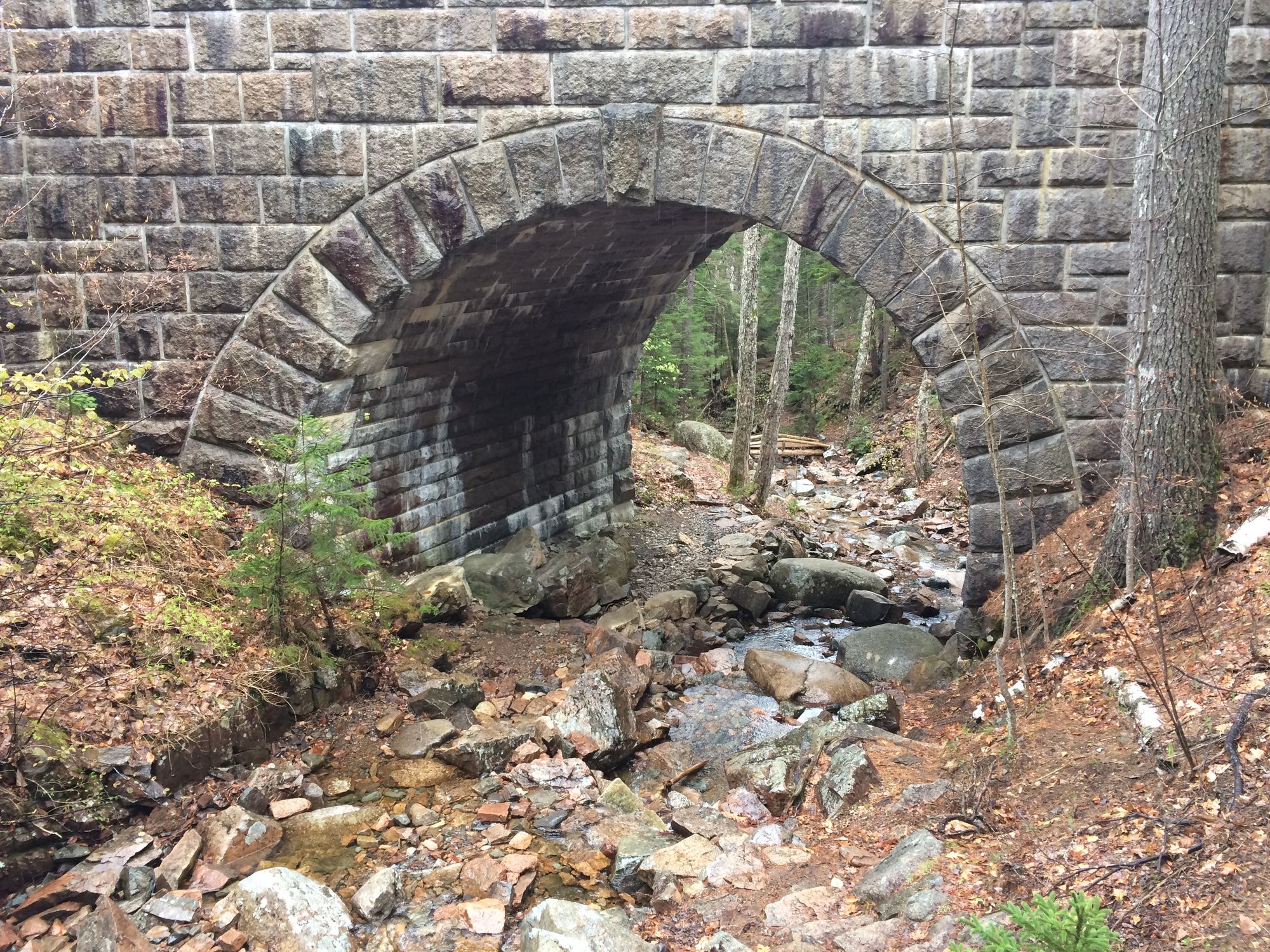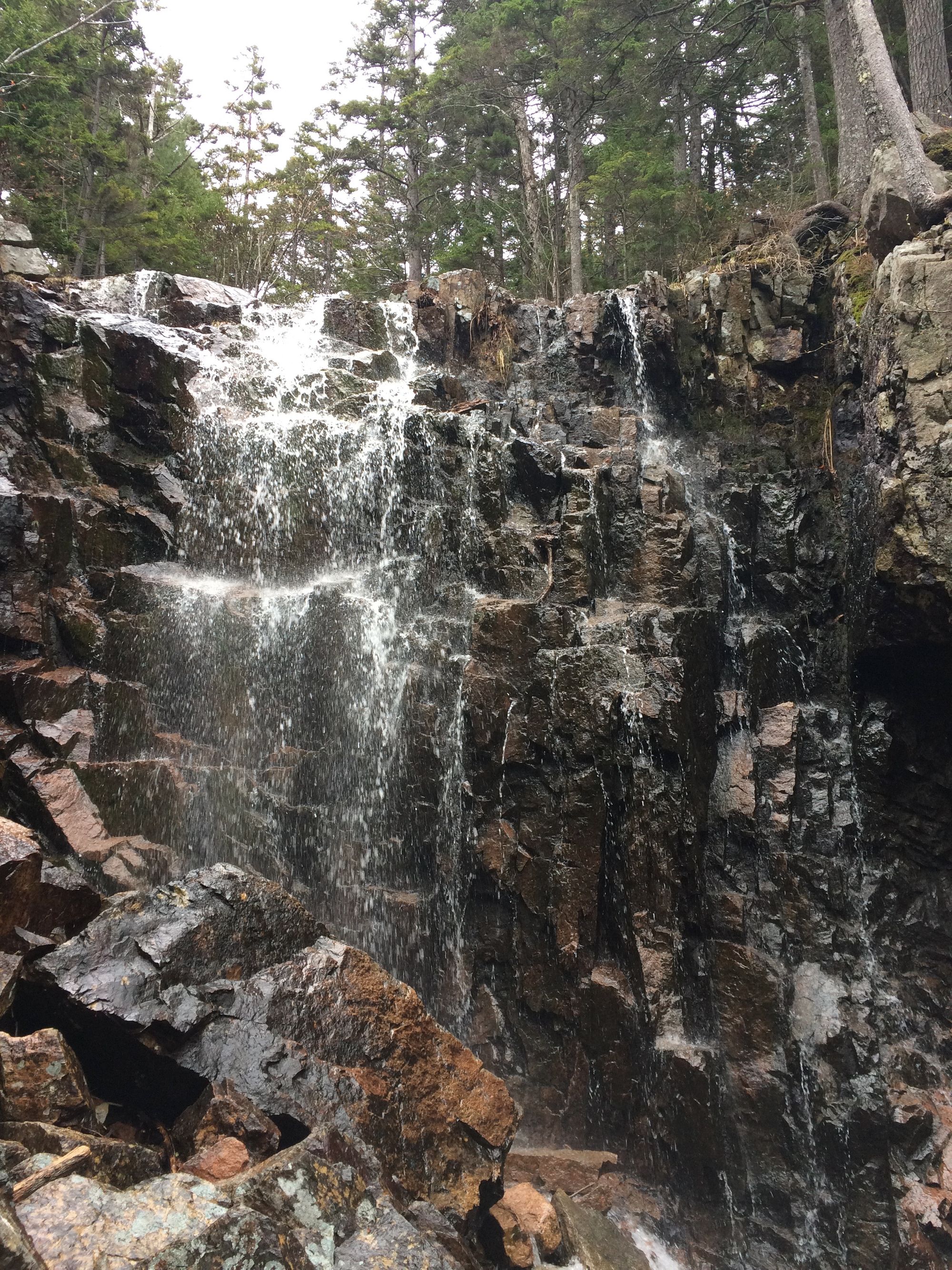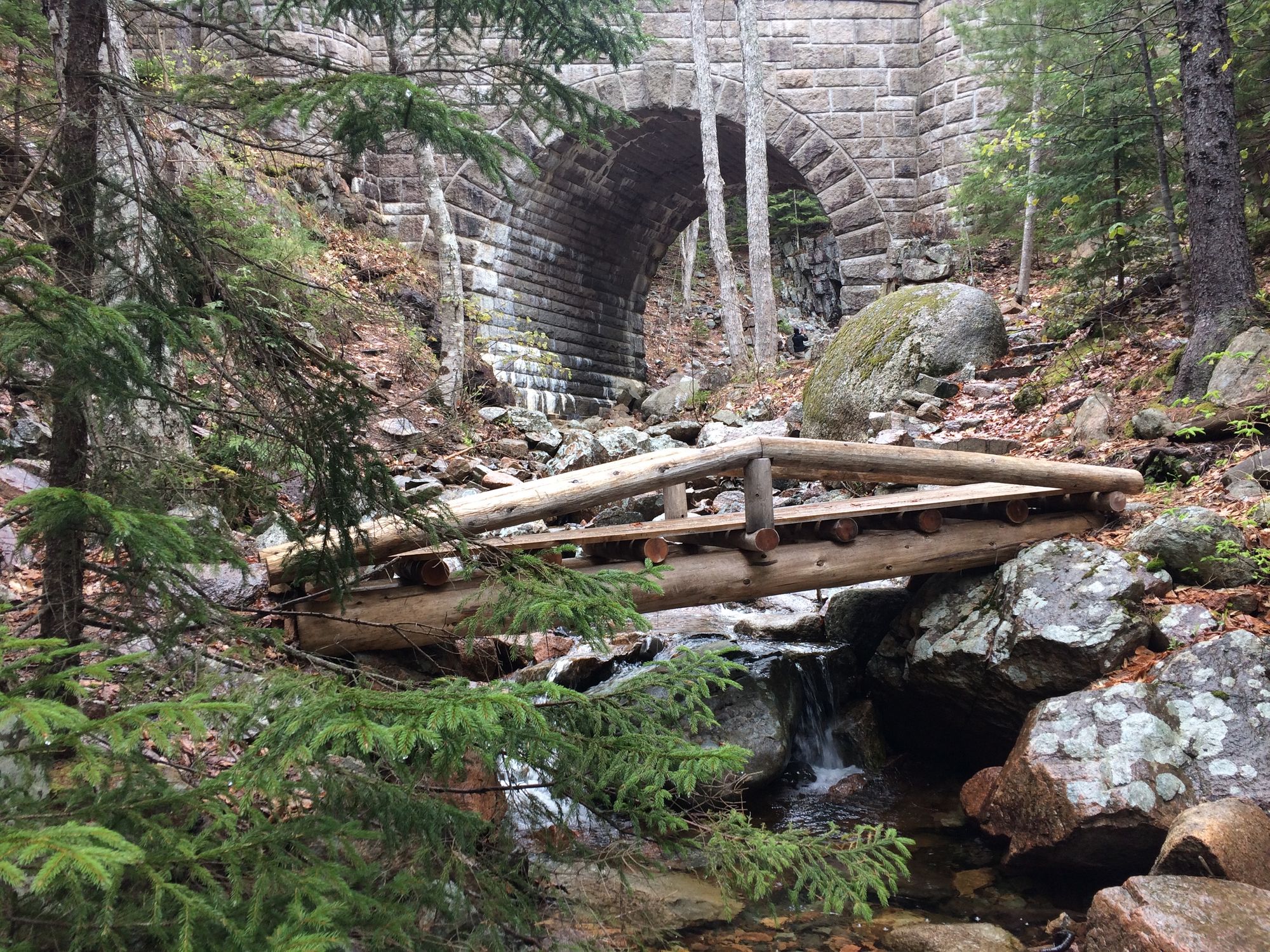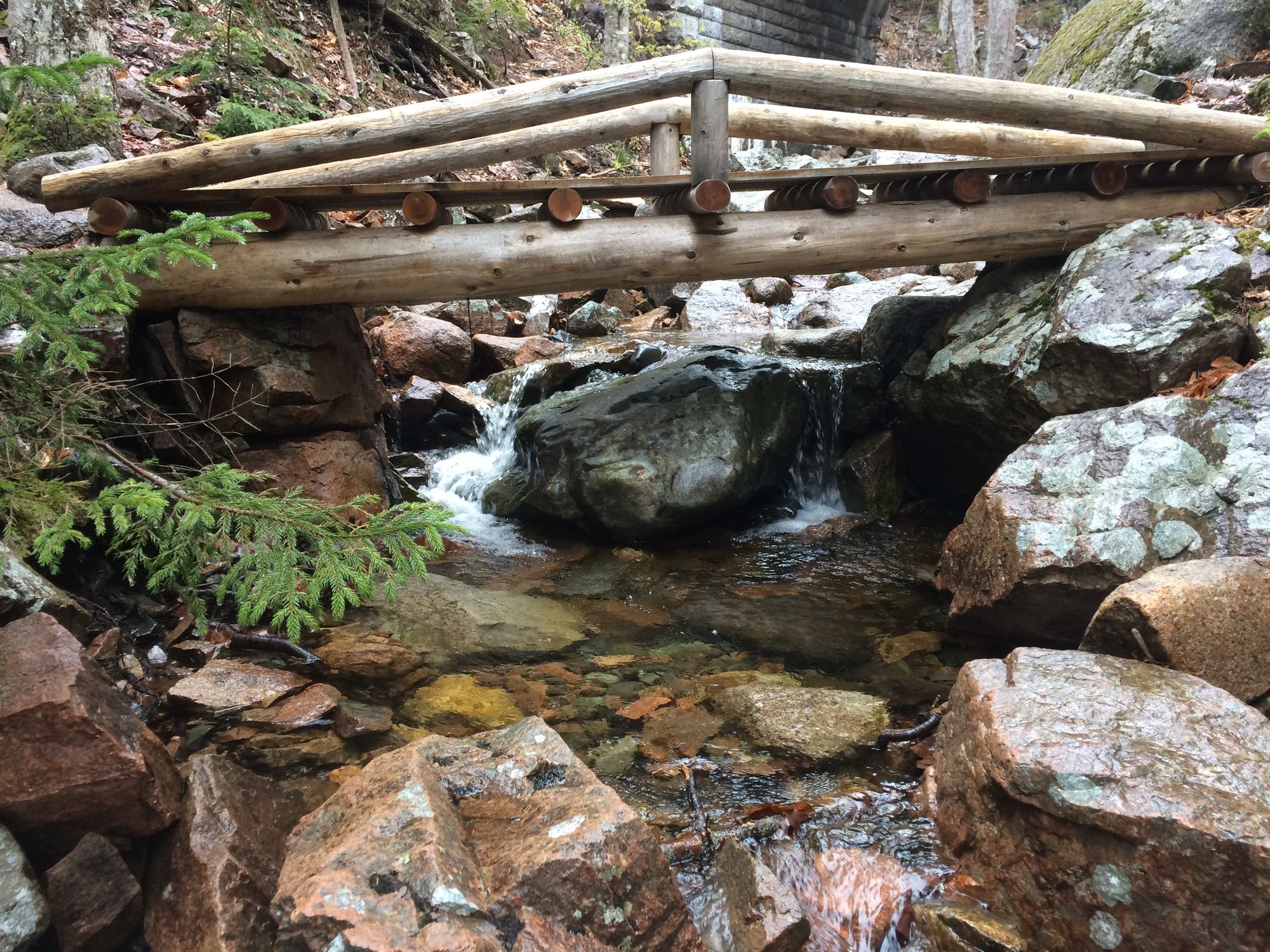 If you're wondering about parking and visiting pass for Acadia, it's $30 per week/vehicle. You can buy it from any forest office or a gift shop.
Next in line was Jordan Pond. I was here 2.5 years ago before. But this pond never gets too old to avoid a visit. Evidently, it's one of the major sources of drinking water in surrounding areas. We took few pictures, but unlike last time, these hills were empty with just a hint of greenery on top of them depending on how you look at them.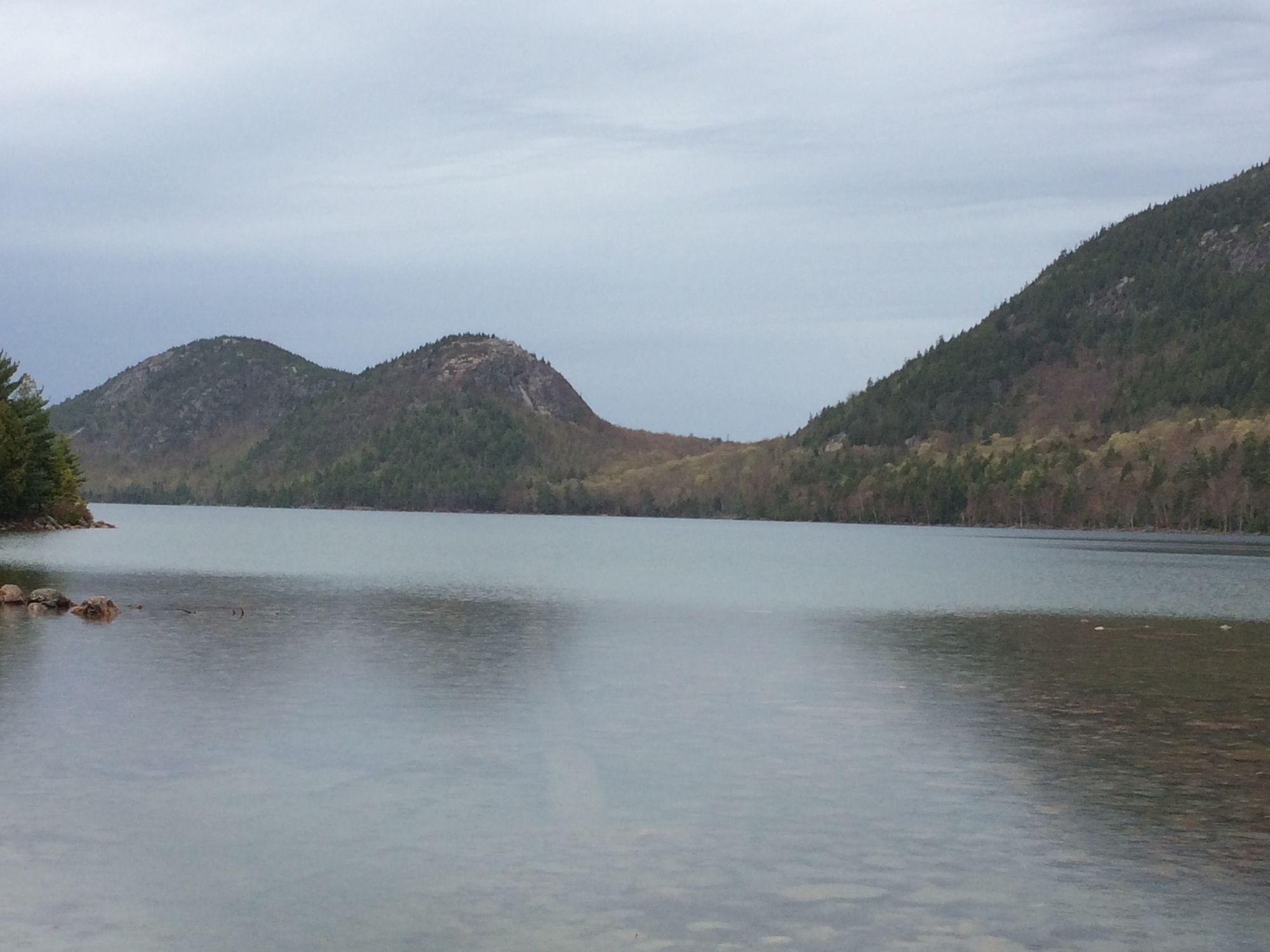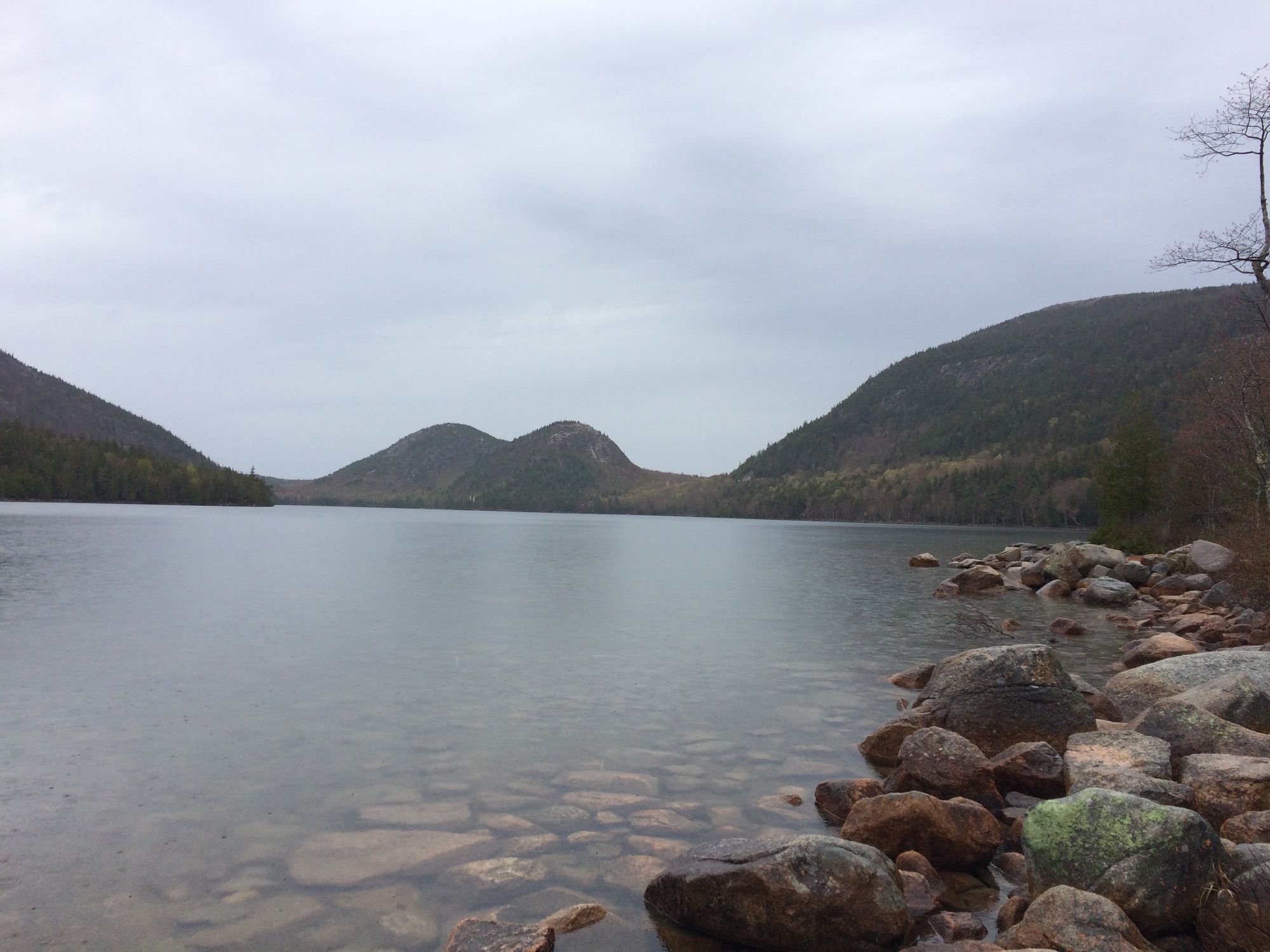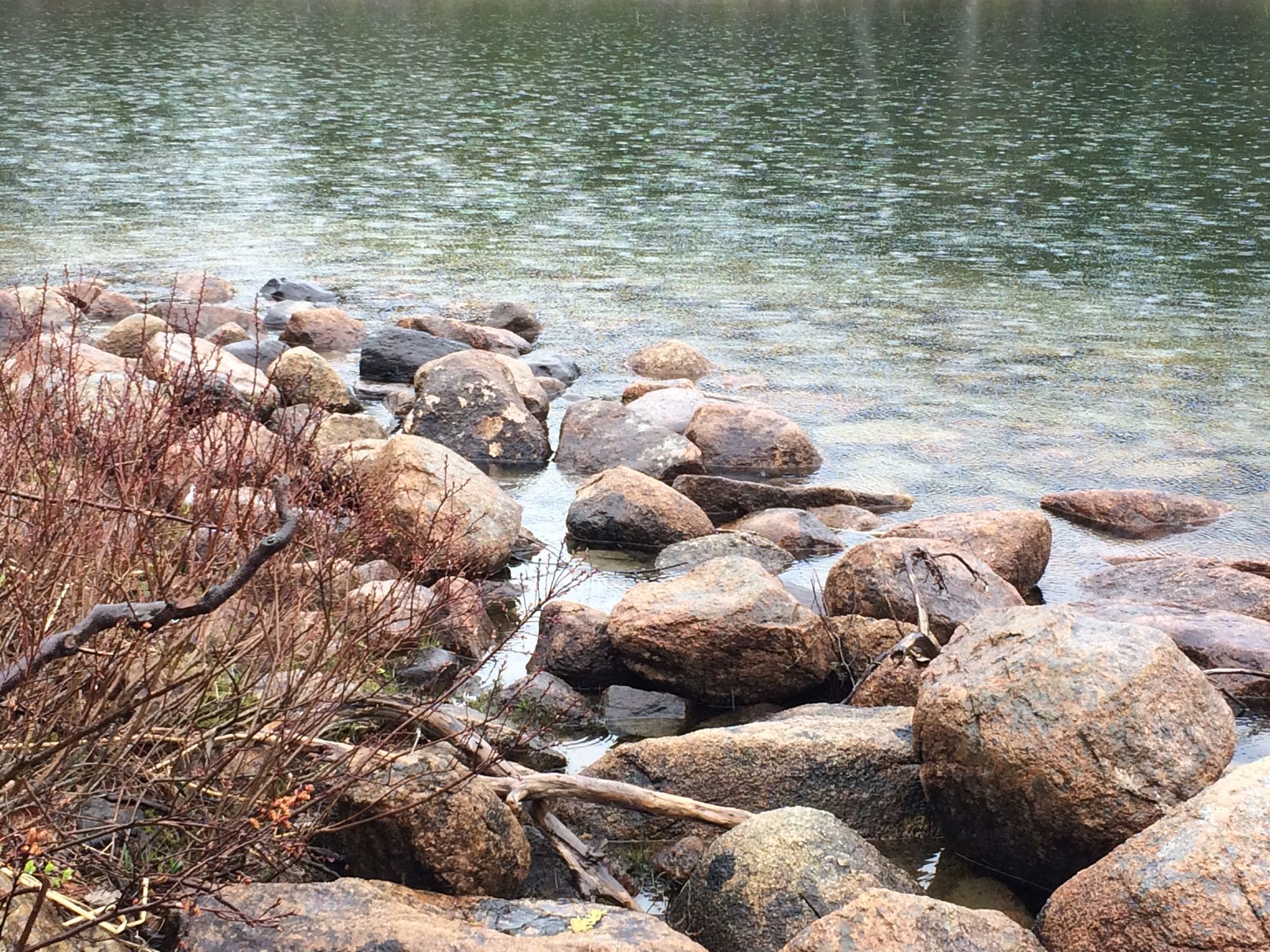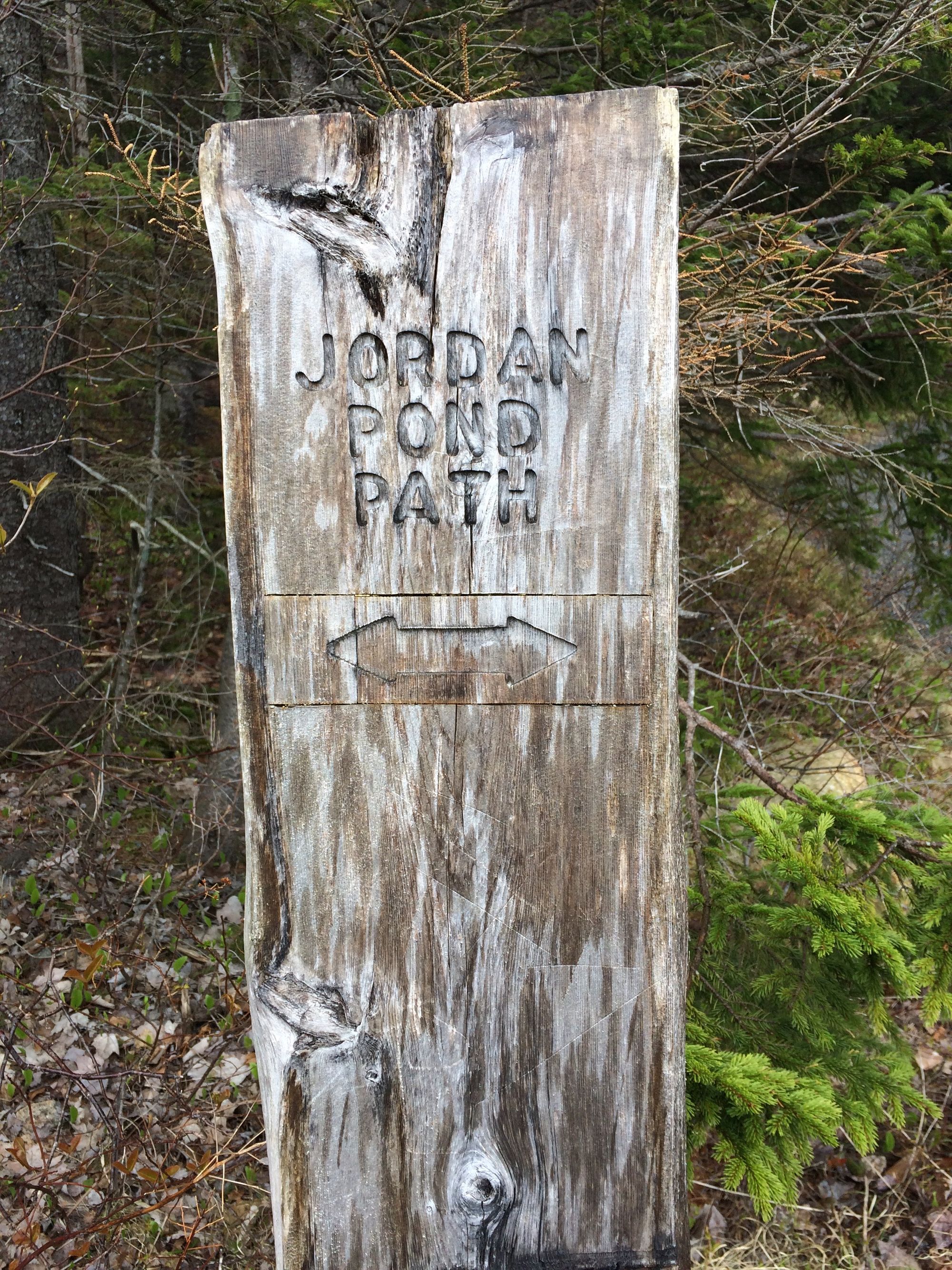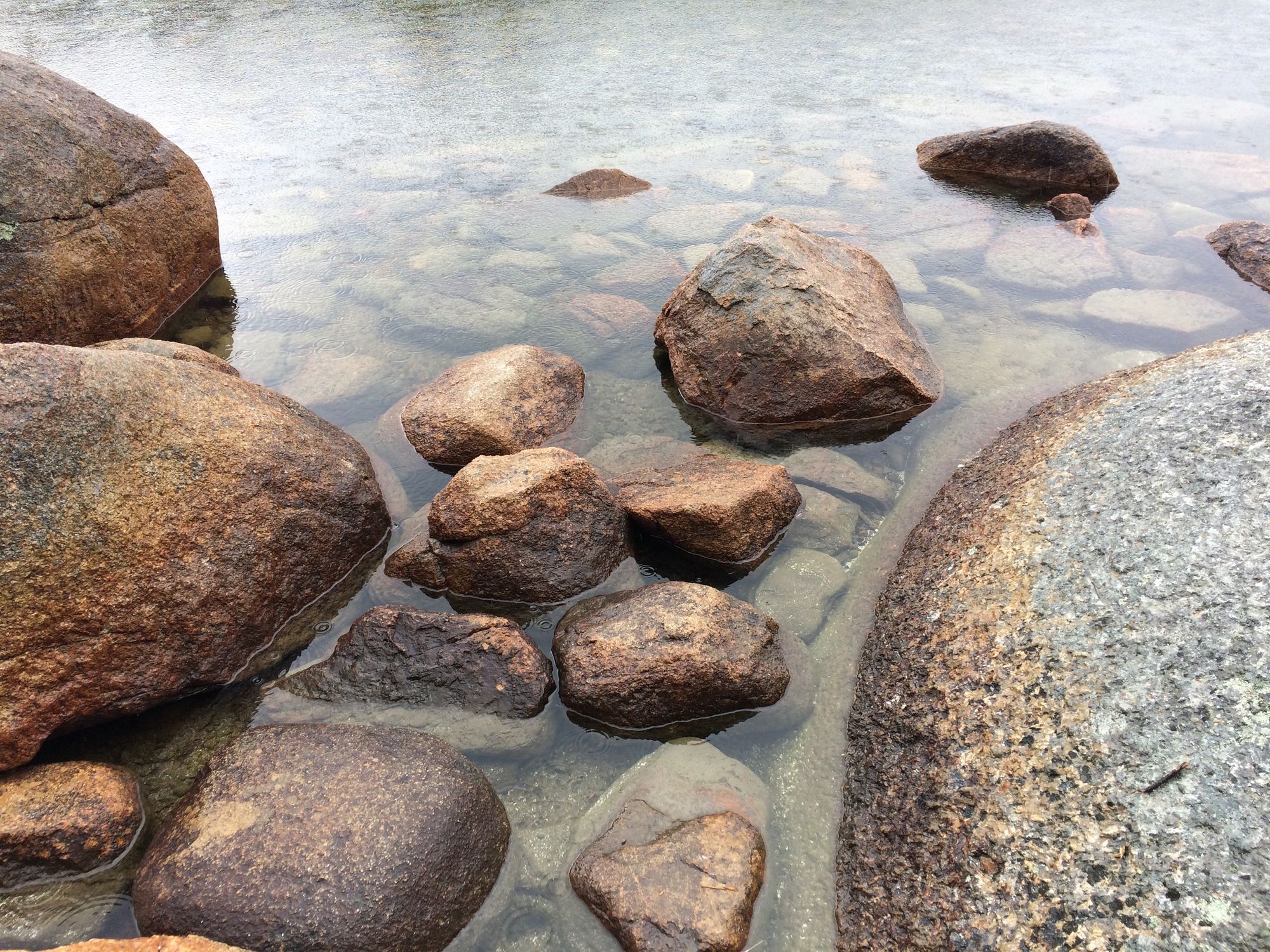 By the time we were done with Jordan pond, it was lunchtime. If you're planning to visit Acadia any time soon or in the future, I strongly recommend visiting Jordan Pond House Restaurant. There is a lot of delicious variety, but two things that stood out to me were their popovers and black tea. Referencing to the menu, popover order includes two Popovers, Maine strawberry jam, and butter. It was amazing - the only unhappy part is I just had two popovers.
After lunch, we felt quite refreshed and energetic and we continued our trip to Cadillac Mountain. It was a 30 minutes drive through a boulevard and light rain. The roadside was also displaying visible hints of snowfall a few days earlier.
When we reached at the summit, we had a feeling like we were floating on the cloud and can see the whole world from the top. The area is well maintained, and you can also walk a bit along slopes of the mountain. Although, it's kind of risky. Rocks are slippery and slanted which makes it easy to go down, but it's another story if you try to climb up.
As usual, the weather was cold, but it was the wind which made it rough. The wind was strong and I almost lost my jacket. It was cloudy and pretty sure sunshine would've made things much better for us.
On the top of Cadillac Mountain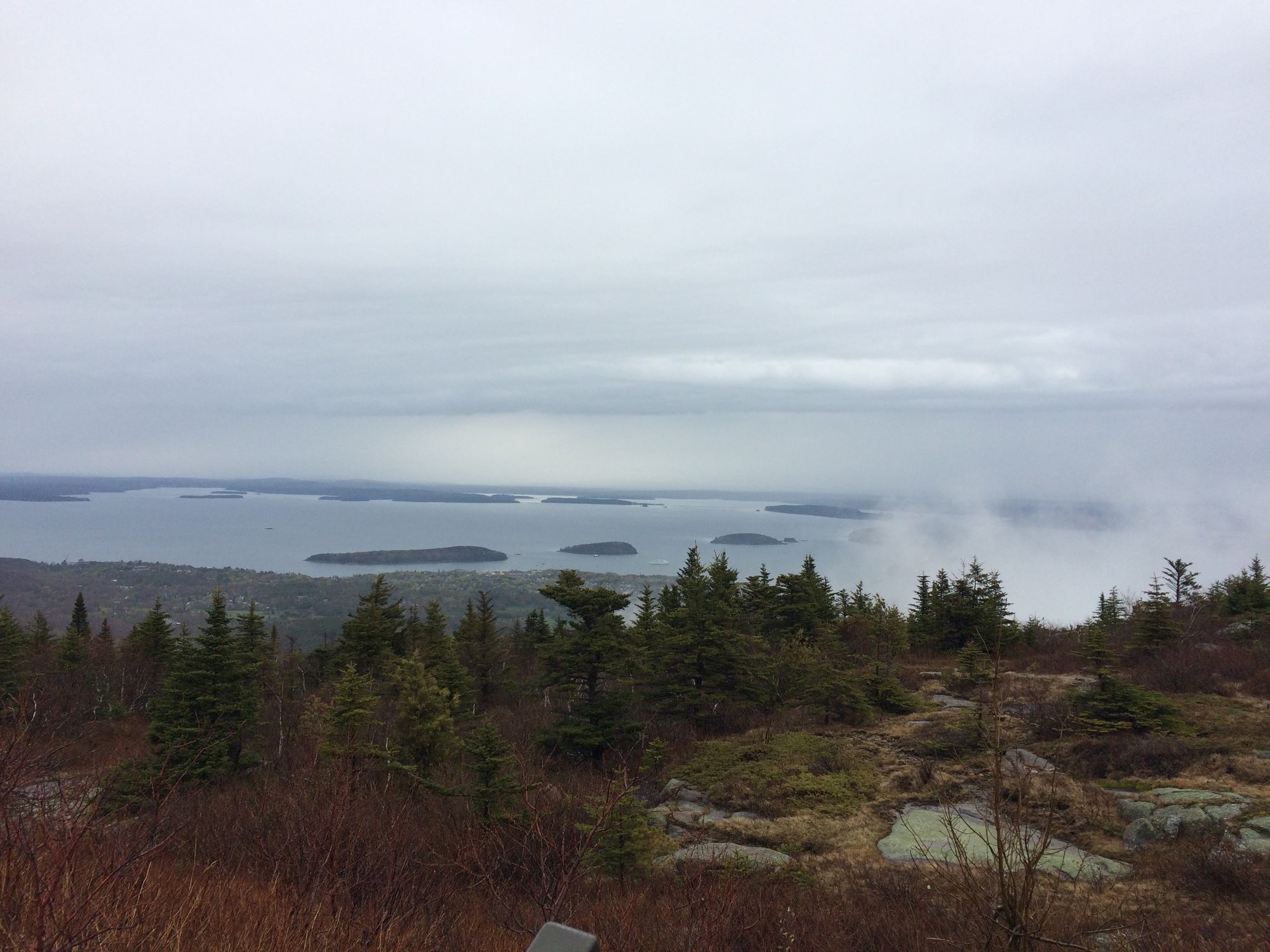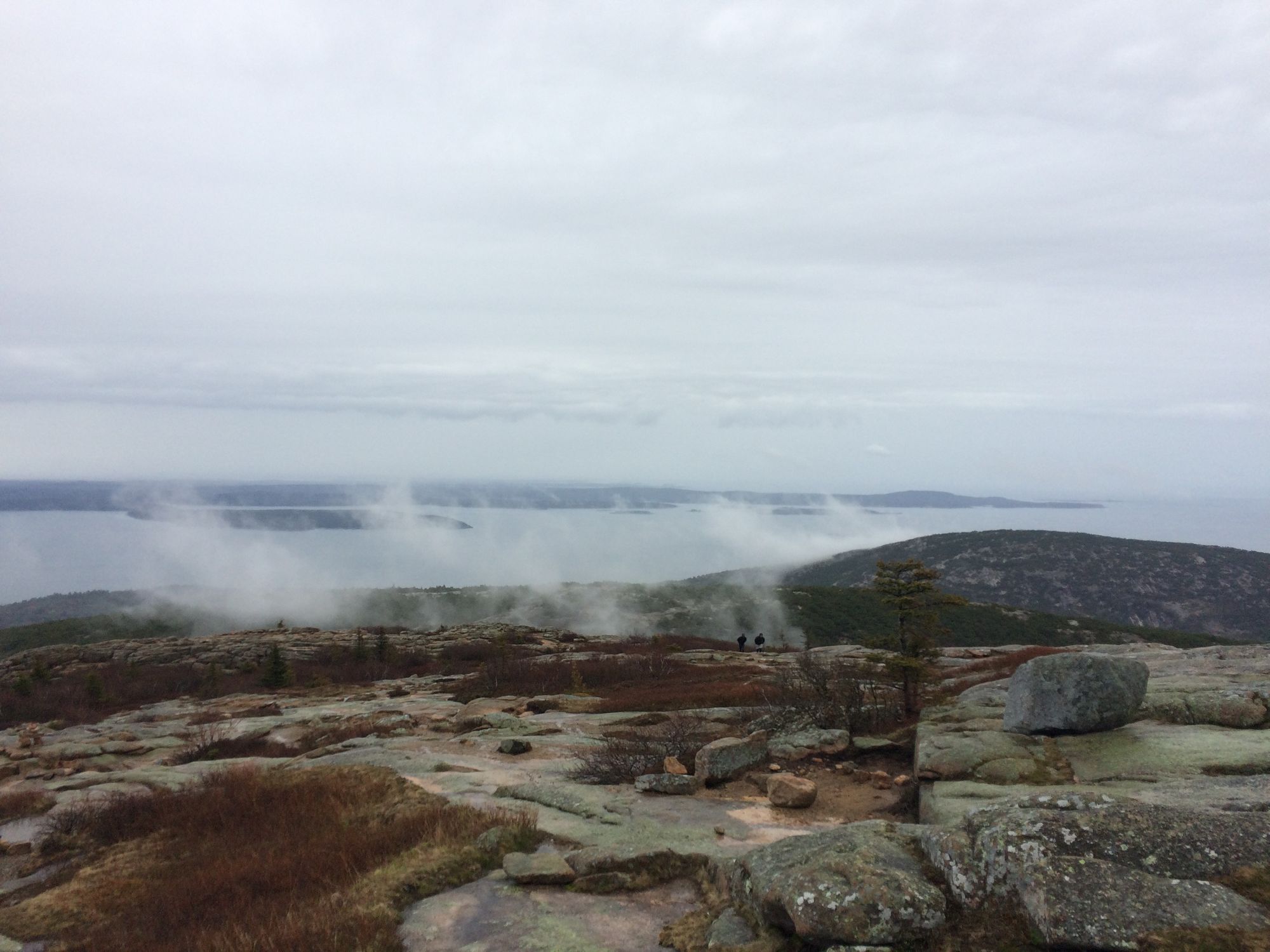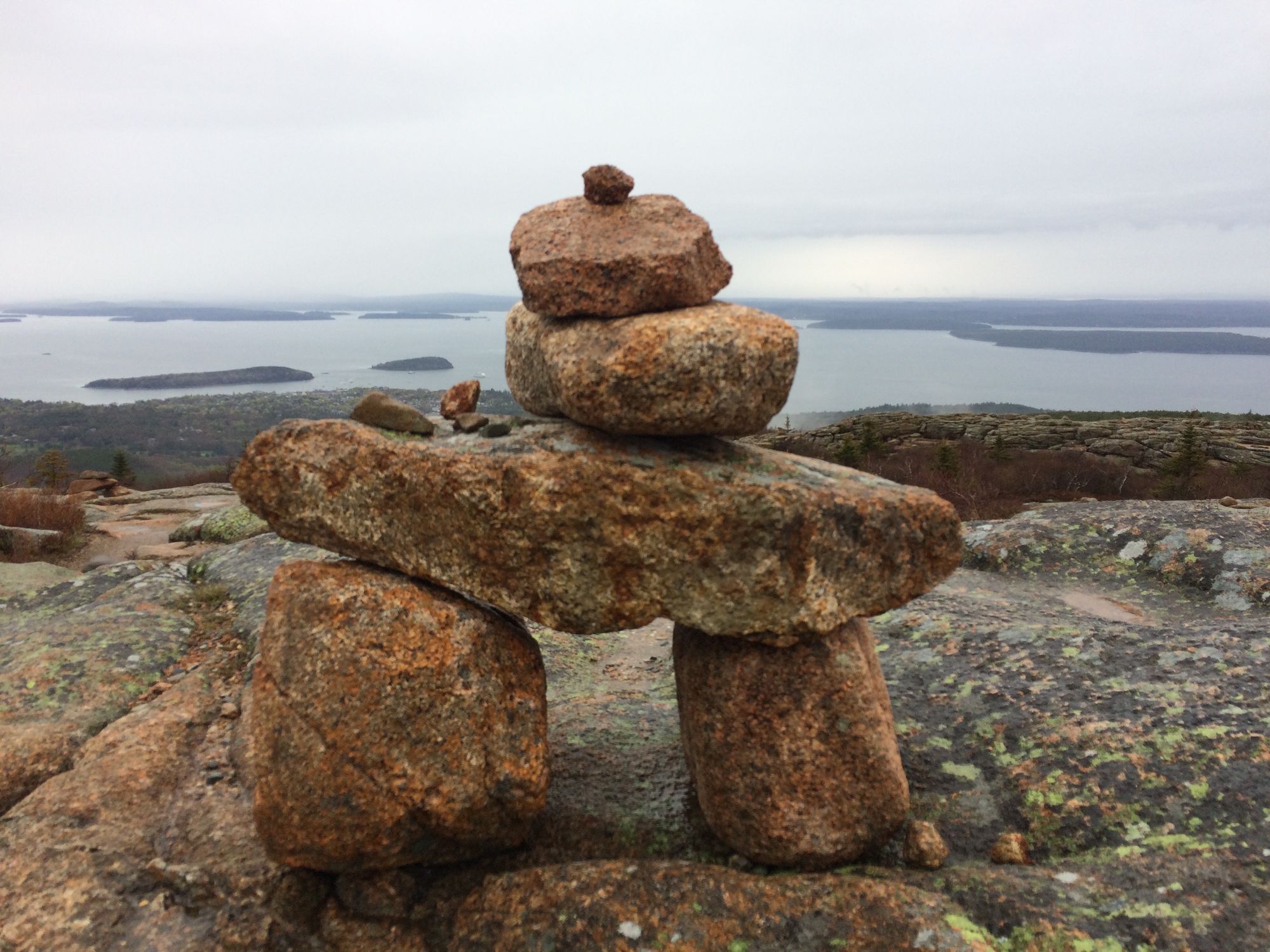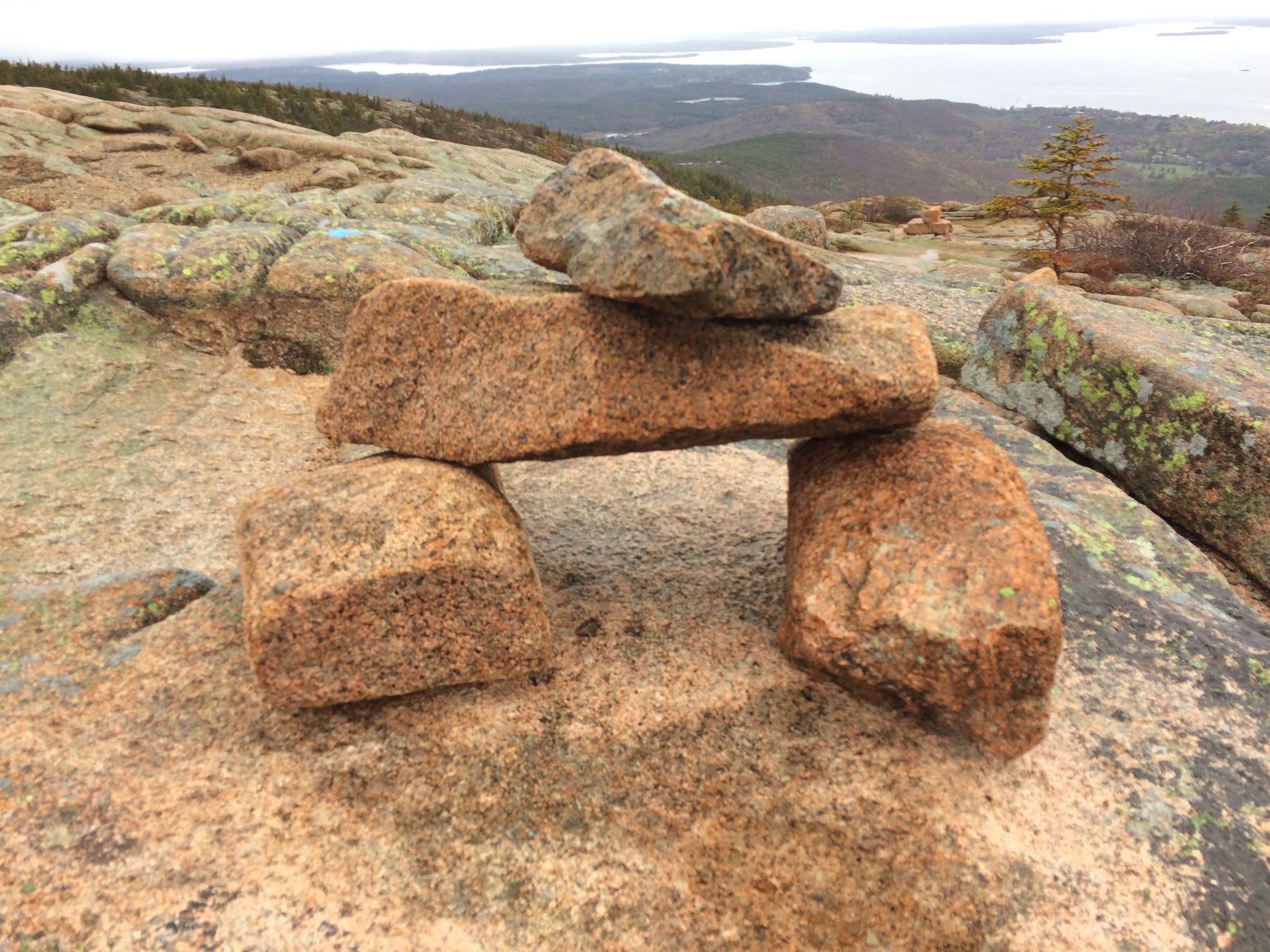 After walking over the top of the world, it was our time to touch the earth again. Yes, our next stop was Sand Beach. And this wasn't a pond or a simple bay, but this is the actual Atlantic Ocean. We came across interesting geography associated with it,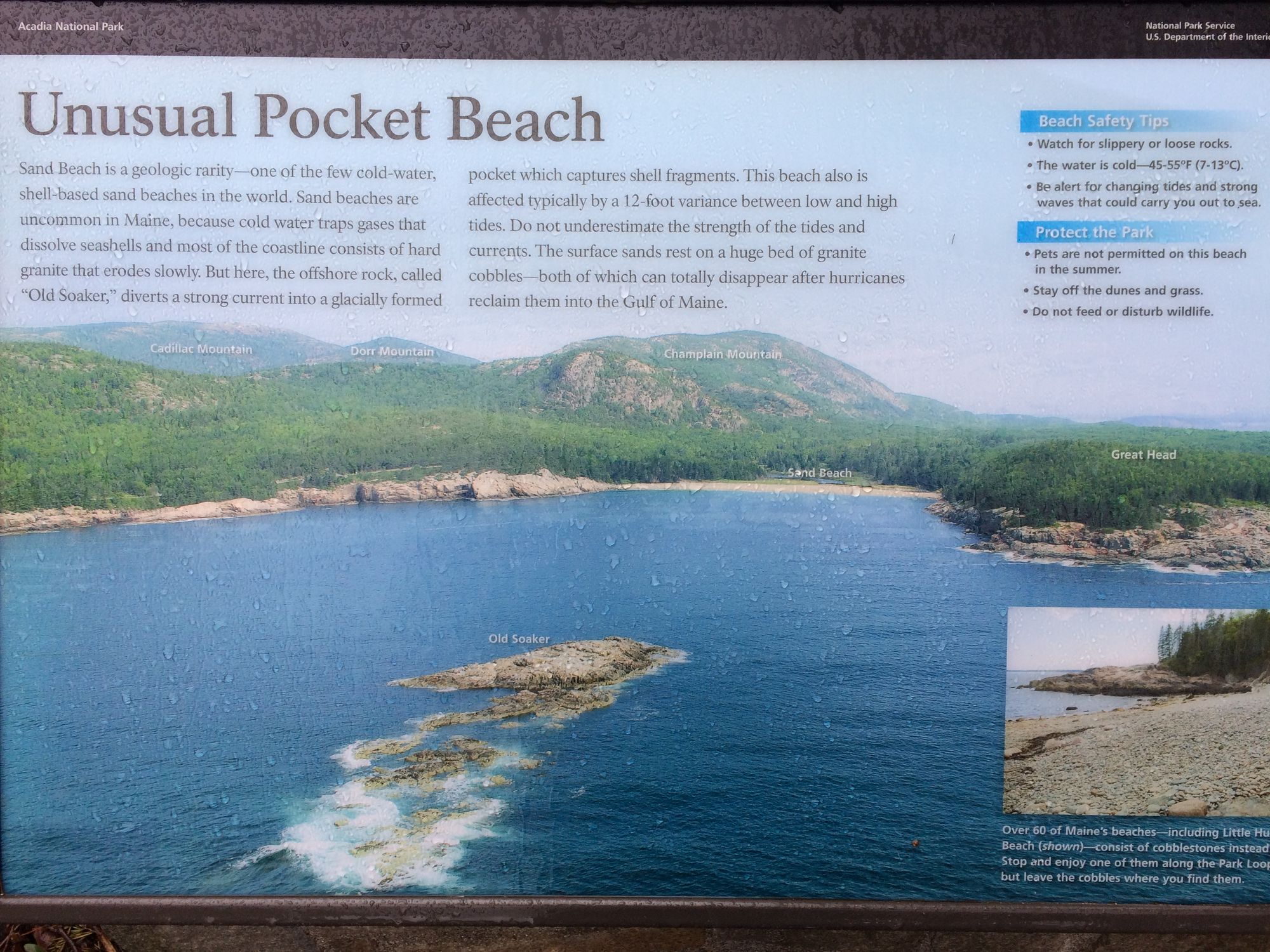 This beach was clean (Duh!) and relatively smaller than other beaches I've been to. Little far from the beach, there was a nice collection of rocks with lichen, moss, and algae scattered all over. They were arranged awkwardly, so walking through them was a bit of a problem. But at least this wasn't a marshland, so less risky. Some parts were too slippery that you have to have support on rocks on both sides to make sure you do not lose balance. Unfortunately, if you fall, it's going to happen on the hard rock which can result in a serious injury.
I spent some time walking around these rocks with a curiosity of 5-year-old. To give you a solid proof, here are some more of those rocks and sand beach.
Sand Beach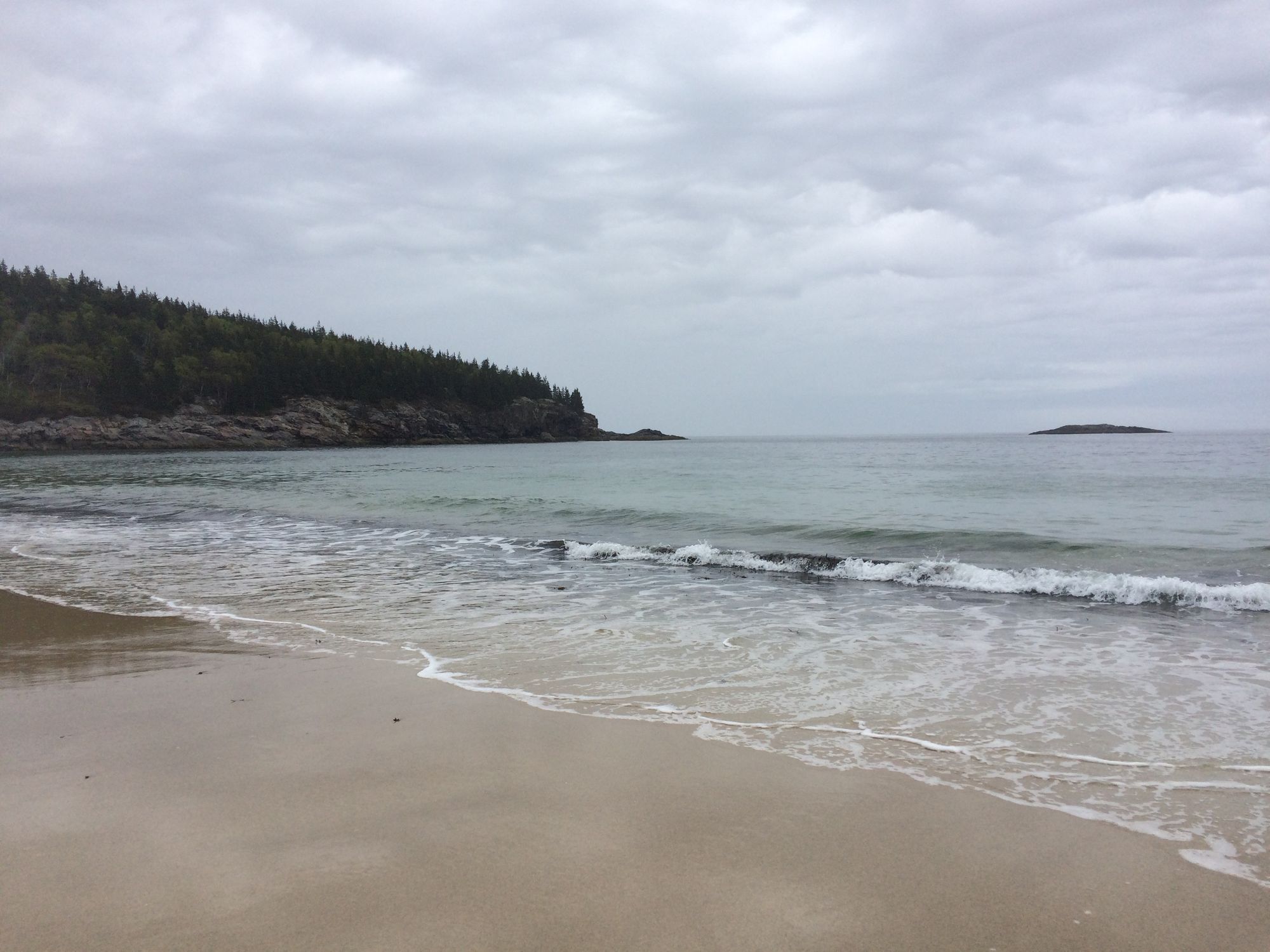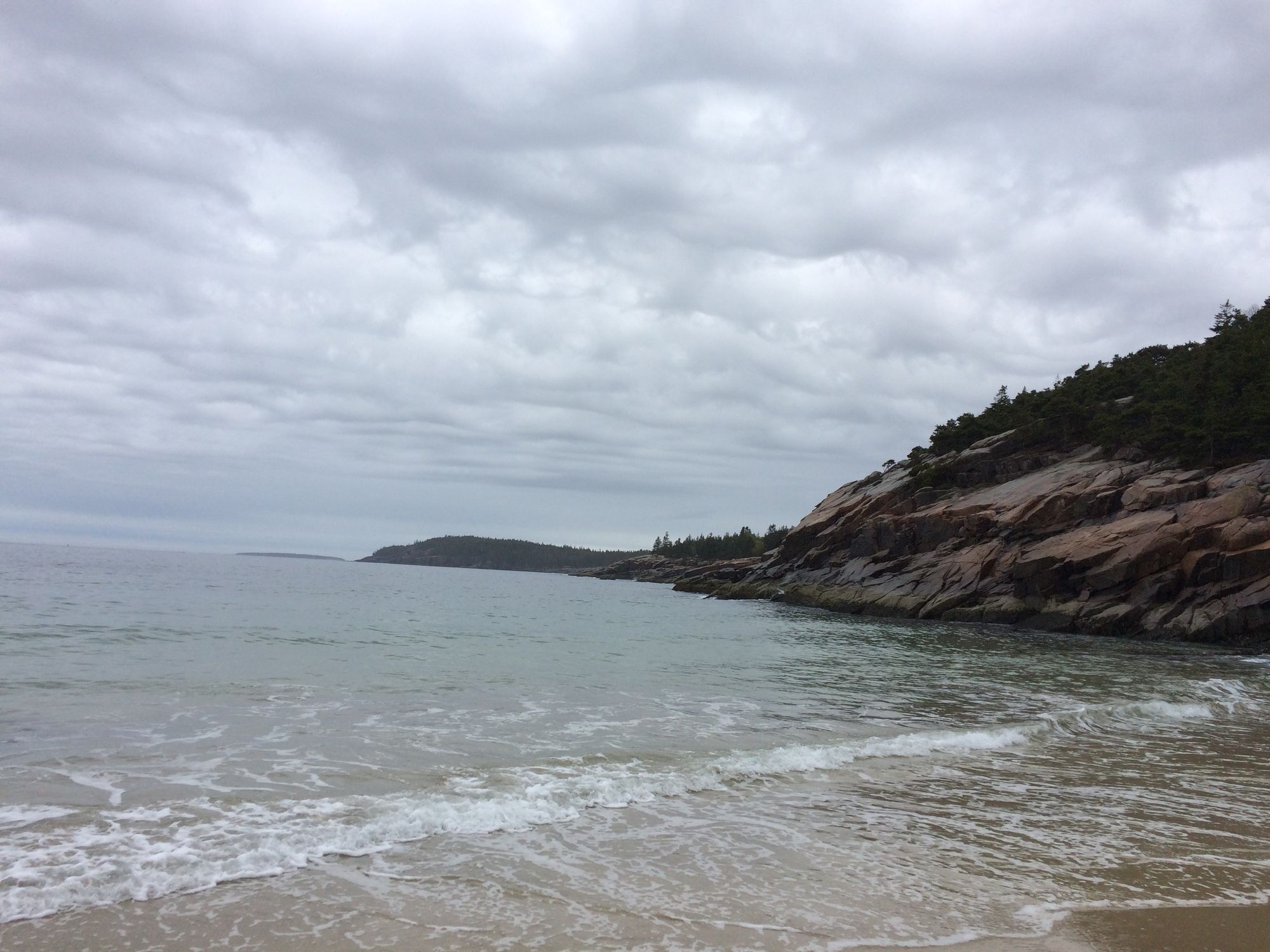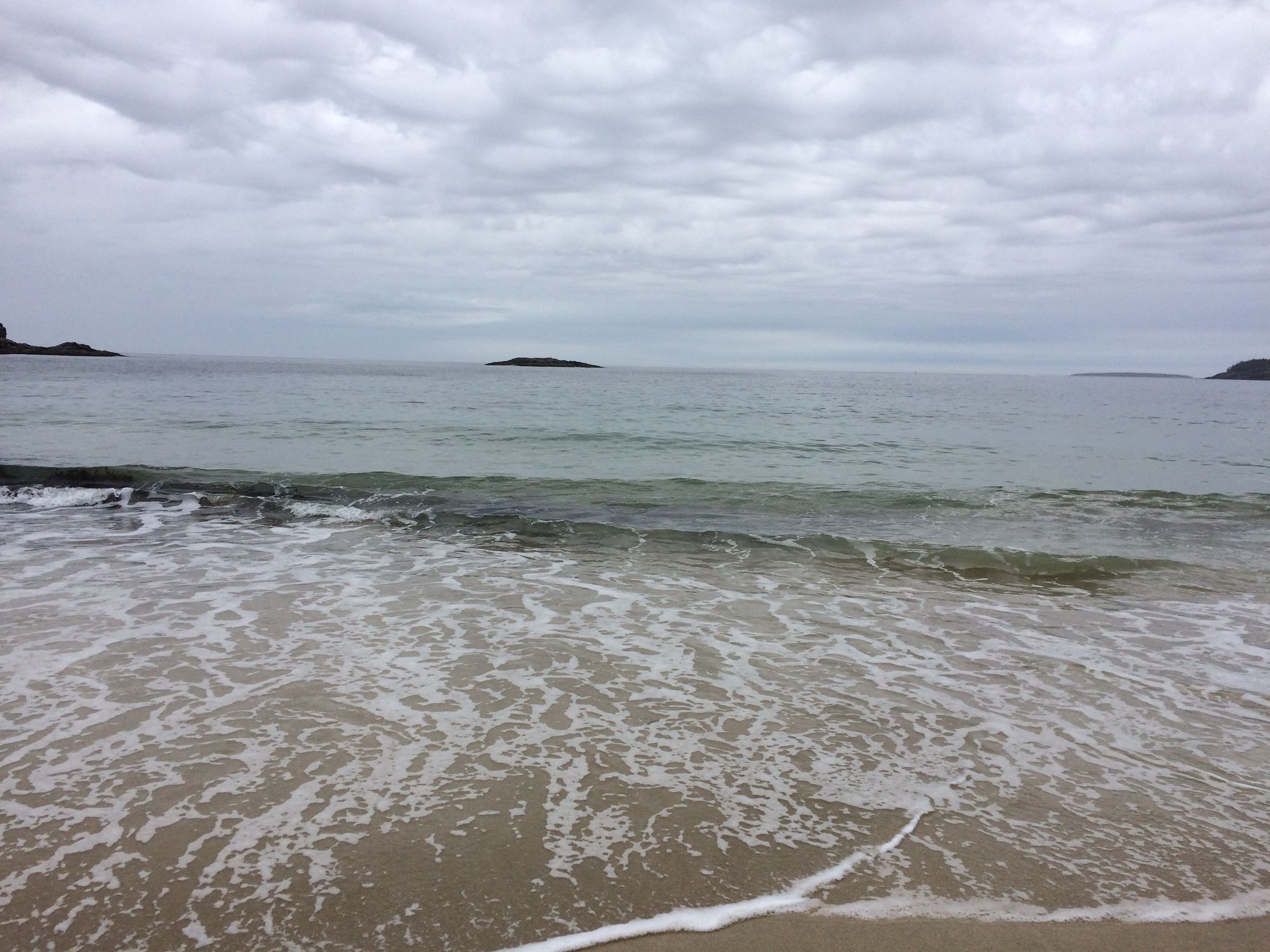 Beautiful and slippery rock formation on the beach
Please note the light green color in photos. Those are the algae/seaweed that causes rocks to be extremely slippery and unstable.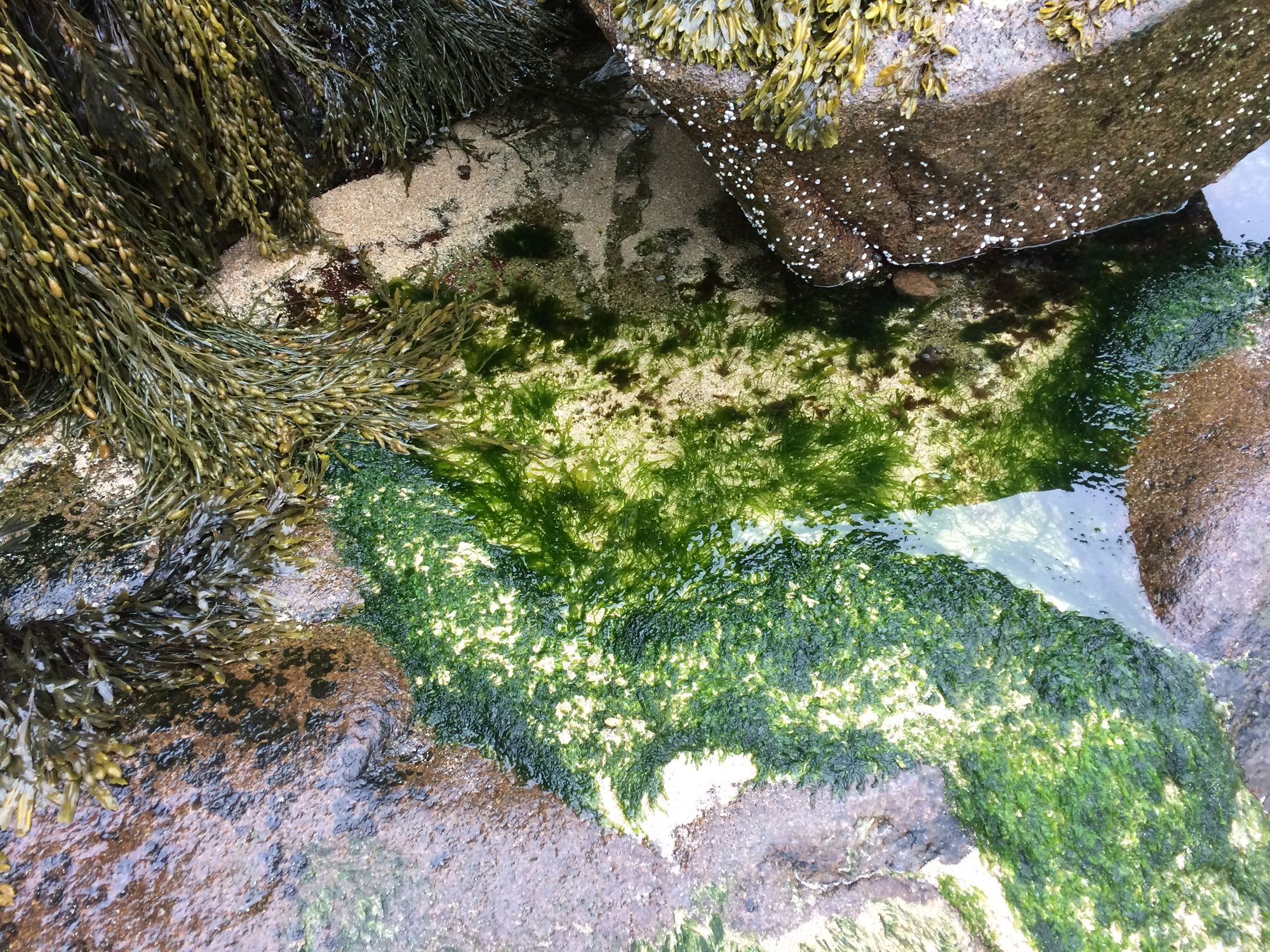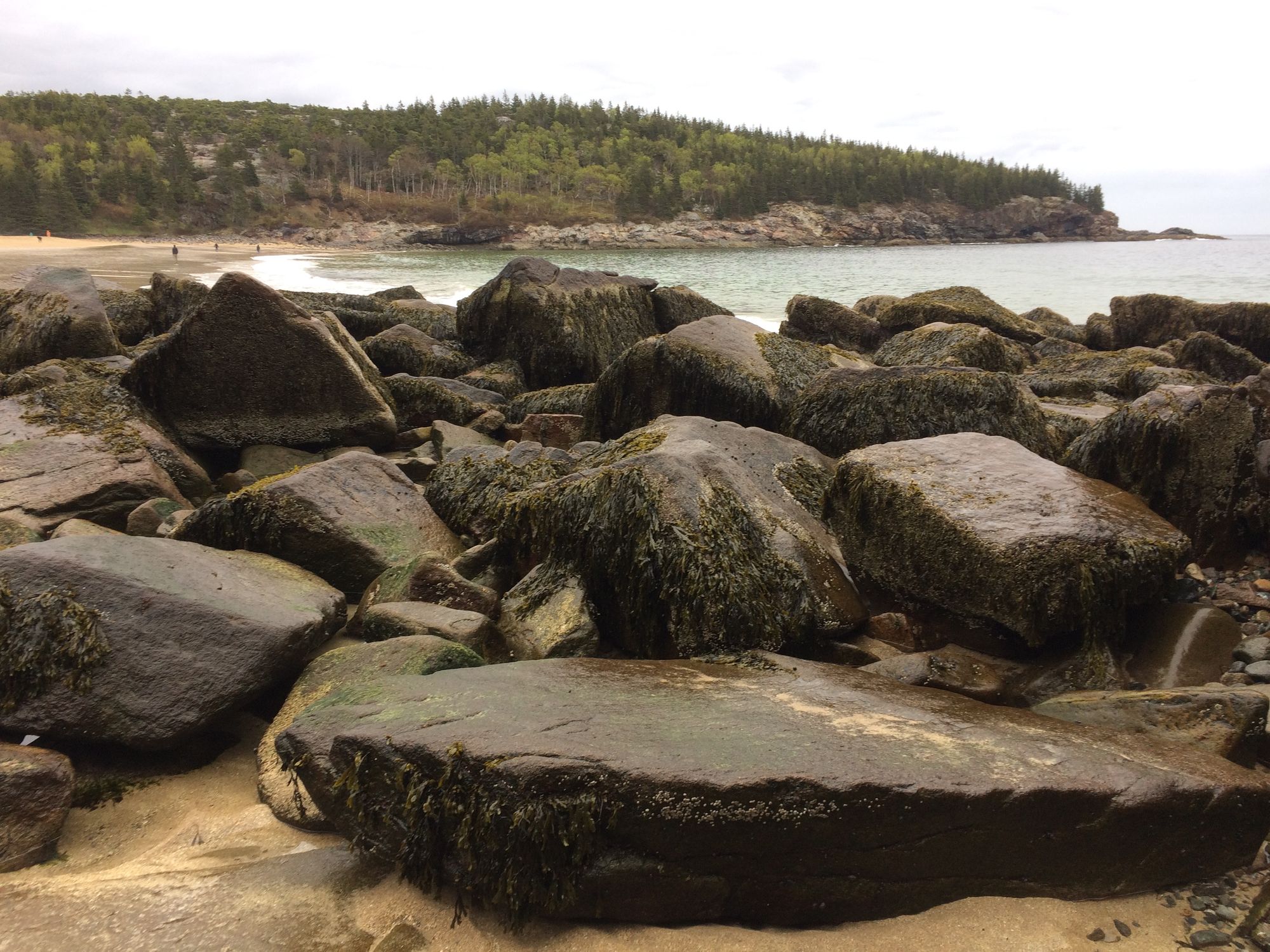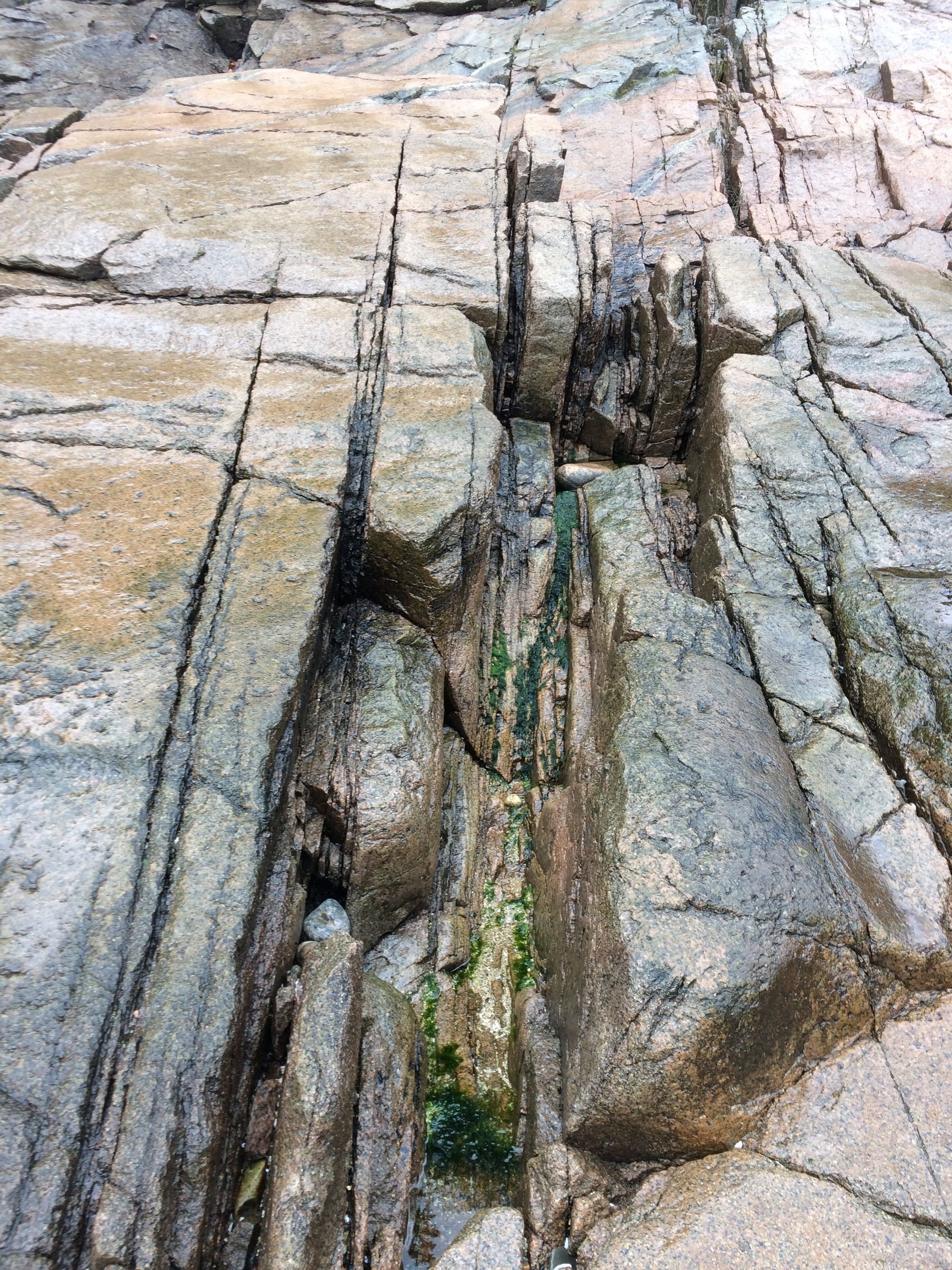 In spite of visiting more than just a few places in one day, we still had a couple of more places to visit for today and it was already 3:00 in the afternoon.
Out next stop was spectacular "Thunder hole". Not so much by sight, but it feels like a clap of thunder when you hear the water splashing in the alcove create by wonders of geography and rocks movement in millions of years. Here's the gist from Jordan Pond House article for clarity,
The spectacular waves and thunderous sounds of the ocean at Thunder Hole draw many visitors to this dramatic location. The rock formation there is such that, the waves crash against rock and water is forced through a small, rock crevice into a small cave. The sound of thunder is created as rushing water crashes against air trapped in [the] cave. The noise is most pronounced between high tide and low tide or after a storm. The waves there can also be dangerous – especially when storms are near.
When we reached at the thunder hole point, the access to main point to observe those waves crashing into inlet was restricted due to bad weather. So I had to view this wonder from the distance. It made a little difference anyways, cause the rock formation is well hidden behind waters and you could still hear the thunder sound.
There were just few of us who didn't cross that barrier and went ahead in spite of warning. It was specifically mentioned and the barrier was raised to prevent people from going into dangerous zone, but majority of the tourists still ducked down and approached the precarious area. This is one of the examples where people are just ignorant and careless to pay heed to rules and regulations and how one person breaking law empowers others to do the same. Doesn't matter if forest range is present or not. Rules are rules, and all the sane and respectful citizens are expected to follow them.
Thunder Hole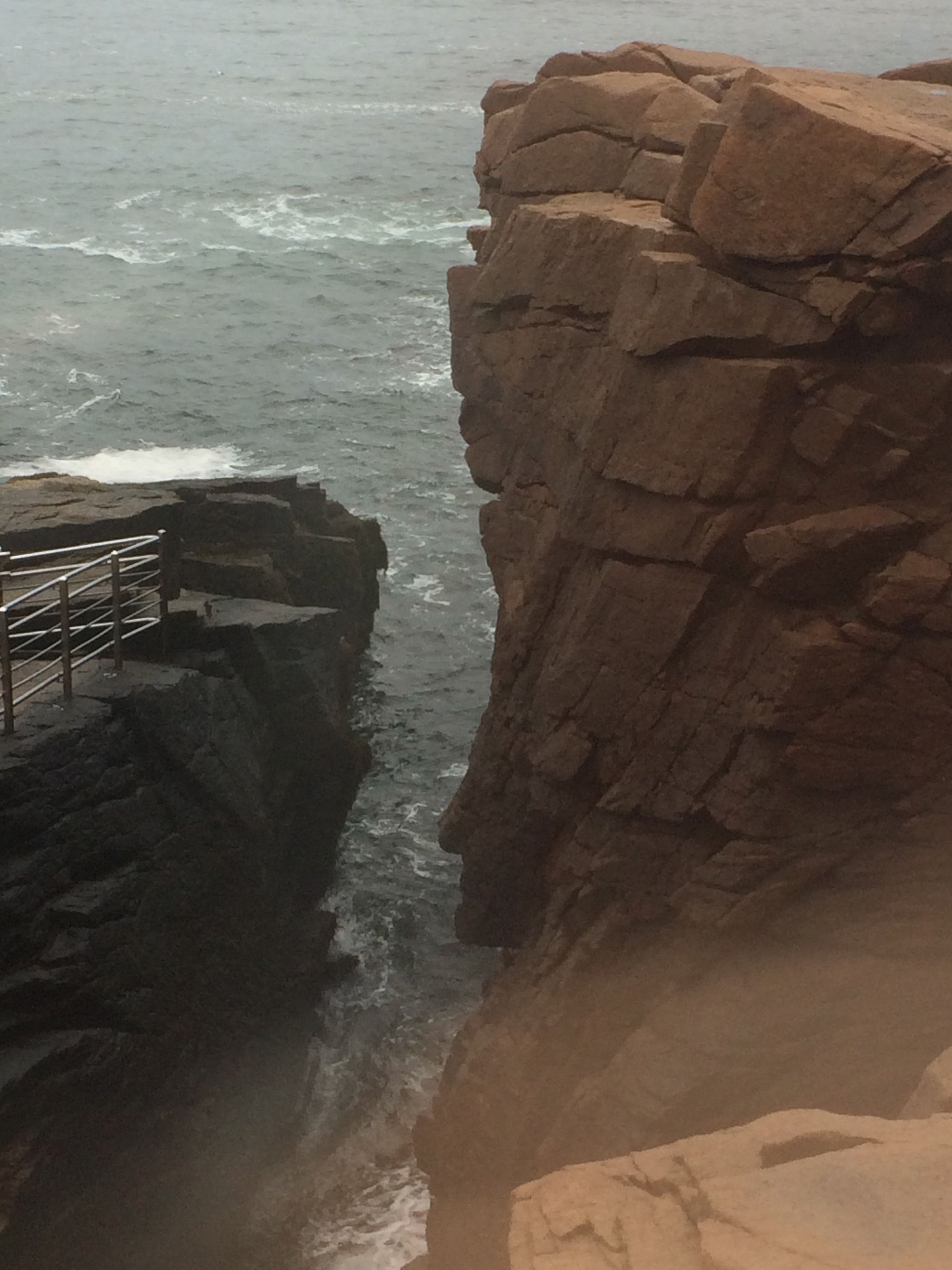 That was quite awesome! Wasn't it? This was also the place when I heard someone speaking Marathi in the USA for the first time in several months. Anyway...
Our next stop was the Gorham Mountain trail. I kept harassing my friend the whole day just to be able to visit this spot. I knew we certainly would not be able to return here back the next day. I so wanted to do this trail the same day. I remember walking along the path around 3 years ago when I first visited New England with other friends. First time I was lost on my way, but there are trail markers along the path which makes it almost impossible to get lost on their way up. They have made an interesting arrangement of mountain stones which act as a good hint to keep track and stay on the trail.
The trail is approximately a mile long one way. The mountain is mostly made up of granite rock. It started easy, but after some time it showed its true color by subjecting us to the steep climb. This time I didn't get lost. Experience teaches you a lot and you're with friends who are smarter than you.
The view after we reached the top was spectacular and unbelievable. I in fact took a 2 minutes nap at the top of the summit. It was light windy, but that even made things perfectly balanced in terms of temperature control. Luckily it was a weekend before the official long weekend so virtually there were no people on the mountain at all. Spending several minutes at the top felt like there are no other human beings in this world.
Unfortunately, my 4-year-old iPhone 5s started complaining about battery life as we were climbing. By the time I reached the summit, it hardly had a capacity for 8 photos before it was going to die.
Gorham Mountain Trail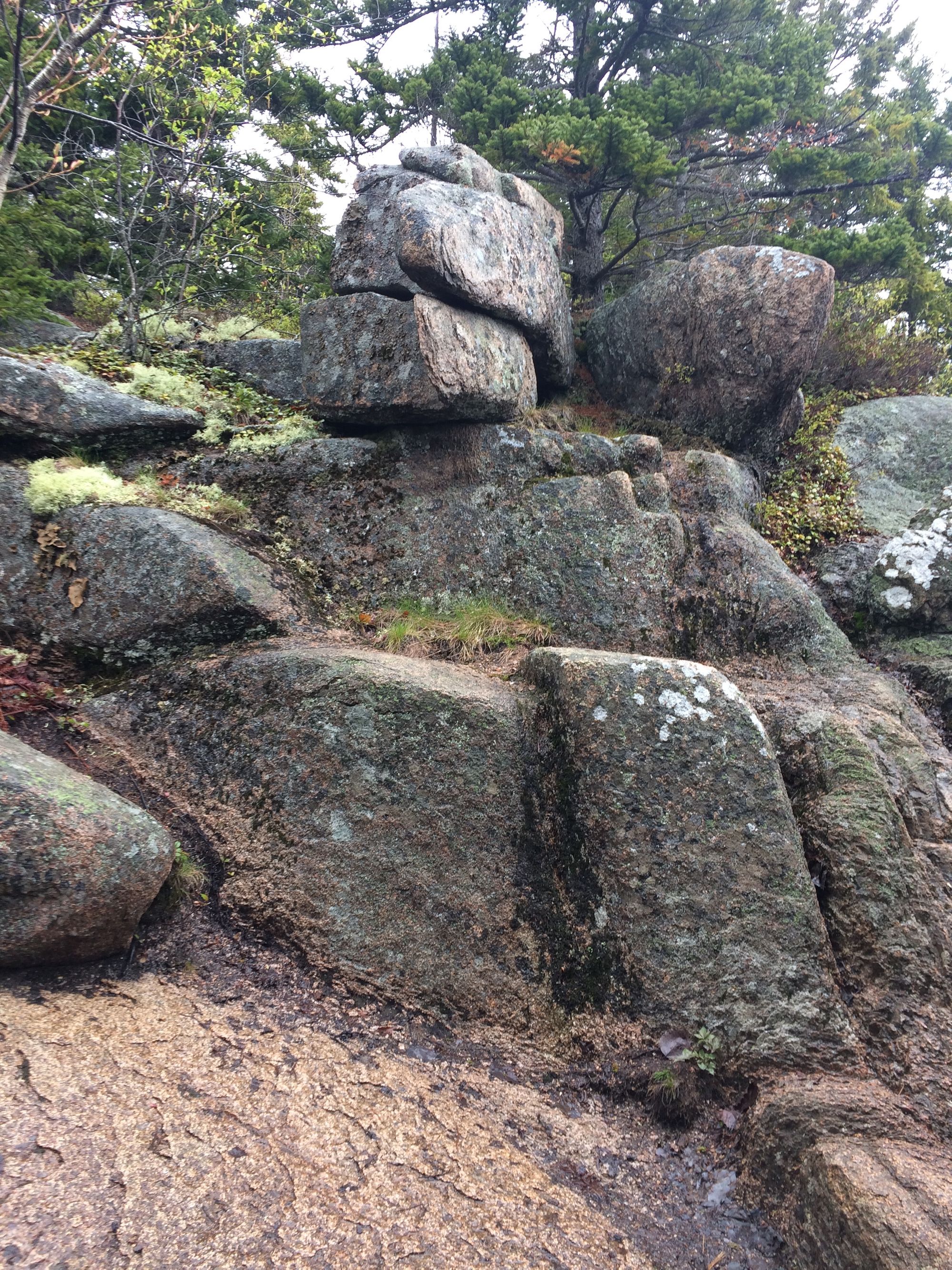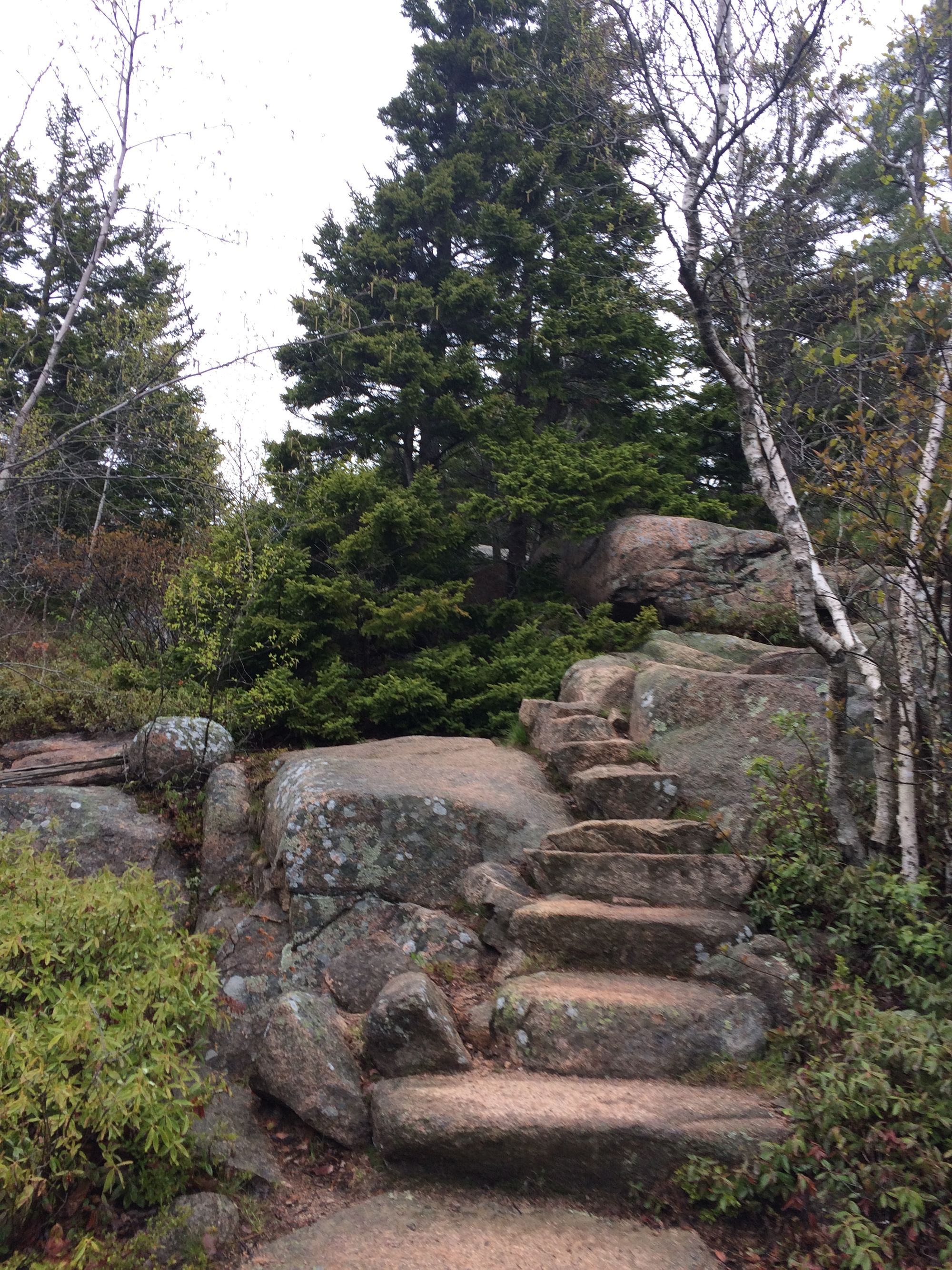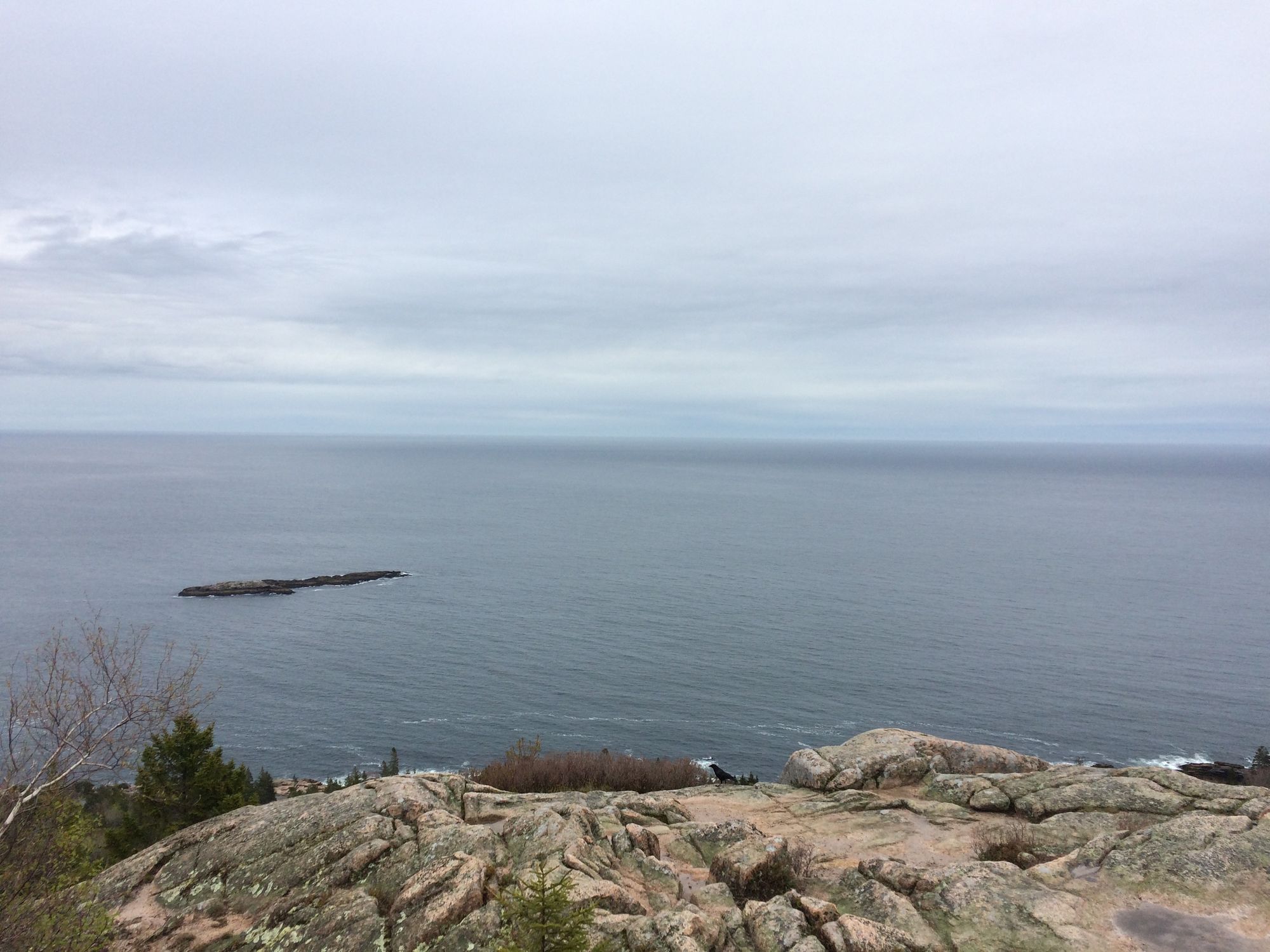 This was the end of our day and trip in Maine. Overall I should thank my friend for driving me around and strong advice on planning. It was already 6:00 in the evening and enough to call it a day.
We went to Geddy's for dinner. I had Seared Wild-Caught Haddock which was offered with lemon butter sauce, jasmine rice, and day vegetable. Delicious! Also, it was May 19th - The grand(?) finale for Game of Thrones. I didn't watch it, but heard that it was outright unimpressive. (GoT fans, please forgive me)
Day 5
Day 5 was bland. It was full of travel from Maine back to my home in Boston. It was quite a long journey of almost 6 hours. Nothing eventful happened that day. Just saw a lot of cars, trucks, and trailers along the way.
Day 6
Day 6 was reserved for exclusive Boston visit. Although I live in Boston, there aren't any places that I visit frequently. Most of my visits happen when my friend or relative is visiting a city.
Just a tip on parking in Boston downtown, especially during weekdays. If you park your car in the garage before 8:00 or 9:00 in the morning, it's much cheaper. There are two places I strongly recommend 126 Dartmouth Street parking which costs just $23 if you park before 8:30 AM and another was 30 Rowes Wharf - Rowes Wharf Garage which was also the same cost, but you must get in by 9:00 AM
Our first stop was the Whale Watch tour. We already booked tickets a day before which saved us a lot of time. Weather was cold and calm - At least our tour wasn't going to get canceled. We left the shore exactly at 10:05 in the morning to begin our 2-hour journey to watch whales in action. I didn't take any photos when at last we saw whales. First my phone would've died, I was too afraid I was going to drop the phone in the ocean, and third, whales would come on the surface just for few seconds. By the time I would take my mobile out to snap pictures, it would already have gone underwater rendering my sincere attempt futile.
It was a great tour. I did it 3 years ago during my first visit. we didn't see a lot of things got changed in the meantime. Other leverage I got over other first-timer visitors was I knew how cold it gets once the ship is deep inside no matter how warm it is at the shore. The inner ocean weather and strong winds certainly didn't disappoint me.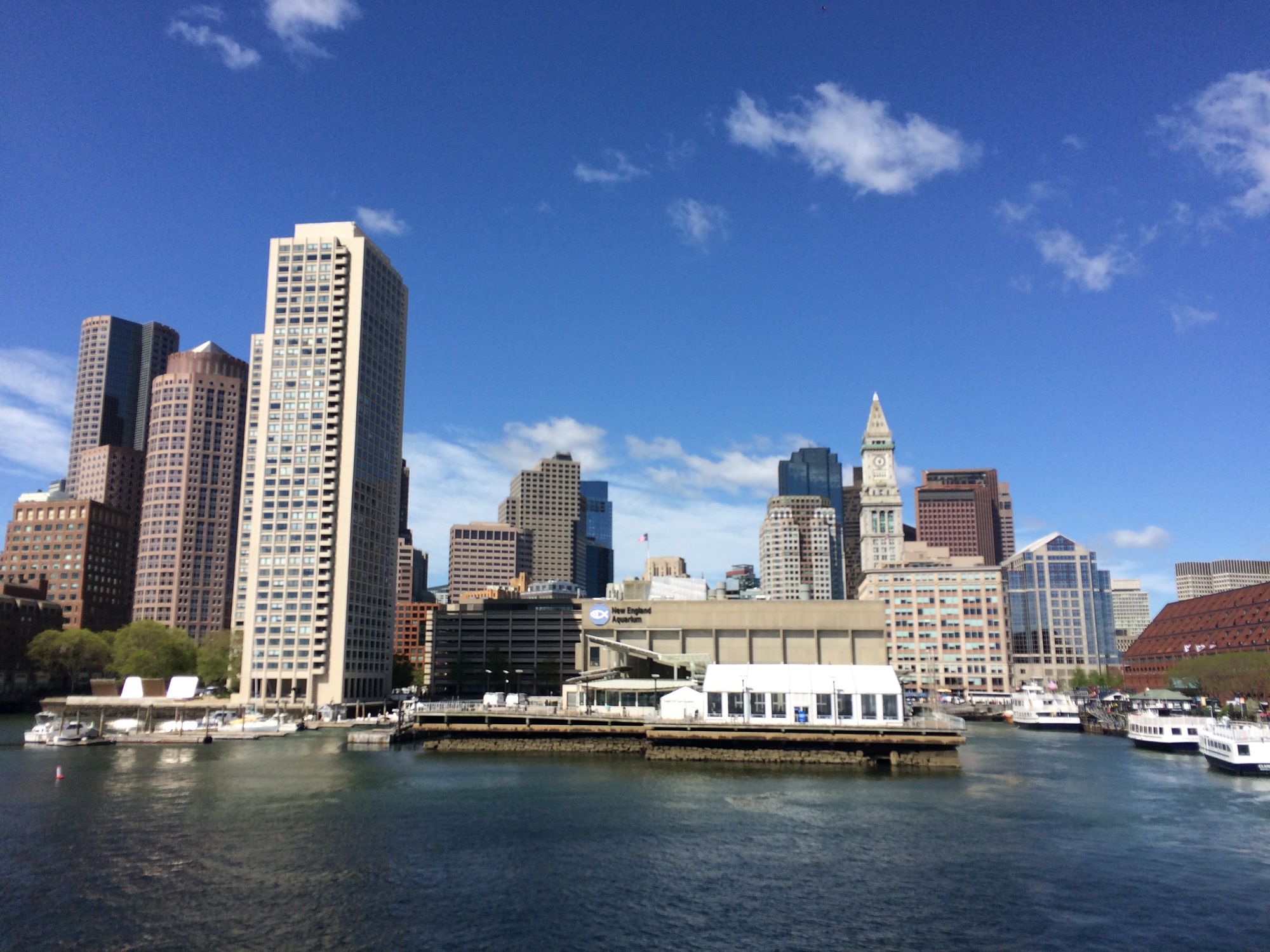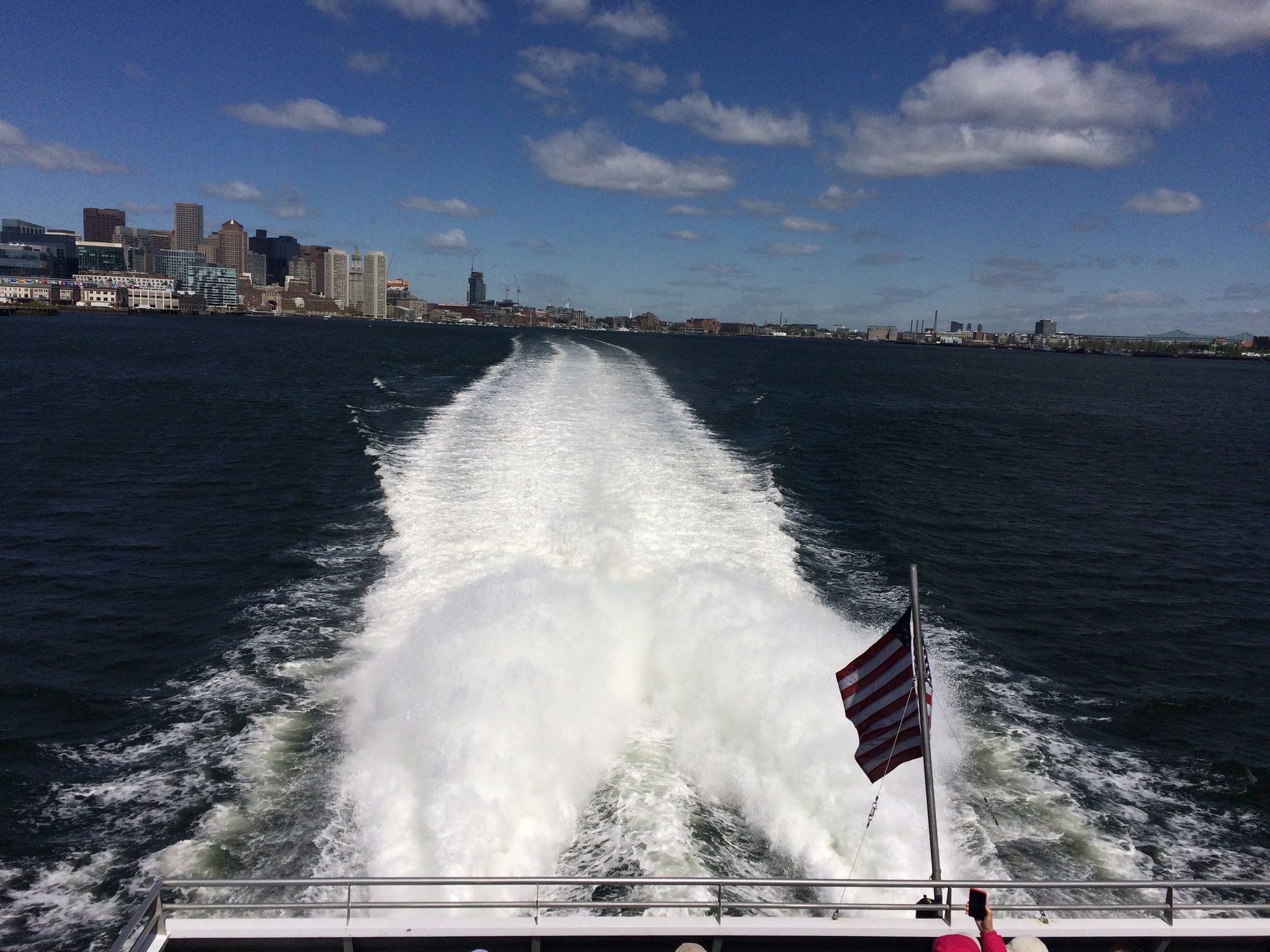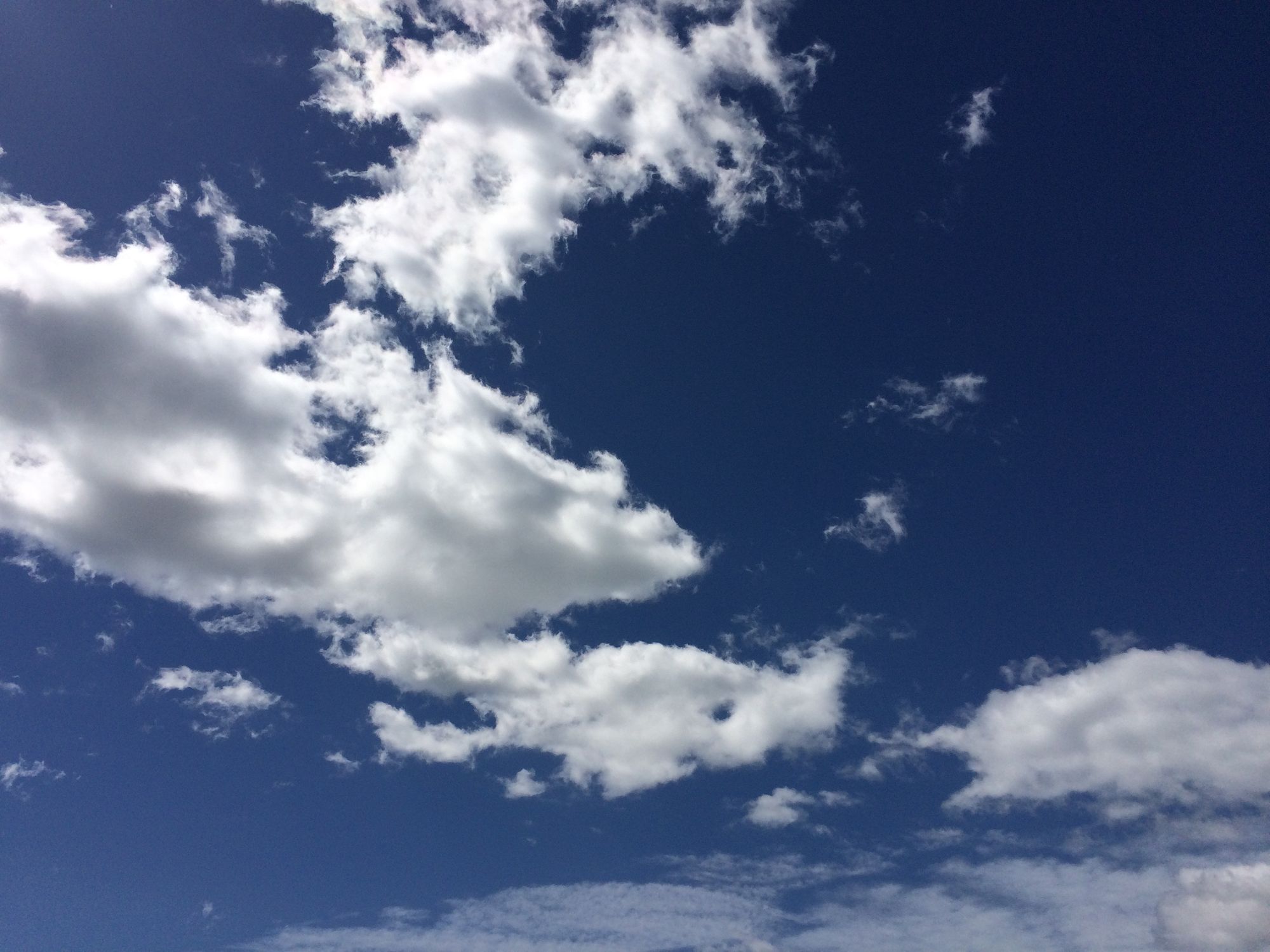 Next stop was a Bunker hill monument just a few minutes of driving from Bay. To quote additional information from Wikipedia,
The Bunker Hill Monument was erected to commemorate the Battle of Bunker Hill, which was among the first major battles between British and Patriot forces in the American Revolutionary War, fought there June 17, 1775. The 221-foot (67 m) granite obelisk was erected between 1825 and 1843 in Charlestown, Massachusetts, with granite from nearby Quincy conveyed to the site via the purpose-built Granite Railway, followed by a trip by barge. There are 294 steps to the top.
This place is not just about the monument and 294 steps to the top, but there are additional things around it too, including but not limited to Bunker Hill Museum which includes many exhibits about the battle, Monument and statue of Col. William Prescott, and Bunker Hill Monument Park.
There is a free street parking along the edge of the monument area. Admission to both the museum and monument is free. The only thing is that you need to grab a (free) ticket to climb the monument from museum situated right across the street.
Bunker Hill Monument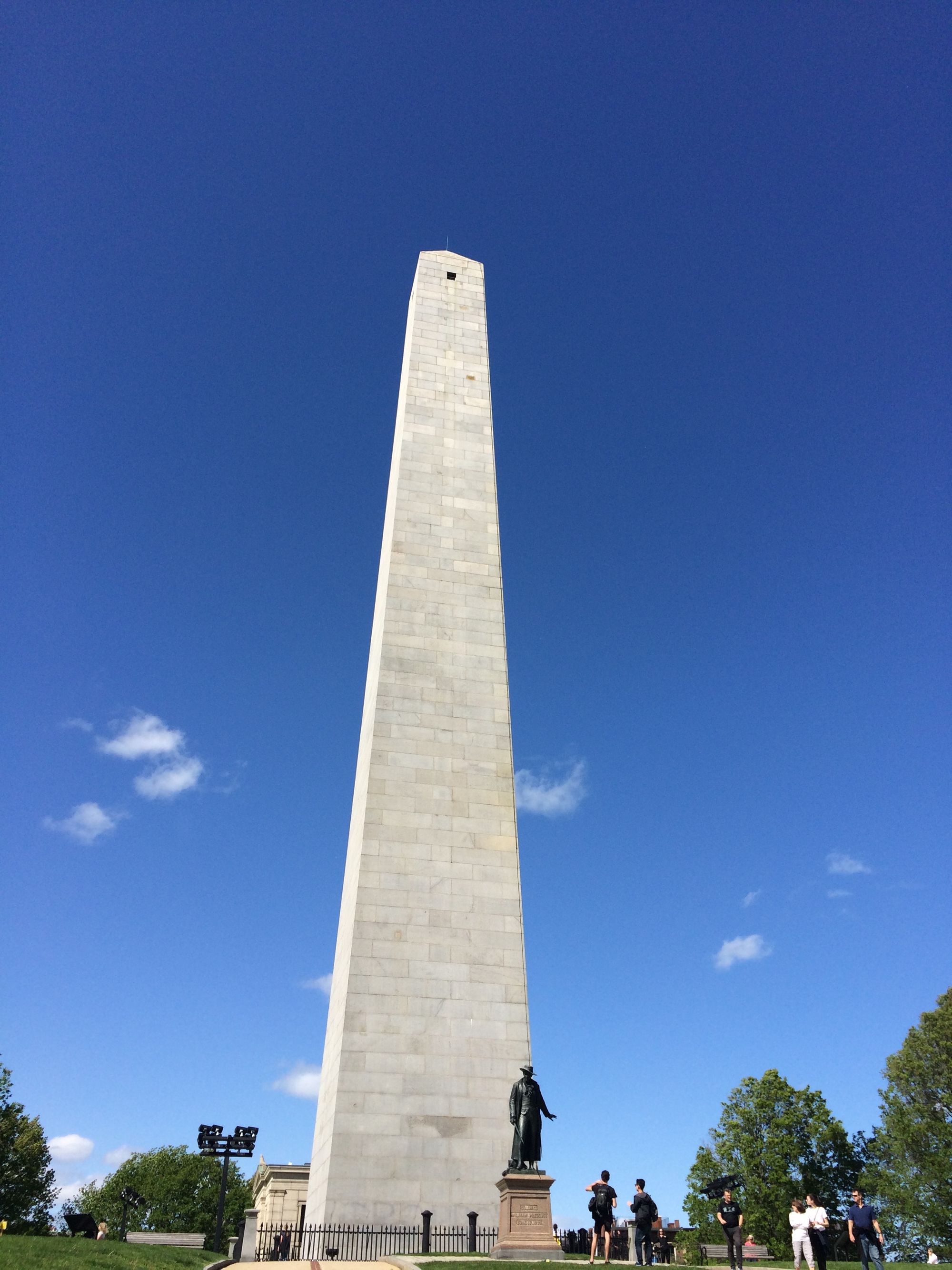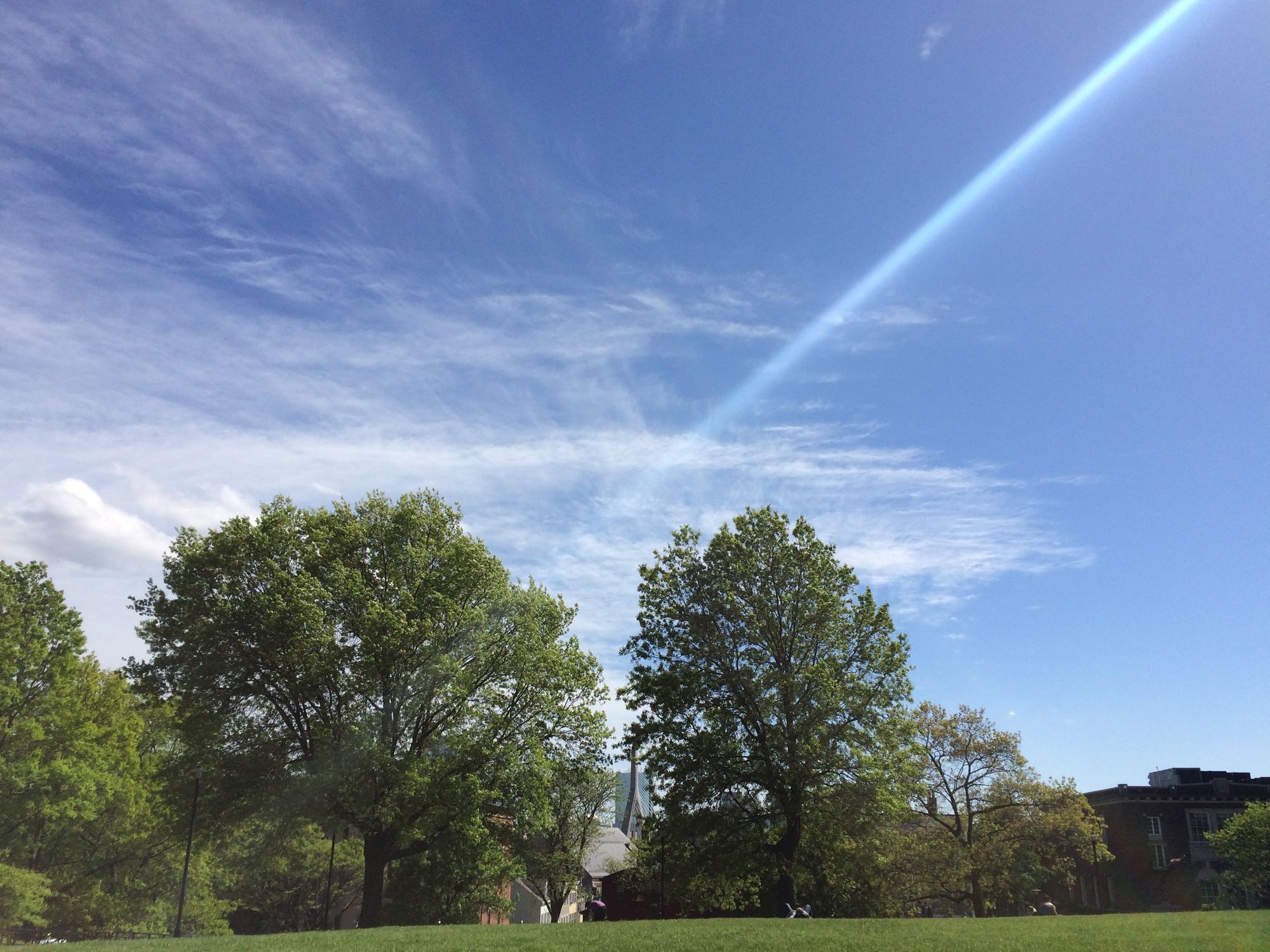 It was already 4:00 in the afternoon and surprisingly we were both tired to do anything else. We canceled the plan to visit the Constitution Museum since we both had seen the similar museum before. We decided to visit the Boston Common and the Boston Public Garden in the vicinity.
Also, from Wikipedia,
Boston Common (also known as the Common) is a central public park in downtown Boston, Massachusetts
It's one of the happiest, cheerful and happening areas in Boston. If I could, I would visit this park every morning  - Just sit on one of the benches and enjoy the view and bustling activity.
By the way, meet my new friend...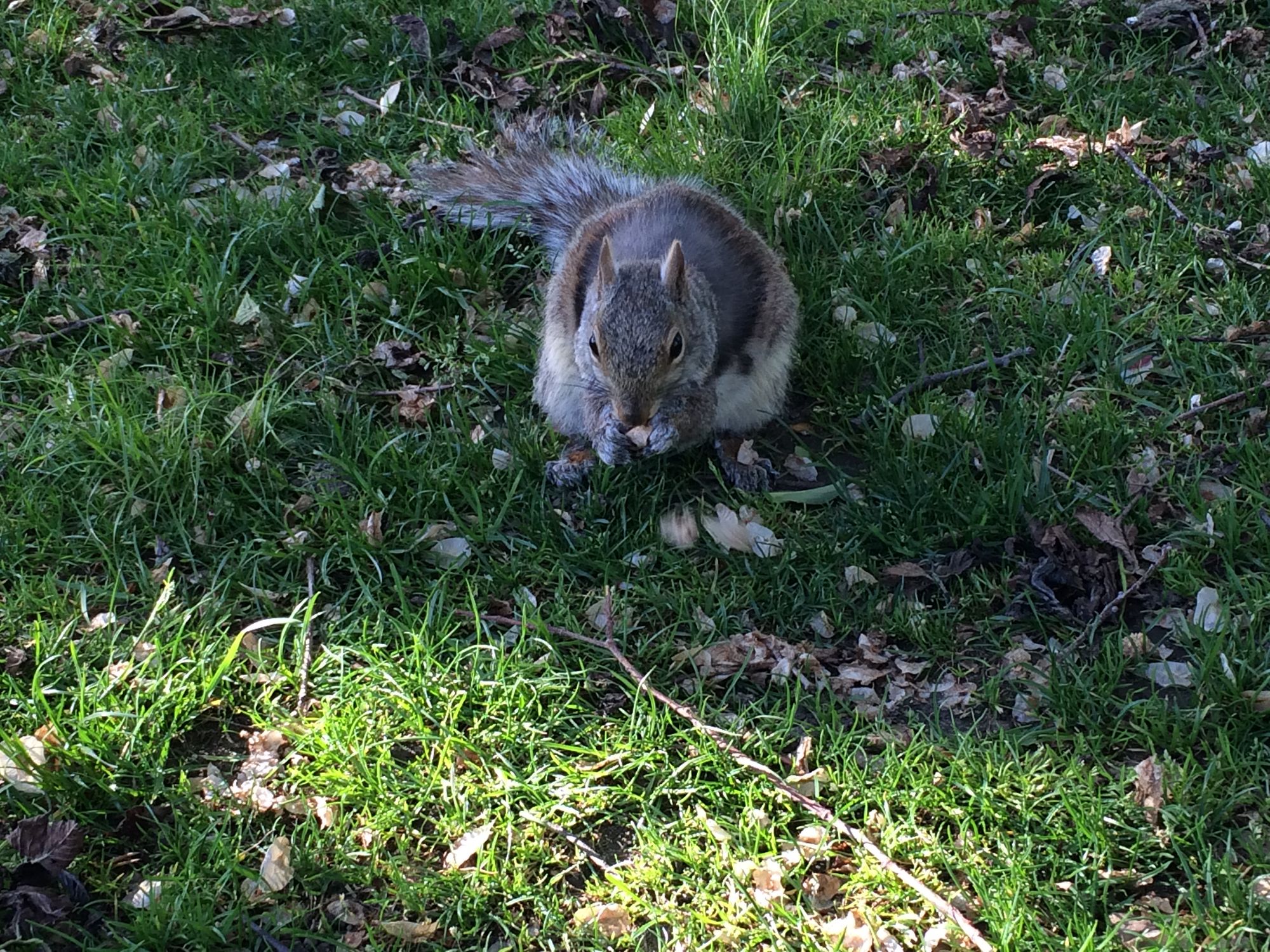 Boston Common and Public Garden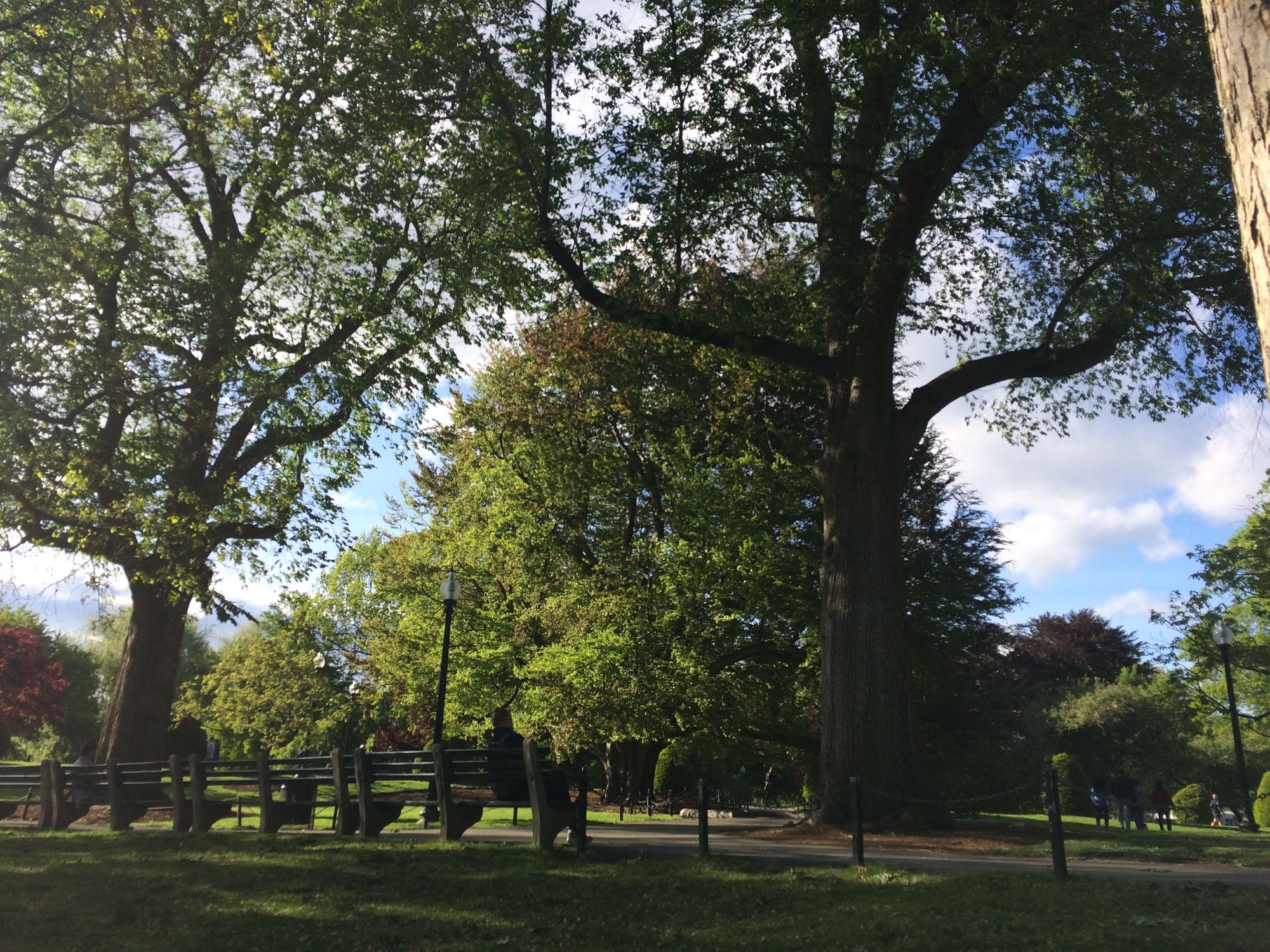 We had dinner at a very mundane place compared to the expense of this whole trip - At Boloco! It was quite too early to go home, but we were tired of continuous travel for last 6 days and none of us did mind to go back and get some rest.
And that was the end of our 6-day-long New England trip. It was amazing, well-planned, well-driven and full of delicacies from a variety of regions all around the world. I am sorry that the post has gotten too long. I will write another blog post as a retro session for our trip - Things that went well, those went wrong and others that we should start doing during our next trip.
Thanks for reading! Until next time!